Political events, especially those of a crisis nature, have always represented an open-ended type of fundamental driver that can roil global financial markets at the drop of a hat or nuclear weapon, if irrational fear replaces common logic. These events, in a way like "Black Swans", are impossible to predict, but, as seasoned forex traders, we have learned long ago to play it by ear and adjust to what the market gives you. In times like these, there is little time for analysis. Safe havens can come and go, and fickle investors can quickly lose interest and recede to the sidelines. Time is of the essence.
Read more forex news
The recent saber-rattling tones emanating out of North Korea and President Trump's mouth have once again raised the specter of Geopolitical Risk at its finest. The naysayers among us have suddenly glommed onto the fact that geopolitical risk may finally be the catalyst that sparks a major correction in the market, but wait, the weekend has passed; no bombs were dropped; markets opened Monday morning and did not crash; and the USD only slightly strengthened when Asian forex centers started the show yesterday. Are we dealing with a tempest in a teapot or is this the real deal?
In times such as this, we have been taught that precious metals, the Swiss Franc, and the Almighty Dollar are the places to be. Investors, however, have not always obeyed this "rule of thumb", thereby requiring more analysis to see what exactly is going on behind the numbers. When the recent war of words began, analysts were quick to suggest that long-Dollar trades were attractive, but, as the following chart demonstrates, the U.S. Dollar hardly moved: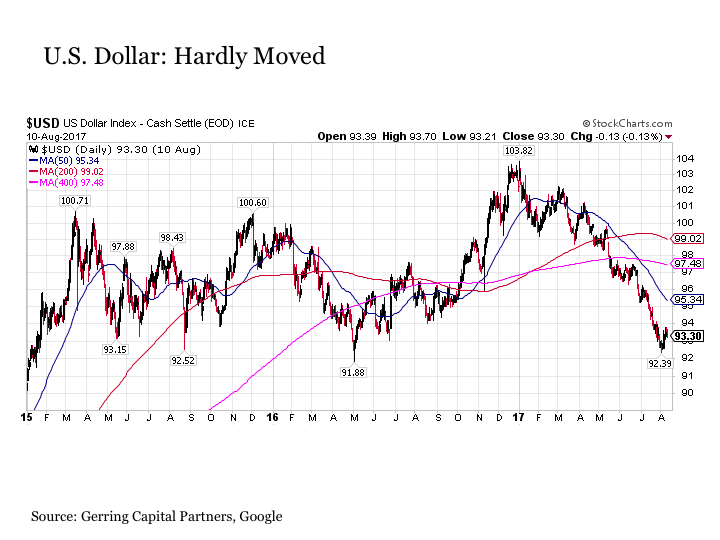 2017 has not been kind to anyone that decided early on to go long-Dollar on any foreign exchange coupling. Negative trade impacts have finally materialized in the States, but the market's lack of confidence in the Fed's commitment to follow through with anything that resembled interest rate or balance sheet normalization in 2016 has beaten the greenback into submission for the past seven months. Delays have allowed economic successes in other regions to dissipate whatever advantages had been associated with existing central bank policy divergences. Yellen's hawkish tone has now turned dovish.
The USD also opened higher across the board this morning, but 40 or 50 pips are not going to make your day. But what about the future? What are the implications of political risk and what are a few tips to guide our thinking over this week? Has the market already discounted bellicose rhetoric as "words of sound and fury, signifying nothing?" Macbeth and Shakespeare aside, a quick review of the basics and what other analysts are saying about the latest events could never hurt in the near term. "Be prepared" is the motto for all professional traders, and I would wager that very few of them were ever Boy Scouts.
What consequences could elevate the probability of a nuclear catastrophe?
The threat of a nuclear holocaust may seem real in a Hollywood movie, but it has seemed very remote for quite a while on the global stage, until now. Nine nations now control over 15,000 nuclear weapons, and it would only require one detonation to ignite the flames of our destruction. In order to assess the probability of this catastrophe that is beyond human conjecture, one has to look at what consequences could deliver such a horrifying scenario. Believe it or not, analysts have listed five potential events that could carry us down this road to annihilation. Be on the lookout for these triggers:
New U.S. doctrine regarding nuclear first strikes: The threat of retaliation with horrific consequences has generally mitigated the "nuclear option", as many have defined it. If anything, however, President Trump is unpredictable. Per one analyst: "Trump's impulsive temperament, obsession with projecting strength, and aversion to normative constraints may make him more prone to nuclear use than other recent presidents." The Pentagon is presently revising its "Nuclear Posture Review", a document that will define specific scenarios where Trump might consider the first-use of nuclear weapons. Watch for it;
Unintended nuclear escalation: What is the policy of this new U.S. administration? Trump has a penchant for sending out mixed signals. When his staff attempts to clarify and tone down his rhetoric, he often contradicts them via tweet or public disclaimer. With two such leaders spouting off on the global stage, the potential for a misstep is heightened. As tensions rise, a weaker state, i.e., North Korea, may be forced to develop contingency plans that could inadvertently come to pass when the heat rises to a higher level;
Raising the heat lowers the threshold: What about non-state participation? As Trump ratchets up his incendiary campaign rhetoric of yore, especially against Islamic states, the race is on for terrorist groups across the planet to try their level best to get their hands upon whatever lethal material is within their grasp. The flow of fissionable material and nuclear expertise across international borders have been limiting factors to date, but the stage is set for another "9/11" type of pre-emptive strike, Heaven forbid;
The capacity to prevent WMD terrorism has been diminished: What is the Trump administration doing to thwart nuclear terrorism? Perhaps, not enough, since Trump's new budget blueprint ignored the issue entirely. It takes material resources and coordination between several agencies to develop and operate an effective counter-terrorism group that is focused purely on the threat of WMD proliferation. The pace at which this new administration moves is disconcerting for experts in this arena. They claim there is presently a vacuum, which could be leveraged to our disadvantage;
International nuclear security coordination is weakening: Once again, Trump is at the forefront of dismantling security agreements that have taken decades to cultivate. Withdrawing from the global stage and disavowing the nature of multilateral agencies may play well on the campaign trail, but it undermines the ability to control and track lost or stolen nuclear materials, a situation that is increasing holocaust risk day by day, especially from non-state terrorist groups. Several critical cooperative mechanisms emanate from the United Nations, a body that Trump has wasted no time in disdaining in his public comments. Can he and his team undo the harm that has been done?
Are there appropriate risk indicators that could be red flags going forward?
After that heartwarming discussion, should we just throw in the towel and call it quits? If that option appeals to you, then so be it, but we have all been living under this potential for a nuclear disaster for decades. Life will go on, as will our markets and the numerous opportunities that they present. From a trading perspective, the propensity for things to get out of hand could trigger a run for the exits, the "Great Correction" that is commonly referred to in today's financial headlines.
How do we gauge market sentiment for items of potential political risk? There are early warning indicators out there – Here are five "locked-and-loaded" ones:
The Korean Composite Stock Price Index (KOSPI):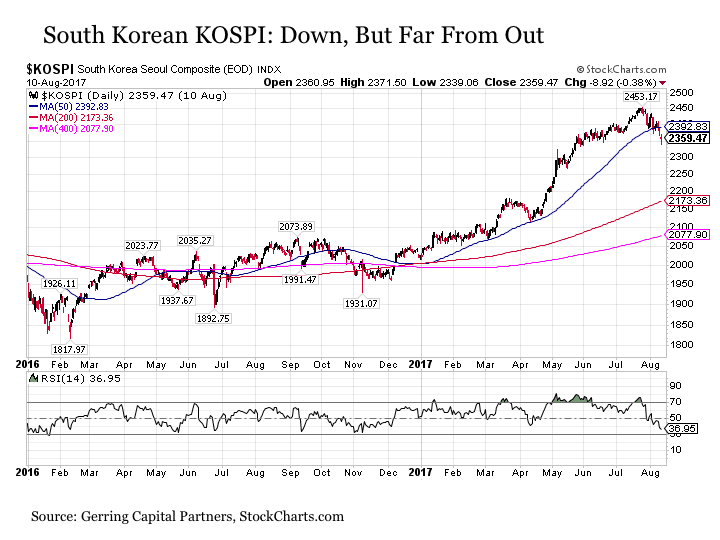 The KOSPI is the primary benchmark for South Korean stock offerings. If the saber-rattling antics in the North and from Trump were taken at face value, a quick exit of capital would exhibit itself first on this exchange. During the past week when all the hoopla hit the headlines, the KOSPI fell a mere 3.2%. The definition for a material correction begins at an adjustment in excess of 15%. We have not seen anything that resembles a correction for now. More to come later:
Forex couplings with the Korean Won: Your first reaction might be to follow the "USD/KRW" currency pair, but there are problems with this logic. The USD is viewed as a safe haven, which could muddy the waters so to speak. Both nations are also involved in the verbal conflict of late, suggesting that market penalties for each side might offset. A better pairing to monitor might be the "CNY/KRW". Several analysts are now calling this pairing a better "fear gauge" than the VXX, considering the amazing correlation depicted below: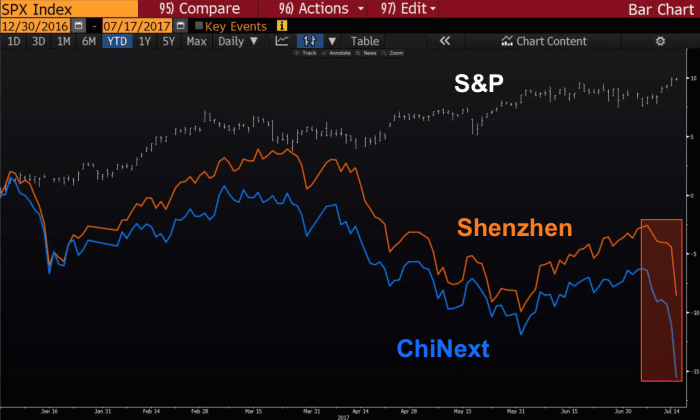 As much as we do not want to hear this mantra, "As China goes, so goes the rest of the world," a phrase evoked quite often these days by professional traders. Both of the exchanges depicted above reacted negatively to developments in North Korea, while the S&P 500 barely skipped a beat. The story in the Middle Kingdom has been ongoing and is worth following: "Watch Chinese equities this week. One critical thing to remember is that it was less than a month ago when Chinese small caps suffered a veritable "Black Monday" that saw some 2,800 stocks fall across Chinese markets and almost 500 trade limit-down."
Emerging Market Bonds: If you wish to witness where stress is building, which could lead to an outflow of capital, check with funds focused in this area: "We would expect to see at least some degree of weakness in the PowerShares Emerging Market Sovereign Debt (PCY) ETF, not only because some of the largest bonds in the product are Korean but also because it has heavier weightings to some of the more speculative emerging markets from which suddenly risk averse investors would presumably be seeing to draw back their capital in search of safety."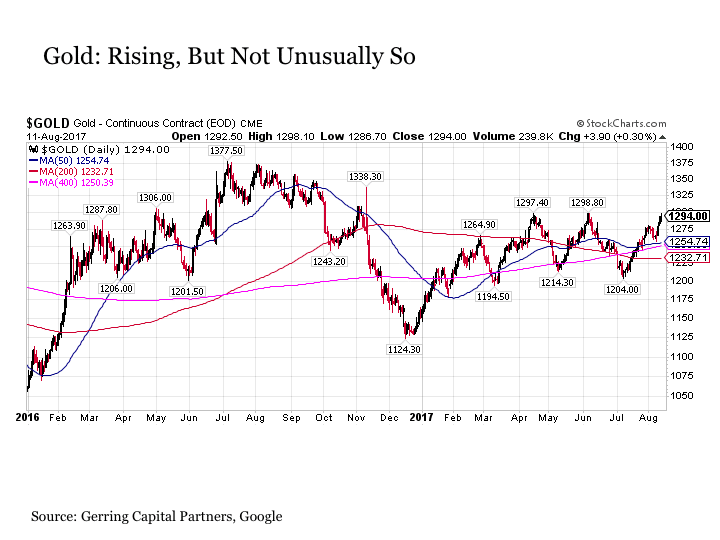 Last, but not least, we have Precious Metals. Gold and Silver have rallied recently, but only to heavy resistance levels: "While the precious metals complex has seen a bid in recent days, it is not anything that would be characterized as unusual or symptomatic of quickly escalating geopolitical stress."
Concluding Remarks
Geopolitical risk has reared its ugly head once again, but, hopefully, cooler heads will prevail, and aggressive public bantering will be taken down a notch. For the time being, the "Great Correction" has not occurred. Technical indicators are in place and are worth following in the near term. North Korea may be a distraction for weeks to come, but the Fed and the ECB may turn dovish as a consequence. Normalization agendas, however, may become the cans that proverbially get kicked down the road until later.
Can political risk raise its head in another unsuspected sector? As a matter of fact, a debt ceiling debate will be coming up shortly in Congress. Will it be contentious? It, too, has been kicked down the road a bit and could stir the pot for political machinations that could cause financial markets to heave in disbelief. As we said before – Be prepared!