Gold enthusiasts are forever optimistic about the future prospects of their yellow metal, but the past few years have dampened much of this enthusiasm. From the turn of the millennium until mid 2011, Gold delivered atmospheric returns in comparison to most any other investment medium. Gold Bugs were euphoric, but euphoria is often the first indication that the bear is about to leave its cave and wreak havoc on any market participants with over-extended positions. Such has been the case for the last five years, but a sudden resurgence in 2016 renewed positive feelings that a new day was coming.
In December, we wrote about the prospects for Gold and Oil prices going forward, noting that, "The performance of Gold as an investment for the past 16 years has been nothing short of spectacular, even if you discount its tumble from grace since 2011. It has climbed from a value of $283 per ounce in 2000, topped out at $1884 in August of 2011, and currently resides at $1170. There had been a "Brexit" peak at $1384." If you do the math, the CAGR from 2000 to 2011 comes in at a stellar 21%, but what goes up, must eventually come down. Gold presently sits at $1207, a 42% retracement from its peak.
What does a current chart look like?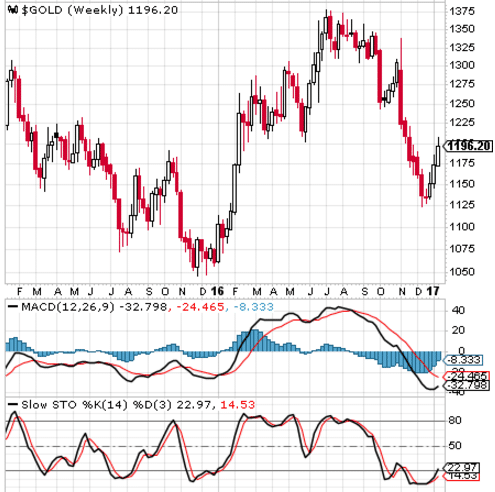 The last four weeks have been kind to Gold investors, renewing hopes that a possible "perfect storm" was forming to propel Gold prices to even higher levels. Trump-phoria had pounded Gold into submission after its "Brexit" run, but enthusiasm continues to reign this week. The metal jumped to $1207 in anticipation of a major speech on the "Brexit" political situation in the UK. Sentiments can often turn on a dime or shilling, if you will, and 2017 portends to be a year filled with sentiment changes to beat the band.
As measured from its peak, Gold prices presently hover in the so-called "Decision Zone", that being the space between the Fibonacci ratios of 38.2% and 50.0%, or respectively, $1272 and $1084. We also noted previously that, "Historians will tell you that nearly all commodities on a long-term basis tend to retrace 50% at some point in time. If this adage were to hold true, then Gold could eventually seek support at the $1084 level." A visual read of the two-year chart above reveals that a significant support/resistance level exists at this $1084 figure. Both chart indicators are also shouting an "over-sold" condition, but the jury remains sequestered as to potential future movements to come.
Gold prices and the forex market are forever joined at the hip.
Gold is often referred to as "the forex market's standard of real value." While Gold and most other metallic commodities, like silver, platinum and palladium, are priced in U.S. Dollars, the relationship of a nation's fiat currency versus Gold is intrinsically tied to the nature of its money supply. If the monetary supply is expanding due to stimulus deficit spending or actions taken by the central bank, the value compared to Gold will depreciate. The Fed has been printing money for decades, part of the reason that Gold prices versus the USD have soared. Historically, there has been an 80% negative correlation in these movements.
When a nation's money supply expands, there is also the threat of inflation, and Gold has often been used as a hedge against generally rising consumer price indices. It can also retain its value and appreciate when geopolitical tensions exacerbate, as capital flees to "safe havens". It is during these times that Gold and the USD can correlate on a positive basis, along with the Yen and Swiss Franc. Supply and demand dynamics can also play a part, as well, since it has many industrial uses, in addition to being a primary component in the jewelry industry. The Aussie will often appreciate with Gold prices when these demand characteristics become heightened in the marketplace.
Since its introduction in 2000, the Euro has been a loyal dance partner with Gold, displaying a very dependable positive correlation in both good times and bad. During Gold's recent run up over the past four weeks, the Euro also jumped on board the train, bouncing from 1.011 to 1.071. The Aussie and Yen took note and boarded, as well, with respective jumps of 200 and 160 pips. Australia is a net exporter of Gold, and the domestic miners of the shiny metal are major contributors with regards to national exports.
When Gold prices drop versus the Dollar, it may also represent a buying opportunity in another currency, whereby capital flows increase demand and drive prices in a northerly direction. Central bankers may also frown upon Gold as an investment, since it does not pay dividends, but a major component of today's foreign exchange reserves include a hefty inventory of Gold. Forecasting the direction of Gold prices can thereby give a trader a leg up on spotting forex trading opportunities, but, as one analyst puts it, "Forecasting gold has become something akin to an esoteric and arcane art, which for some amplifies its attractiveness. Gold can turn on a whim making it unpredictable and volatile with much of its value being imputed rather than based on tangible factors."
What insights can one glean from an analytical review of Gold prices?
Putting sentiment issues aside, a fundamental and technical analysis of factors at play is the best place to start when preparing a forecast for Gold prices. There will be enough uncertainty in 2017 to expect that the interplay of these factors could support either a bullish or bearish case for the yellow metal, the reason most analysts are hedging their bets at present. The key fundamental issues, according to the World Gold Council, include "heightened political and geopolitical risks, currency depreciation, rising inflation expectations, inflated stock market valuations, long-term Asian growth and opening of new markets." Trends in interest rates and Silver prices may also have a role to play.
A Bearish case is contingent upon rising interest rates and a strengthening U.S. Dollar, which could spell "Doom" with a capital "D" for the recent rally in Gold futures. If the global central banking crew can hold these pressures to a minimum, then the Bullish scenario for Gold is indeed more plausible. The current vision of Trump-onomics is presently viewed as inflationary, a positive for Gold, and Brexit negotiations, coupled with a string of elections in Europe and saber rattling in the Middle East, will keep political unrest at all time highs. Safe havens will be in vogue again, as will Gold.
What about the technical perspective? Here is one detailed representation: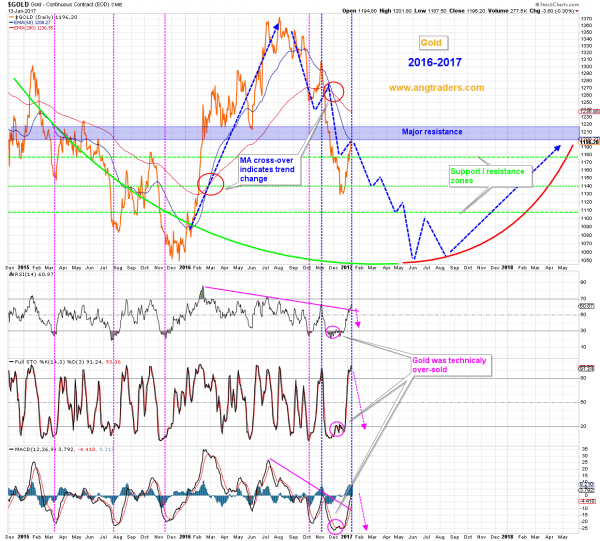 The above is but one of many that tries to make sense of the technical data on hand. This particular analyst interprets the recent Gold rally as nothing more than a "Dead Cat Bounce" after the Trump election. The resulting Elliott Wave depiction suggests that a descent down to $1050 is in the making, thereby forming a new bottom for a recovery. His prediction is based on extending existing 200-EMA crossovers and accepting the downward sloping nature of the momentum indicators presented. Gold would eventually test the $1220 region again in 2018.
Not everyone, however, agrees with this analysis. Despite the apparent astuteness of the evidence presented, many regard the recent rally as having legs, primarily because it broker through the $1200 price level, which the more pessimistic crowd described as formidable resistance. The optimists believe that the $1236 mark represents the moment of truth for Gold. These folks also point to the Silver markets, where Silver may have the power to launch precious metals into a positive run, reminiscent of a repeat of a similar trend in 2016. It has already broken out of the box that surrounds Gold and could be a harbinger of better days to come for Gold and other metals. Time will tell.
How are sentiment measures reacting to the latest news?
If the fundamentals and technicals are not the best basis for making Gold forecasts, then what manner of sentiment measures can assist in the process? Here is one example: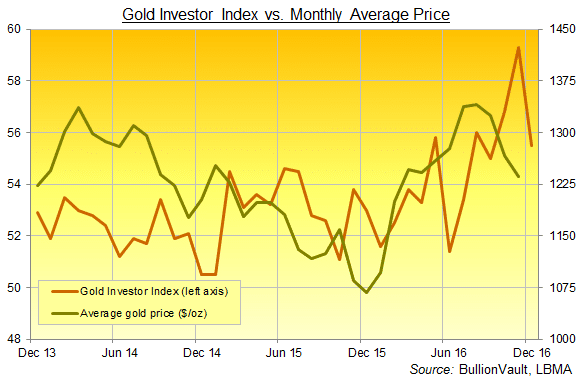 Sentiment measures come in several varieties. In this case: "The index measures the number of people starting or adding to their own private gold holding against those reducing or selling entirely. It would read 50.0 if the number of net buyers exactly matched the number of net sellers across the month." The volatility of sentiment should be duly noted, but the upward trajectory is a positive sign for Longs.
People often review the Commitment of Traders Reports to assess future trends, using the Non-Commercial data net position direction as a valid measure of sentiment. The news is also positive on that front, but moderately so. Brokers also tend to show customer preference for a particular asset to guide their customer's trading decisions. One example comes from the IG Group. As of today, in over 501+ accounts, 78% of positions are long, for a net figure of 56%. Retail traders, however, are rarely the best forecasters.
Gold closed Monday at $1216, debunking for the time being the "bearish" ceiling of $1200 that the negative camp had set last week. Will it gather steam or fall like a lead balloon? The roller coaster has left the station. The ride should be fun!
Concluding Remarks
Gold prices are perched precariously at a known support/resistance level. Where will they go and how will major currency pairs be impacted going forward? The naysayers have flooded the financial press with negative articles, suggesting that another fall is imminent. Loyal Gold aficionados disagree, claiming that Gold is primed and ready for another long appreciation run. Who is correct? When buyers and sellers are mixed in relative camps of equal size, it often suggests that ranging behavior is in the offing, where neither side gains the upper hand.
It is often claimed that sentiment drives Gold prices, but sentiment can turn on a whim, a misspoken word, or an exploding shell at any time or place on the planet. What we do know is that 2017 may be filled with events like these, each one disturbing capital flows across borders and disrupting other fundamental forces in the forex market. Look for more volatility than normal, and for Gold to break out at some point, up or down. As in 2016, expect the unexpected, and remember that, "It can be very expensive to convince the markets that you are right." When Gold finally makes its demonstrative move, be prepared to trade your favorite currency pairs in keeping with the circumstances.