Brought to you by:

ECB sources drag EUR lower, but can't hold it down
Yesterday, the euro pulled back briefly. Media reports suggested the markets misunderstood the ECB president Draghi's comments on Tuesday. Investors appeared to have interpreted Draghi's remarks to be hawkish, however the reports suggested his speech was intending to be balanced.
The ECB appears anxious with the increased speculation regarding an eventual QE-exit, as a rising euro and euro area bond yields may weigh on inflation. This could make the Bank's job of returning to targets harder.
EUR/JPY has been rallying for several days. This was highlighted following the break above the long-term downside resistance dating back to the 7th June 2015. Following the break, the medium term outlook of this pair has turned positive. The move above 127.80 (S1) could have opened the way for the psychological zone of 130.00 (R1).
Carney boosts sterling; Queen's Speech in focus
Yesterday the Governor of the BoE shifted to a hawkish tone. This hinted that he could support a possible rate hike in the forthcoming policy meetings.
This resulted in a surge in the pound Stirling as these comments may have caught investors by surprise, especially as last week Carney appeared to be dovish when he stated "now is not the time to raise rates".
In UK politics, focus today may be on the Queen's speech vote. The Tory –DUP deal is now concluded, therefore the 10 DUP MP's are expected to vote for the speech. This implies that Theresa May is expected to keep her job as PM.
On Wednesday, GBP/USD skyrocketed following Carney's comments to emerge above the key resistance territory (now turned into support) of 1.2850 (S2). Consequently, it broke above the crossroad of the 1.2910 (S1).
As for today's economic data:
From Germany, the Preliminary CPI rate for June is expected to have ticked down. A decline such as this could hurt the euro, however it must be highlighted that Germany only reports only a headline and not a core inflation rate.
From the US, there is the final estimate of GDP for Q1. However considering that Q2 is almost over, we think this data is likely to be viewed as outdated. Therefore any reaction in the USD could be limited.
EUR/JPY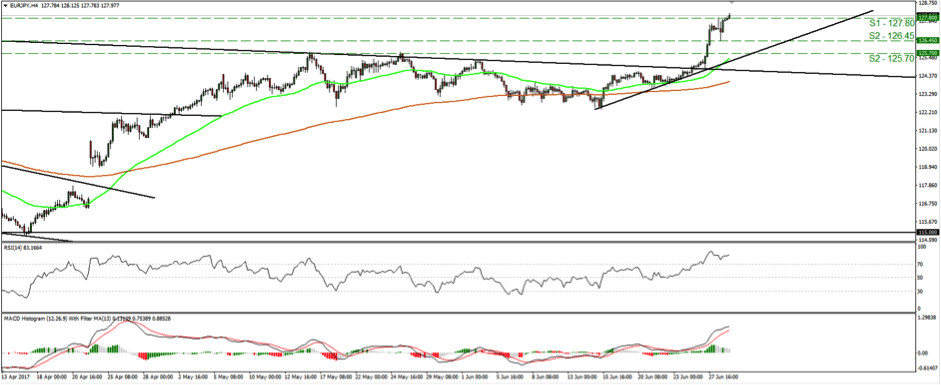 Support: 127.80 (S1), 126.45 (S2), 125.70 (S3)
Resistance: 130.00 (R1), 132.10 (R2), 134.65 (R3)
GBP/USD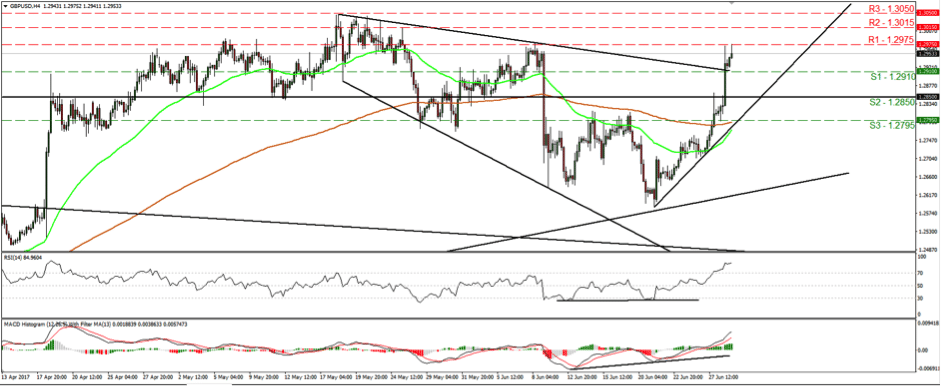 Support: 1.2910 (S1), 1.2850 (S2), .1.2795 (S3)
Resistance: 1.2975 (R1), 1.3015 (R2), 1.3050 (R3)