Headline stories that deal with an outlook for financial markets are becoming seriously guilty of late of a lack of imagination. Either authors are suffering from writer's block or they are just plain bored with our new normal, as it has been called. Everyone seems to be adopting the old "hockey stick" method of reporting, where one predicts that the current flat line of activity will soon morph into something dynamic, i.e., the change will resemble the end of the hockey stick that suddenly rises or falls, depending upon the situation at hand. The joke of this metaphor, however, is that the end of the hockey stick keeps moving forward. Our "stick" if you will, is now over three years long.
The generally accepted theory for our current malaise is that central banks have constrained market forces to such an extent with various QE and zero-interest rate policies that nothing can react sharply to the current circumstances. We continue to muddle along with lackluster economic results, just good enough to prevent a recession but hardly great enough to blow anyone's socks off. The result is that our "stick" keeps getting longer. Fundamentals no longer rule. Investor sentiment is a quandary, but every indicator known to man is screaming that the world twelve months out will be abysmal.
Analysts and economists in the interim continue to grasp at straws, proffering up reason after reason that this market will soon crash. These experts have hoisted a host of red warning flags, but the Bull just keeps on running, as if it has an endless supply of Ever-Ready batteries. Then along comes the first week of the month. Everyone tenses up before the newest Non-Farm Payroll data release, a former harbinger that used to be a reliable predictor of Fed actions to come, if an only if the new data were overly impressive. The latest figures were a "Fail". Geopolitics is now the worrisome topic:
Just how unimpressive were the latest job figures?
The most over-worked storyline of 2017 has to be what and when will the Fed act on its various normalization programs, a fancy term for tightening, and will these actions lead to the demise of our current record setting Bull market? The Fed had recently telegraphed to financial markets that it fully intended to move ahead with its plans to raise interest rates and reduce the size of its bloated balance sheet, but, and there is always a "but", it will always take into account new economic readings and adjust accordingly, whatever that means.
One reporter gave the latest release a failing grade, noting that, "This was not a terribly impressive jobs report. Today's report shows continuing weakness in the economy in our view. While the top line number was in the midpoint range of overall estimates, the consensus was for 310,000 jobs. Today's print, at 261,000 jobs, was considerably below that. But worse was the makeup of the jobs gains: about 90,000 to 100,000 of the jobs "created" were from a statistical anomaly. Thus, actual jobs creation came in at just around half of what they were expected to be."
On its surface, the report could have been interpreted as favorable, as long as a creditable spin-doctor were telling the story, but we are way beyond accepting obvious spin when it comes to economic data. The optimists in the analyst community love to cite the 4.1% unemployment rate as the lowest since December 2000, but at that point in time, the participation rate was 67.1%, a full four percentage points ahead of October's reading. The mixture of net job changes continues to suggest a failing retail sector, and auto sales could be off as much as 500,000 to one million units.
The largest concern, however, is the lack of an increase in Average Hourly Wages. A continuing boost in this statistic is necessary to drive our service-driven economy. Other reports indicate that consumers are spending more of their disposable income paying down debt, and "banks are lending to less credit-worthy customers (and have boosted reserves)." This reporter's conclusion: "Until we see a significant and continuing rise in real wages, we remain concerned about 2018. If the tax bill currently being wrought by Congress is not enacted – which we believe is likely – we see significant risks to the overall economy and particularly the market, which, in our view, has priced in passage."
What do these sentiments mean, when you canvass the opinions of various Fed-watchers on the sidelines? Here is one comment that summarizes the general feeling among those that focus on the gyrations of the Fed: "Will this be enough of a concern next month for the Fed to decide against raising interest rates? Odds prior to today's employment numbers that the Fed would raise another 25 basis points was north of 80%, but would this group — which has been more cautious than market participants — be more interested in keeping interest rates lower for longer as a result of these latest numbers?" The beat goes on, but maybe the Fed should not be our primary focal point.
Where should our focal point be, if Fed machinations no longer excite markets?
Article writers for the time being seem to be groping for the handrails, trying to find a theory or correlation that can be counted on as a reliable indicator of things to come. Yes, Fed actions can dictate a tightening market scenario, but, if the changes are mere basis points over an extended period of time, when does the camel break a knee because the load is unbearable? Are we near to that tipping point or are there miles to go before we sleep? Warnings are becoming noise, easily filtered and ignored, but it is difficult to ignore a headline like the following: "There Will Be Significant Roadblocks In The Market The Rest Of This Year, 2018, And Beyond."
The author of this piece is not spewing his own take on market conditions. He is summarizing the takes of some of the more highly respected "Bulls of Wall Street". Names like Jim Paulson at The Leuthold Group, Mike Wilson at Morgan Stanley, Mike Santolli of CNBC, and Douglas Holtz-Eakin, a former director of the Congressional Budget Office in 2003, are being sought for their individual opinions, and the words that these respected few are saying are not positive observations of good times to come.
The concerns of these gentlemen can be summarized as follows:
Delays in "Tax Reform" will not augur well for stock valuations;
Too many investors are seeing Blue Skies ahead, without risk awareness;
A flattening yield curve in the bond markets is a precursor of recession;
Financial stocks are declining when rates are increasing, another bad sign;
Long periods of low volatility invariably signal a severe downturn;
When tax cuts increase debt and deficits, growth never follows;
A rising Dollar and oil prices are signs of cracks in the wall;
Global debt is currently surpassing three times global GDP.
There are also infrastructure issues that are reflected in the diagram below: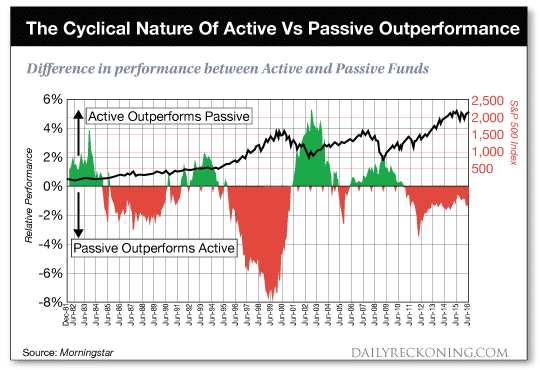 For the past seven years, investors have pulled funds out of actively managed vehicles, like mutual funds for example, and moved them into passive EFT portfolios. The shift has caused additional buying demand that has been cited as a reason that stocks have appreciated beyond what many felt was sustainable, while at the same time fund managers purged their losers for more attractive options. This re-ordering process has been exacerbated by better performance factors from the EFT sector, as well, but EFT positions can be liquidated more easily than can those at mutual funds, a condition that many say could cause an immediate liquidity crunch, when and it that day arrives when position holders rush for the exits at the same moment.
As for volatility, Mike Santolli's thoughts are a bit sobering: "Market volatility came to a screeching halt during the wild year of the Trump victory. Most investors would have to think of this being a strong positive for the markets. However, equity markets, after going through long periods of very low volatility, are set up to decline significantly. In fact, the S&P 500 just broke a record today, 11/9/17, by going through the longest streak in history of 370 days without a 3% decline. This is not a good streak, and once it breaks, it could turn into a bad bear market."
Low volatility has also been labeled as the reason why fundamentals and several time-honored correlations are somehow breaking down. Markets are clearly going up, but where is the confirmation that appreciating prices are building upon a foundation of solid ground? Volumes are also falling in some sectors, leading one analyst to say the obvious: "With just one bear for every five bulls there is serious herd mentality. That being said, one of the things we are also seeing in the markets is an exceptionally low level of correlation, which is at least to some degree responsible for the low levels of volatility. My personal favorite canary in the coalmine, employment in trucking, has seen no growth in the past seven months. It's early going here, but this has my attention."
For Warren Buffett followers, the following chart is also an attention getter: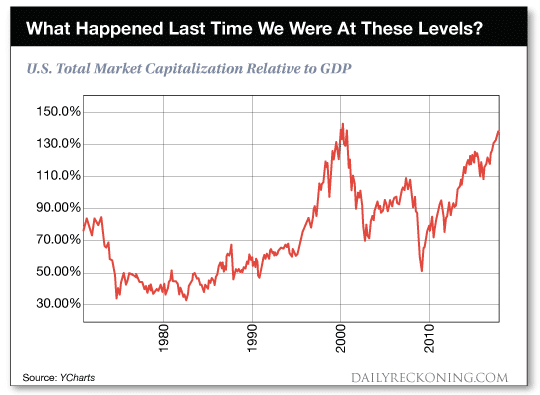 Per one analyst: "This "Buffett-Metric" is the total market capitalization of U.S. stocks relative to the GDP of the country. Today that metric sits at almost 139%, a number that has been eclipsed only once before in the entire history of the US stock market. That was at the peak of the tech bubble in 2000 when the "Buffett-Metric" hit 145%, and it only held that level only for a few short weeks before the market crashed."
Lastly, we return to Geopolitics, the biggest risk concern for investors over the next twelve months that we noted at the beginning of this article. Saudi Arabia, Turkey, Qatar, and Venezuela are rising on the global radar screen as potential hotspots. Another analyst reminds us that, "You cannot separate geopolitics and public policy from markets. The market can ebb and flow independently of the outside world for extended periods, but it cannot become its own separate entity. Because think about what the market is comprised of. It's comprised of assets that are, at the end of the day, inextricably linked to what goes on in the real world. That is the inescapable reality."
Concluding Remarks
The overriding message for the next twelve months, according to many, is to buckle up and prepare for a very bumpy ride.
Stay cautious!