Are the December doldrums over? By the look of the first week of 2019, it appears that the carnage of last month has long been forgotten. Non-farm payroll jobs blew past 312,000, if you include positive revisions for previous months. Not long ago, an event such as this would normally scare the pants off investors for fear that the Fed might over react, but lo and behold, Chairman Powell went on the speaking tour with comments that can only be regarded as dovish. This apparent change in behavior sparked a rally on Wall Street and sent analysts home for the weekend with broad smiles on their faces.
Will this week be party time all over again? One reason for the apparent confusion is that there has yet to be a general consensus on the narrative that will guide the analytical side of the house, as they update newsletters and pontificate on what may transpire as 2019 rolls along on its merry way. Although a few banking and investment houses have committed to the written word regarding 2019 forecasts, a majority were so frightened by the December downturn that they did not know where to begin. Typically, there is a bit of tax selling and tidying up of portfolios to look their best at the yearend cutoff, but the last time there was this much December pain was way back after the Depression.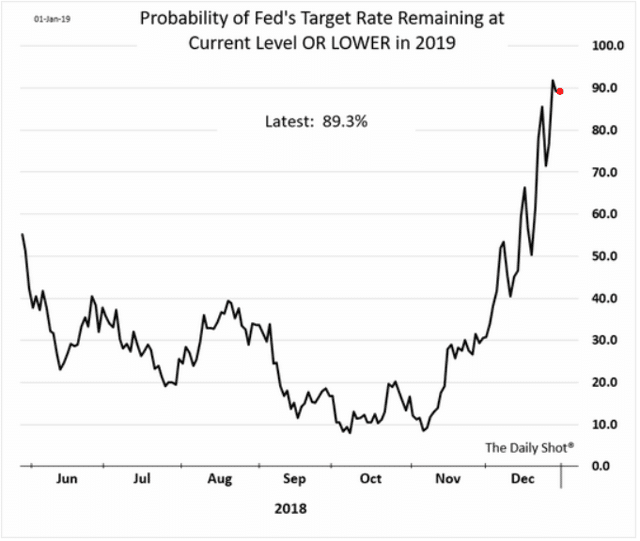 As of early November, there was less than a 10% chance that the Fed would pull back on its professed commitment to raise interest rates twice in 2019. By the end of December, the odds had shifted dramatically, ascending to 90% that the Fed would abandon its hawkish stance, observe the pain in the markets, and press the "Relief" button, i.e., back off raising rates in the coming twelve months. Equity markets, however, are not the economy. Something more than losses on Wall Street would have to happen to change the plan that the Fed had ostensibly cut in stone.
The Fed has more to address than just its interest rate policy in the months ahead. It is also normalizing its balance sheet, a controversial issue to be sure, since the effects going up the QE chain were never predicted correctly, and the potential for economic harm when QT, as it is being termed for "Quantitative Tapering", is already being exaggerated. No one is quite sure what might happen, but most everyone believes that it surely cannot be beneficial.
The Fed's musings and the press crew that follows its every move are not the only issues going forward. The trade-tariff war with China looms largely, although analysts are now trying to deflate the "disaster balloon" they have created for months. Negotiations are to commence again this week, and the general thinking is that the Chinese, trapped by an economy that is floundering, may actually capitulate on a few items, allow Trump to declare a modest victory, but then never follow through on any promises. Pure speculation is the game at this point, as the late-March deadline for a deal approaches.
There are also troubling signs that an economic slowdown is taking shape. The pressure of a recession in the coming year appears to have waned, but activity in a number of sectors, especially in the manufacturing arena, is eroding both in the U.S. and in Europe. Positive GDP growth will continue, but back down to 2% and below. The frightening part, which has not occurred to this extent before, is that global debt is careening northwards at all levels. There appears to be no way out of this trap that does not entail a major decline in asset prices. As one pundit put it: "It will have to be inflated away sooner or later."
The Non-Farm Payroll Report was a positive sign in many ways.
As for details, one report read: "Early Friday, the Labor Department said that U.S. employers added the most workers in 10 months as wage gains accelerated and labor-force participation jumped, suggesting the underlying economy is holding up amid falling stock prices. Non-Farm payrolls rose by 312,000 in December, surpassing analyst forecasts. Average hourly earnings rose 3.2% year over year, the fastest pace since 2009. The unemployment rate inched up from a five-decade low to 3.9%, as more people entered the labor market to find work."
The market viewed the report as an indication that growth will be around for a while, but it truly rallied later, after Chairman Powell spoke before a conference held in Atlanta. His comments suggested flexibility on the part of the Fed going forward and that it might pause for a moment to reconsider raising rates down the road. Powell said: "With the muted inflation readings that we've seen coming in, we will be patient as we watch to see how the economy evolves."
Others had felt before the jobs report that economic data was just too good to even think that the Fed might reconsider: "The Fed has projected 2 rate hikes for 2019. The most recent GDP growth rate is 3.4%, the inflation is 2.2%, and the unemployment rate stands at 3.7%. Given these numbers, it is hard to argue against the reasoning by the Fed. Having said that, these are all lagging indicators, and we have seen many data points that indicate an economic slowdown."
How much did the markets rally? Per another report: "The Dow rallied 3.3% to 24,433.16, with the S&P 500 Index rising 3.4% to 2,531.94. Technology stocks, which have been especially volatile in recent months, were among the biggest gainers. The Nasdaq composite rose 4.3% to 6,738.86."
Matt Maley, an equity strategist at Miller Tabak & Co., noted:  "No matter what the Fed's going to do this year, today's number showed that even though the Fed may still raise rates once or twice this year, it showed that a recession is still not very likely this year. Recessionary fears were really starting to grow but today's number eased those fears."
If the report was so rosy, why are analysts concerned?
Unfortunately, there is one issue, the elephant in the room, so to speak, which few are discussing – While economic results are appealing, deficits and debt are soaring. From a global perspective, the following data trend is more than alarming: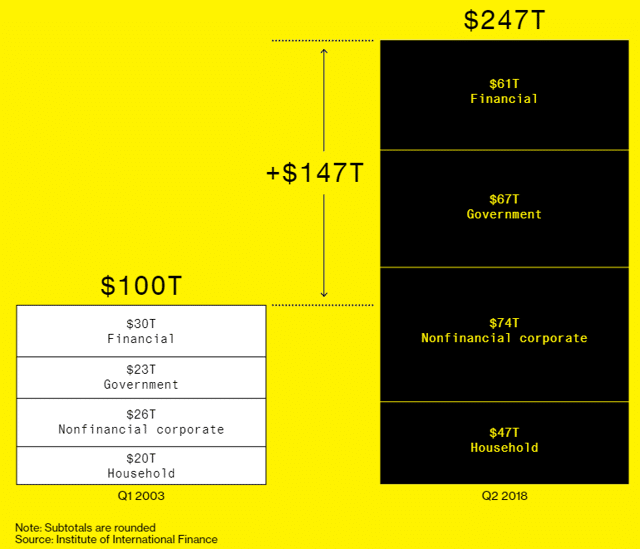 In previous economic cycles, growth has typically had a counter-balancing relationship with debts and deficits. If there were bad times, stimulus programs were implemented, but debts and deficits were incurred. When the growth came, tax revenues and spending would rebound, driving down the liability side of the balance sheet. Such has not been the case with our long drawn out, central bank mandated type of recovery. Growth and debts and deficits have spiraled together.
Rising interest rates and global central banks having to normalize their bloated balance sheets will immediately bring focus to this very issue. One economist has gone so far as to consider a thought experiment as to how the debt will or will not be dealt with: "With debts being larger than assets and dwarfing cash flows – whether that is on a household, corporate, state or government level – and you then try to deleverage, which effectively is what balance sheet normalization is, asset values ultimately go to zero, all else equal. When push comes to shove, I highly doubt any politician or central banker will be willing to take the pain of deleveraging this pile of debt."
What is the alternative? Allowing inflation to run rampant is one way to bring the books back in line, but it, too, would be very painful medicine. Some analysts reason that the pain is already on the way. December was but one example in the equity sector. As QT proceeds, the consequences, which have been hotly debated for the past year, will make themselves known post haste. Although rising interest rates may be a contributor, critics point to the "pain" in the following chart as what could worsen in the wake of more quantitative tapering by the Fed, the ECB, and the BoJ:

As the argument goes, QE programs were designed to infuse an enormous amount of liquidity into the marketplace, the idea being that, if bonds were purchased, the resulting cash flows would be invested in risk assets, thereby creating jobs and a recovery. The process was to be temporary, but it has lasted a decade. Inflation has been kept in check, although every economist was sure that it would be a major problem. The problem was that deflation was worrisome, and debt loads escalated.
The impact of more debt is simple. It robs potential growth in the future by diverting funds that would normally be invested. The Congressional Budget Office (CBO) is already projecting sub-2% GDP growth in 2020 and to stay in that range over the next eight years. Deficits will balloon, and the Treasury will have to rev up the printing presses to keep pace. It is not a pretty picture, if you buy into this logical scenario.
As the narrative forms, one premise is widely accepted – the USD will weaken.
During 2018, the most crowded trade in town was the long-Dollar position. The above scenario, whether you accept it or allow for normalization of interest rates and asset-purchase programs, would suggest that a 180-degree change might be in order. While each investment house or global banking department publishes its economic narrative for 2019 over the next month, for the ones that have there is one common ground – each one forecast the U.S. Dollar weakening.
Is it time to short the Dollar? With both Europe and Japan stuck in lower gears for whatever reasons and China still searching for a formula that works for its future, it is difficult to abandon the importance of monetary policy divergence in favor of anything else. Yes, the USD Index has pulled back from 97.5 to 95.5, but can it really descend below 90 in the near-term? Analysts are pegging the next 3-6 months as critical, but there tend to be too many moving parts to allow for accuracy in forecasting foreign exchange rates.
Concluding Remarks
Last week ended with financial markets celebrating, but last week is over. Analysts believe the jobs report eased recessionary fears for 2019. Powell also put minds at ease that the Fed can and will be flexible. China trade talks, a slowing economy, and excessive debt loads, however, still remain.
Is it time to short the USD? There will come a time, but the long trade is now so overloaded, that even a minor shift may cause an avalanche of opportunity.
Be prepared!