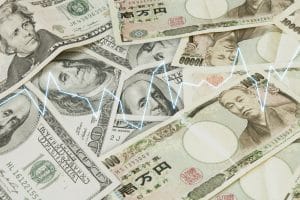 The Japanese yen was an early winner as trading got started in the forex markets on Monday morning.
The so-called "safe haven" currency rose in value against the US dollar thanks to a decreased appetite for risk. It went up by 0.15% against the American currency and reached 109.79 – surpassing its best position since February 8th.
The currency also scored well against other global alternatives too. It went up by 0.15% against the euro to 124.035, for example.
In the Asia-Pacific region, it continued its run of good luck by rising a fifth of a percentage point in its pair with the Australian dollar – reaching 77.72.
Ongoing political instability in the UK led to the pound dropping by 0.1% in the GBP/USD pair – reaching $1.3199.
Prime Minister Theresa May has two weeks longer than anticipated to resolve the Brexit saga, but newspaper reports over the weekend led to question marks over her future.
The dollar index, which measures how the greenback is performing compared to several other currencies from across the globe, barely moved. It was recorded at 96.623.
With a new foreign exchange trading week now underway, it's a good time to look at some of the key events scheduled on the economic calendar.
Today (Monday), there will be speeches from a number of central bankers. In the US, Patrick T. Harker, President and CEO of the Federal Reserve Bank in Philadelphia, speaks at 10.30am GMT.
Luci Ellis, Assistant Governor (Economic) at the Reserve Bank of Australia, will speak at 8.30pm GMT.
In terms of reports, the Bank of Japan's latest summary of opinions will be out at 11.50pm GMT.
Tuesday, there will be a number of statistical releases, including business climate information for the month of March out of France. This is expected to remain firm at 103, where it was last recorded.
American building permits for the month of February are expected at 12.30pm GMT. This release is expected to show a change from 1,317,000 to 1,320,000.
The US housing price index for the month of January is expected at 1pm GMT. This is expected to show no month on month change from 0.3%.
Looking ahead to Wednesday, an interest rate decision is expected from the Reserve Bank of New Zealand at 1pm GMT. It is expected to show no change from 1.75%.
More central banker speeches are expected during the course of the day. Mario Draghi, President of the European Central Bank, will speak at 8am GMT.
While Peter Praet, who sits on the European Central Bank's Executive Board, will speak at 8.45am GMT.
Esther L. George, who is from the Federal Reserve Bank of Kansas City and a member of the Federal Open Market Committee, will speak at 9.30pm GMT.
In data releases, US trade balance information for January is due out at 12.30pm GMT.
Over the border, import and export data for the month of January is due out of Canada at the same time.