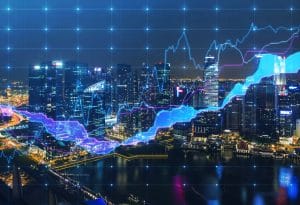 The global foreign exchange markets are today preparing themselves for a bumper week full of major interest rate decisions from central banks across the globe.
Three important nodes in the world's central banking network – the US Federal Reserve, the Bank of England and the Bank of Japan – are all set to make announcements this week.
As trading began, the US dollar managed to almost preserve its position against the other major currencies under scrutiny this week. The USD/JPY pair rose by the almost negligible amount of 0.01%, stopping at 111.125 yen.
The first of the trio to make an announcement will be the Bank of Japan in Tokyo. It began its marathon two-day meeting on Monday and will make its announcement on Tuesday.
It's not yet clear what the outcome of the Japanese meeting will be. One possibility is that it will change its monetary policy position altogether, although that is considered unlikely.
However, it may offer some details to the market by making suggestions about future policy moves. Alternatively, it could announce that it will make other non-rate-related decisions, such as altering its policy of purchasing exchange-traded funds or changing its yield-curve control.
This will be followed by a meeting of the US Federal Reserve, which will end with a rate decision on Wednesday.
The Fed has made several indications over the last few months that it plans to raise interest rates again over the rest of 2018, so forex investors will await the announcement in keen anticipation.
Across the Atlantic on Thursday, meanwhile, will be a Bank of England policy decision in London. It is believed by most traders and market watchers that the Bank will decide to raise interest rates as well.
Despite the heavy focus on these major rate decisions, there are plenty of other major economic events lined up for this week, some of which may, in the end, be more important than the rate decisions.
Major US economic data from June and July, such as personal consumption information and some local Purchasing Managers' Index data (PMI), will be revealed over the course of the week.
Given that this represents some of the first data releases since the threats and imposition of new trade issues with China, it will be closely observed by investors looking to see whether or not these developments have harmed the dollar.
Also, on the cards this week are a number of important Asia-Pacific releases. On Tuesday, information from New Zealand will include some important unemployment statistics as well as a labour cost index. Monday, meanwhile, will see month-on-month building permit information, which is likely to indicate how the housing and commercial property markets are performing.
In Europe, Monday will see the preliminary German consumer price index data for July released, while consumer confidence statistics from Britain will be released late in the evening.
Friday is also a big day for data, with Australian retail sales information for June coming out early and details of the French June budget being released in the morning.