The level of tension in today's financial markets is palpable. Irrational exuberance has been at works for months, spurred on by what has been called the "Trump reflation trade", but this house of cards may soon come tumbling down if Trump and his cohorts in Congress are unable to pull out a key victory regarding healthcare reform. If the bill passes the House, then it will still encounter hurdles in the Senate, but the market views this event as a bellwether of things to come. Will Trump have the support to pass tax and infrastructure proposals, which are the real reasons for the recent run up in stocks?
More forex market news
Tuesday witnessed the first intra-day S&P 500 pullback on the order of 3% in quite a while, although equities did recover a good bit before the close. Surprisingly, the Dollar dipped below 100. The Euro, Pound, and Yen were direct beneficiaries of its decline, and Gold bugs woke up from their collective slumber and shouted "Buy" loudly. The VIX index barely budged, demonstrating that the roiling about was more of a "ho-hum" moment than the beginning of a major pullback. Oil prices, however, were another story. WTI crude fell nearly 14% from its January high, resting just below $48 a barrel.
To say that investors are skittish would be an understatement. It is as if everyone is playing an adult game of musical chairs. When will the music stop? When will the mad scramble for a safe haven begin? Market sentiment is wavering as potential event risk abounds, but the first House vote, the initial item on this hit parade, has now been delayed. The word on the street is that smart money is shifting to safer quarters. The movement of major currency pairings of late, as well as for Gold prices, is evidence of this supposition. If your cab driver tells you that he is getting into the market, then you can rest assured that a peak has been reached. The "greater fools" have joined the fray.
What is really going on behind the scenes?
Any slowdown in Trump momentum is problematic for this current Bull market. In times like these, it is wise to determine how the big money players are repositioning. They are usually the first to know that the lead horse will fade as it rounds the turn. Better to change horses or get off the track, if that is a real possibility. Are we beginning to see many favored positions unwind before our very eyes? Two well-respected gurus of the stock world have these words to say:
Marko Kolanovic (JPMorgan): "We maintain that the market is entering a vulnerable phase, where increased volatility can further contribute to equity outflows. While we don't want to minimize the impact of political developments, today's move was primarily technical and should not be fitted into a political narrative (which in fact was neutral between developments in France and US)."
Charlie McElligott (Royal Bank of Canada): "We think that market participants embraced an oversimplified fundamental narrative on Trump's impact on financial markets. The fundamental narrative has been unraveling recently and may further come under pressure if bond shorts and USD longs continue to get unwound."
In other words, smart money investors may already be unwinding the very trades that unsuspecting "greater fools" are buying into with a penchant. As for the potential of a "Trump Tantrum" if his Healthcare bill fails to get passed, one analyst was preparing to gird his loins: "Market sentiment is being dictated to by this piece of legislation – the House votes this evening. The fact that the President is struggling to push his bill has raised doubts over whether he can win support for his pro-growth economic policy measures." Latest news is that the vote has now been delayed for lack of a majority.
What have major currency pairs and Gold been doing in the background?
U.S. stocks moved a bit lower after the announcement that a vote in the House had been delayed. Global stocks, however, have remained mixed. Liquidity issues in China and other developing markets have led to a sell off in U.S. Treasuries, but capital flows to Japan have heightened, a sign that uncertainty is raising its head once more. The concern with the "USD/JPY" pair is that it has pierced the 111.50 floor and closed below that figure for two days in a row. The Euro and Pound Sterling are perched at 1.08 and 1.25, respectively, versus the USD, awaiting the crucial test of Trump's prowess.
Analysts have also fastened on Gold and more specifically on its proverbial dance with the Euro. Here is the latest chart that depicts various correlation data: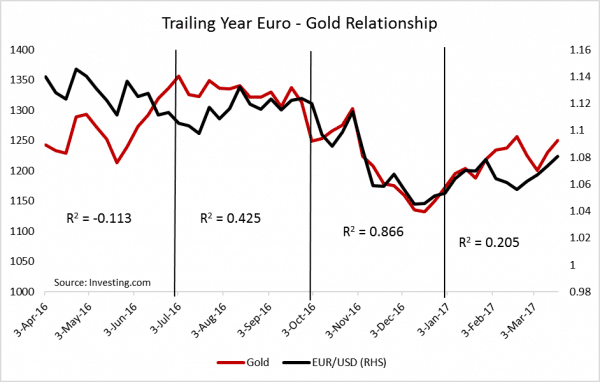 During the last quarter of 2016, the correlation factor ran high at 0.866, but it has tailed off lately, a sign of de-coupling. Although a few bank forex departments expect the Euro to rise from the ashes and hit 1.10 by yearend, the current thinking is that 1.08 will be a tough level to crack in the short run. Gold enthusiasts are hoping that $1300 is in the cards, but the tie to Euro is currently in the way.
What are Gold bugs saying at the moment? "This relationship between the euro and gold has not been a long-term one. Gold, despite the rhetoric, marches to the beat of a hundred drummers all clamoring for its attention. The conventional wisdom holds that gold cannot rise into rising interest rates. Gold has, however, in the past, risen alongside interest rates when there has been a crisis in confidence in the government." The jury is still out regarding the market's confidence in Donald Trump, caution advised.
How have oil prices been reacting lately?
WTI oil prices recently took a dive below the benchmark $50 level, as depicted in the following chart: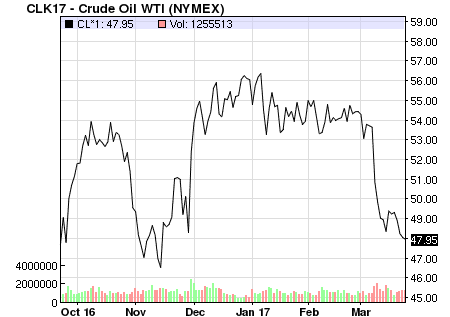 What was behind this dramatic turn of events? U.S. oil production is escalating, and inventories increased by five million barrels in one week. Much has been written about the $50 level for profitability of U.S. fracking and oil rig activity, and it appears that no one was left standing at the station. With a drop below $45, however, banks will get uneasy again and begin calling in loans and halting the current recovery.
Saudi Arabia is also pondering its next move. OPEC had voted for a six-month cut in production, but the Saudis, out of deference for their Arab brethren in Iran, cut back more in order to allow Iran to recoup its prior losses by increasing output by 45%. The Saudis, however, may be losing their patience, especially after Fitch, a major
rating agency, lowered Saudi Arabia's credit rating, due to its loss of market share. If you add a disgruntled Russia to the equation, it is doubtful that any significant upward movement in oil prices is possible anytime soon. Over-supply remains the primary issue.
What about China?
Aside from liquidity issues and the need for the PboC to intervene in currency markets to bolster the Yuan, the battle that is brewing in the background relates to China's auto industry. Trump has been very adamant that something has to change in trade relations with China. Per one analyst: "This issue is coming to the surface now, especially since President Donald Trump wants to "level the playing field" and make trade agreements "fairer" and more consistent with competitive conditions within the world. Mr. Trump has threatened steep tariffs to achieve his goals."
The problem is that China currently protects its domestic auto market: "China's car business is attractive to outsiders chasing sales growth, but rules protecting local companies dent profits of global auto giants and force them to share technology with potential rivals. The 25% tariff on vehicle imports makes U.S.-built automobiles too expensive for most buyers in the world's largest auto market." A confrontation is in the offing, but the hope is that Trump will not opt for short-term gains, but realize that, if advances are to be made, both parties cannot be in conflict. Time will tell.
The long-term picture has not changed for the better.
As many economists have pontificated, we are at the end of a major debt cycle. In order to maintain our lifestyles, both in North America and Europe, we have borrowed our way to fill in the gaps brought about by declines in household incomes. Those declines were necessitated by commercial attempts to remain competitive by off-shoring manufacturing efforts to lower labor cost markets. The result, at least for America, is presented below: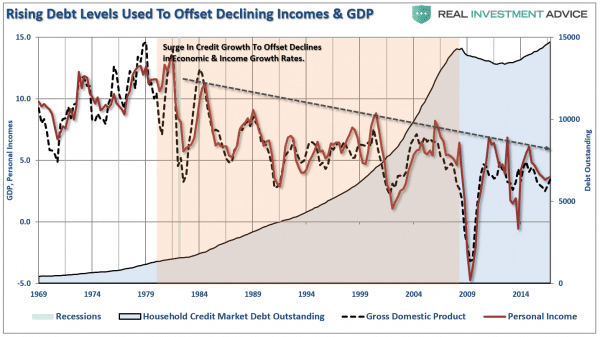 As one economist reported, "Today, the U.S. is no longer the manufacturing epicenter of the world. Labor and capital flows to the lowest-cost providers, so that inflation is effectively exported from the U.S. and deflation can be imported. Technology and productivity gains ultimately suppress labor and wage growth rates over time. The chart above shows this dynamic change, which began in 1980. A surge in consumer debt was the offset between lower rates of economic growth and incomes in order to maintain the "American lifestyle."
A surge in debt and a decline in income growth rates are not the only headwinds that might thwart Trump's high-growth agenda. Population growth rates are now lower than they were in the 1930s, leading to the inevitable conclusion that, "The long-term consequences of an aging population, lower incomes and savings rates and a declining rate of population growth is a problem that is likely to continue to hamper the economy going forward."
Concluding Remarks
Republicans in the House are claiming they will have the necessary votes on Friday, the next scheduled day for a vote. It is never a good thing for event risk to happen after stock and foreign exchange markets have closed for the weekend. You can expect volatility to take hold, as each forex market center closes it desk, as the Sun moves across the horizon. No matter how this event risk scenario plays out, there will be gaps at the opening on Sunday afternoon and Monday morning, and most of the jostling on Friday will be to hedge against that possibility.
It may not be the most opportune time to leave trading positions open over the weekend. Gaps tend to leap over the best stop-loss strategy, leaving you prey to downside risk. On the other hand, if gaps do appear, conventional wisdom states that they must be filled at some point, usually sooner rather than later. Regardless of political outcomes, there should still be ample opportunity to ride a favorable trend at some point. The most basic advice is to plan accordingly, and get ready to trade!