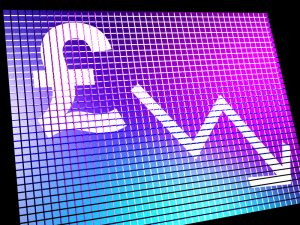 The British pound crashed on Thursday after Prime Minister Theresa May's government experienced a series of dramatic resignations.
Her own Brexit Secretary, Dominic Raab, was the first go on Thursday morning. He was followed by another Cabinet member as well as several junior ministers.
The pound dropped against the dollar by 1.65% over the course of the day, touching $1.2768 at one stage.
The GBP/EUR pair also dropped 1.71% against the euro, and it ended up at 88.57 pence at one point.
More political instability is believed to be on the cards in the UK in the coming days and weeks. Prime Minister Theresa May now needs to get the deal through Parliament, and she also needs to fend off a potential challenge from within her own party by those disgruntled with her performance.
It was the US dollar which did particularly well out of the problems. After a tough few days for the greenback, it managed to surge ahead in the face of the sterling chaos.
The dollar index, which monitors the dollar's performance against six other currencies, was up 0.3% at 97.098.
With this week now closing for foreign exchange traders, there's plenty coming up on the economic calendar for next week.
Monday sees the publication of the EU financial stability review, which has been published two times a year since 2004 by the European Central Bank (or ECB).
It places a particular focus on risk in the euro area – and with risks like Brexit and Italian budget clearly continuing to persist, a lively debate is likely to ensue.
The pace is set to be picked up on Tuesday, with the Reserve Bank of Australia due to announce the minutes of its meeting at 12.30am GMT.
Just an hour and a half later at 2am GMT, the Bank of Japan is due to issue its monetary policy statement.
Later in the day will be a series of US construction industry releases. Housing starts for October are likely to show a decent month on month rise from 1,201,000 to 1,235,000.
Building permits for the same month are believed to be in line for a month on month rise from 1,241,000 to 1,268,000.
Wednesday will see the European Commission release its decision on the Italian budget. It is possible that the Commission will choose to launch disciplinary action against the state.
No time has currently been specified for this announcement.
More American statistics are due out in the afternoon. These include durable goods orders covering October, the level of which is estimated to change from 0.8% to -1.8%. Traders can expect these figures at 1.30pm GMT.
Existing home sales information for October is due at 3pm GMT. A month on month rise from 5,150,000 to 5,230,000 is expected.
The day will be rounded off by the national consumer price index figures for October from Japan, which are expected at 11.30pm GMT. Its previous position was 1.2%, and there is currently no consensus as to where it will go next.