The "Trump Train" has roared through its first week, but, over the weekend, it caused another storm of protest, both within and without U.S. borders. One headline blared, "Geopolitical And Trade Risks Dominate Market Moves." When this type of news flash hits the wires, you can expect fearful investors on Monday morning to suddenly engage in their form of musical chairs, where cross-border capital seeks the safest and quickest haven to ride out the current spate of bad weather. The Yen immediately strengthened, while other major pairings languished within tight boundaries.
As protectionist worries mount, the plot will only thicken this week, a period loaded with central bank activity and brimming with economic data, climaxing with the first Non-Farm Payroll Report during Trump's reign as President. Whatever level of unemployment, new job creation, or declining job participation results are announced for January, it will more than likely be met with derision by Trump, with a promise that new figures will soon skyrocket under his tutelage. Hopefully, his economic focus will return to jobs and back away from halting immigration from Muslim nations.
The initial reaction of the U.S. Dollar has been to weaken somewhat, but analysts are sensing that a new level of support has formed and that the technical picture favors another move upward. Here is one chart that supports that view: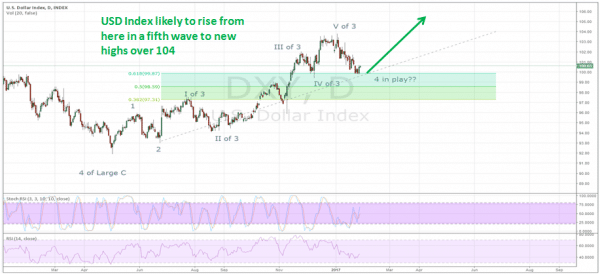 Elliott Wave enthusiasts might want to include this chart in their latest instruction piece, if the forecasted path does result in a bolt above the 106 realm. Both pessimistic and optimistic forecasts for the USD in 2017 do not see the greenback dropping below the 100 level. Current guesstimates populate the 100-106 region, with a few believing that central bank policy divergence may actually push the Dollar above 106. At some point, however, most all agree that the USD must fall or the U.S. economy will nosedive.
The trends that are apparent in this diagram are becoming known as the "Trump Paradox" – Trump's attempts at stimulating trade will only strengthen the Dollar, which in turn will eventually weaken trade across the board. Throw in a hoard of protectionist measures related to immigration and you have more gasoline thrown accidentally on the Dollar appreciation flames. As a result, capital flows have only begun to seek out safe havens, with more harm being done to emerging market currencies than G10 partners.
What actions are ramping up fear and anxiety amongst global investors?
At this stage, Congress has not presented new bills for approval, but Trump has moved in haste to address campaign promises with immediate Executive Orders: "The executive orders, like freezing new regulations, are what other presidents have done, including Obama, or ideas that Trump supported during the campaign, like withdrawing from TPP, supporting pipelines, the wall on the Mexican border, not funding international activity that support abortions, and limiting immigration by Muslims." The protectionist measures, however, have aggravated the investment community the most.
If investors were able to weigh in on policy direction, they would most certainly advise Trump and his administration to re-focus on economic measures and stop trying to manipulate international trade flows. Throwing out the Trans-Pacific Partnership (TPP) discussions to date does not send a good message to Asia. Instituting immigration controls in a haphazardly fashion will only bring retaliation, as well as a buildup of anti-American sentiment across the planet. Lastly, imposing new trade tariffs of 20% will only result in "tit-for-tat" responses from trading partners, lead to adverse rulings from the WTO, and throw an un-needed dose of uncertainty over international trade agreements.
According to economic theory, import taxes or "border adjustments", as they are called in pertinent legislation, are typically offset by currency movements, i.e., actual prices have not changed, such that purchasing parity must be maintained. As one analyst describes the process, "Proponents for the border tax argue this measure would generate tax revenue and significantly reduce the trade deficit while opponents to the tax argue that in the long run, the dollar will strengthen to cancel out the tax benefit." As luck would have it, Trump is on the record as having never been a fan of tariffs: "Anytime I hear border adjustment, I don't love it… Because usually it means we're going to get adjusted into a bad deal. That's what happens." Has he made a sudden 180 u-turn?
For every action, however, there are always consequences. Import taxes would inevitably be paid by U.S. consumers, not by foreign exporters, in the form of higher prices at the retail point of sale. This simple truth was driven home after Trump discovered that a tariff on all goods from Mexico, his way of making Mexico pay for his new wall against immigration form the south, would actually be paid for by American taxpayers in the form of higher prices. Oops! One campaign promise bites the dust!
The revelation was not the end of his worries on his high-profile promise to build a wall on the Mexico border at no cost to taxpayers. Trump would soon learn that he might need to find another way to finance the initial construction, as well, since it would require deficit spending in order to proceed. Government accounting does not allow for discounting future tariff proceeds to pay for current expenditures. Governments run on the cash basis, and, to maker matters worse, many existing manufacturing processes require various parts to cross a border multiple times, adding more complexities to what was first thought of as a simple solution. Today's globally entwined economy is complex.
When a simple stroke of his executive order pen terminated TPP negotiations, a new firestorm erupted. Trump had noted his desire to proceed with bilateral agreements, but multilateral deals were somehow off the grid for the time being, although many analysts viewed TPP as a way for Japan and the U.S. to force China to play fair on the global trade scene. Miscommunications are not reserved for Asia. There seems to be a growing disconnect between various cabinet appointees. Some are pro-trade; some are not. Some favor NATO; others have problems with the alliance.
Uncertainty reigns, but it may all come to a head in mid-March, the point where the debt ceiling comes into play. Since the early sixties, it has been raised nearly 75 times to accommodate overspending on a Federal level. Congress used the debt ceiling deliberations to demand fiscal constraints from the Obama administration, and no one expects things to change that much. Fiscal hawks want the debt and deficit to decline, not rise, another fundamental that will force the U.S. Dollar higher over time.
What is on the central banking agenda to cause current concerns?
There is a trifecta of sorts this week in the world of central banking. Not only will the Fed have a meeting and speak, but also the BOJ and BOE are in the mix. No one expects any major actions to be announced, but, as always, every syllable will be dissected for days to discern any possible future implications. Here is a brief recap for each CB:
FOMC: The U.S. economy moderated a bit during the final quarter of 2016, but the Fed governors may not be too perturbed. Labor is viewed as approaching full capacity, such that a slowing is to be expected. As for other possible tidbits, one analyst suggests that, "The uncertainty surrounding the fiscal initiatives of the new US Administration has not been lifted. It seems unreasonable to expect anything about the balance sheet to be included in the statement. This may be addressed at the mid-March meeting (around the time of the debt ceiling), if not directly at the press conference."
Bank of Japan: The BOJ is committed to keeping Japanese interest rates at near zero, plus or minus ten basis points. The benchmark is currently -.10%. Unfortunately for them, global interest rates have been on the rise, necessitating intervention on their part. The bank will announce GDP data and forecasts, but no changes are expected.
Bank of England: The BOE seems to be sitting on a rate fence once again. No one expects a rate cut, but there is a risk of a rate hike, although minimal. As one analyst put it, "The decision to keep rates on hold will likely have unanimous support. The risk is that the BOE turns more upbeat at exactly the wrong time." Carney is still sporting wounds from his last bout with "irrational exuberance". Caution may be the tone, but current thinking is that the bank's bond purchasing program has achieved its goals and may be cut back.
What are the forex market ramifications of an impending "Trump Paradox"?
As one pundit remarked, "The foreign exchange market is quiet and mixed. The focus is on the weakness of global equities and the continued sell-off in European bonds." The USD appears to have formed a bottom and looking north, an issue that the Fed may address in its press conference this week. The Mexican Peso, which had taken a beating versus the greenback due to Trump's intentions to roll back NAFTA and "make Mexico pay for the wall", recovered a bit over the past two weeks. It now rests at 20.8, having declined from a high of 22.0 to the Dollar.
Traders are repositioning, based on the presumption that the Dollar's downward momentum is fading. The battle in the market is over whether Fed policy divergence will overrule the new administration's desire to weaken the Dollar. The cloud over international trade has not been lifted, and if continued missteps encourage "risk-off" trades in the marketplace, then a true "Trump Paradox" will emerge. Considering recent trends, Emerging Market currencies may be forced to absorb more bad news, as the chart below would imply: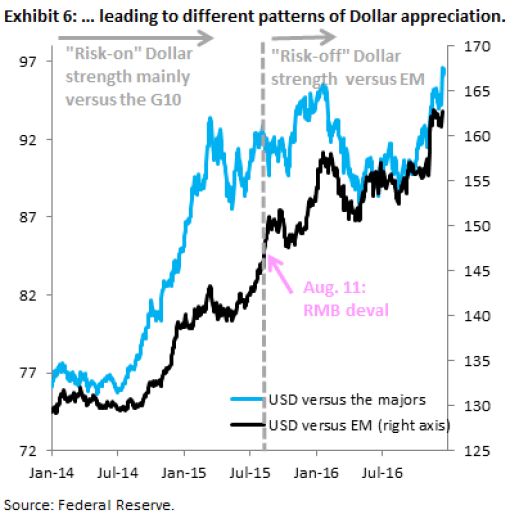 Currency speculators are gradually repositioning, as well. The Net-short position on the Euro is declining, some 30% since last October, but the shorts are still in command.   The same is true for the Yen, but commodity currencies are slowly shifting into the bullish camp. Speculative positions in the Aussie and the Loonie are now netting long.
Concluding Remarks
Are you preparing for a "Trump Paradox" to take hold of the U.S. Dollar? A few weeks back, it appeared that Fed policy and President Trump's aspirations were in direct opposition to one another. After one week of Executive Orders, fear and anxiety have entered stage left. Tax cuts and infrastructure spending may not be as easy as anticipated, but trade implications have now swamped the news. King Dollar may be lifted to a higher throne position after all. Look for a breakout, sooner than later.