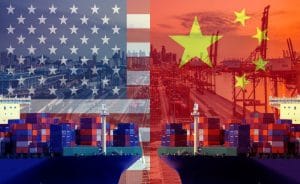 New hopes of a trade deal between two of the world's largest economies gave the dollar some assistance on Thursday and into Friday.
Reports in China suggested that Xi Jinping, the Chinese President, believes that negotiations between his country and the US were going forward well – so much so that he asked for the talks to end early.
 His American counterpart, Donald Trump, said that despite some issues remaining on the table, a deal could be made public within a month.
As a result, the dollar surged in its USD/JPY pair and was trading at 111.8 yen. The Chinese currency, the offshore yuan, saw a rise of a fifth of a percentage point.
Brexit continued to dominate the agenda for the British pound. It rose against the US dollar in the direction of the $1.31 mark after claims that the European Union would give the UK a period potentially of a year in which to leave.
The positive news out of China also meant good news for the Australian dollar. It went up by 0.2% and reached $0.71245 in the AUD/USD pair. The Australian dollar frequently reacts well to good news from China due to the deep economic links between the nations.
As one forex trading week draws to a close and another begins, it's time to look ahead to what the calendar
holds for next week.
The week will begin with some Chinese trade balance statistics, which are due out at an unspecified time on Monday. Imports data for the month of March will be out, and this was last recorded year on year at -5.2%. Export levels and overall trade balance figures for March will also be out. 
German trade balance data for the month of February is due at 6am GMT. This was last recorded at €18.5 billion.  
Canadian housing starts information for the month of March is due at 12.15pm GMT. Year on year, this was last recorded at 173,100.
Canadian building permits data for February will follow shortly afterwards at 12.30pm GMT. Month on month, this was last recorded at -5.5%.
On Tuesday, a series of key Japanese data points will be out. Machinery orders information for the month of February is expected at 11.50pm GMT. Year on year, this was last recorded at -2.9%.
On Wednesday, a key political event will take place in Europe. The European Council is expected to meet in Brussels.
Australian consumer confidence figures for the month of April so far will be released by Westpac at 12.30am GMT. These were last recorded at -4.8%.
The European Central Bank is due to make its interest rate decision at 11.45am GMT. It currently stands at 0%. 
US consumer price index information for March, excluding food and energy, is due out at 12.30pm GMT. Month on month, it was last recorded at 0.1%. 
The day will be rounded off by a release of minutes from the recent meeting of the US Federal Open Market Committee, which is due to show insights into monetary policy decisions.