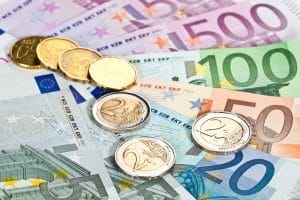 The US dollar began to rise on Wednesday as investors returned to the currency following a period of tumult for the greenback.
The currency has faced a number of worries recently, and it recently hit its lowest point in four weeks.
Its status as a "safe haven" currency, for example, has been under threat in recent weeks as discussions around relaxing trade barriers with both Mexico and China have taken place.
However, by Wednesday morning (GMT) the dollar index, which measures the currency's performance compared to competitor currencies around the world, was up by 0.2% at a position of 94.884.
This could well be due to the looming possibility of yet another set of tariffs from the US on to Chinese goods. The administration of President Trump has another week or so to elicit responses to its plans to impose $200 billion in additional tariffs, following which it may go ahead with the plans as early as next month.
The dollar's rise may also in part have been due to concerns that the euro, a major competitor, was in for a period of problems.
This was due to a concerning economic data release from Italy, which showed that the troubled Southern European nation had a particularly high public deficit.
There are concerns among some analysts that the country's deficit could exceed the European Union's permitted maximum, which is 3%.
As a result of the problems, the euro fell by 0.2% to $1.1663.
There could well be further Italy-related problems ahead for the euro lasting a number of weeks, too. Italy's coalition government isn't going to reveal its new public purse plans to the country's parliament until the end of September, meaning that uncertainty is on the cards for a while.
The country's Deputy Prime Minister, Luigi Di Maio, was asked in an interview whether the country would exceed the EU limits. "I can't rule that out," he said in response.
There's plenty going on across the rest of the forex markets in the meantime, with this week in particular remaining busy.
The rest of Wednesday will see lots of data releases coming out of the USA, for example. Gross domestic product figures for the second quarter of 2018 will be released, as will personal consumption expenditure information and pending home sales data for July.
Over in Japan, Wednesday evening will see the release of retail trade data for July as well as foreign bond investment information and large retailers' sales performance.
Looking ahead to Thursday, New Zealand will be in the spotlight as the ANZ activity outlook and business confidence information for August will be published. Building permits data for July will also come out, as will HIA new home sales data change info.
Over in Europe, data from Germany on import prices is likely to be closely watched in the context of ongoing trade battles around the rest of the world.
Finally, British releases on consumer credit data and mortgage approvals information will also be of interest as Brexit continues to cause turbulence and uncertainty for the country's economy.