Investors and traders cherish little slogans that remind them of historical trends that can often be easily forgotten in the heat of the moment. One of the all time favorites has always been "Sell in May and go away", a reminder that the trading community tends to be a vacationing lot, post May, when volumes and volatility drop, and major trends never seem to develop, until everyone returns to their desks in September. Once back, odds are that investment strategies will change, after months of conscious thought, while sipping something cold on a sandy beach in paradise.
And then comes October, a month that historically has been a downer when it comes to equities. True to form, this year's October has sent shockwaves through the global investment community. From Wall Street to Shanghai, stocks and bonds have tumbled from seasonal highs. For nearly any index you choose, this week will mark four down weeks in a row, and everyone will soon be catching their breath over the weekend, anticipating another barnstormer in the week ahead. It is surprising that someone hasn't coined a new slogan: "Selling in May can now move over to always shorting in October."
Adage or not, analysts were already girding their loins before the first of October ever saw the light of day. Here was just one warning: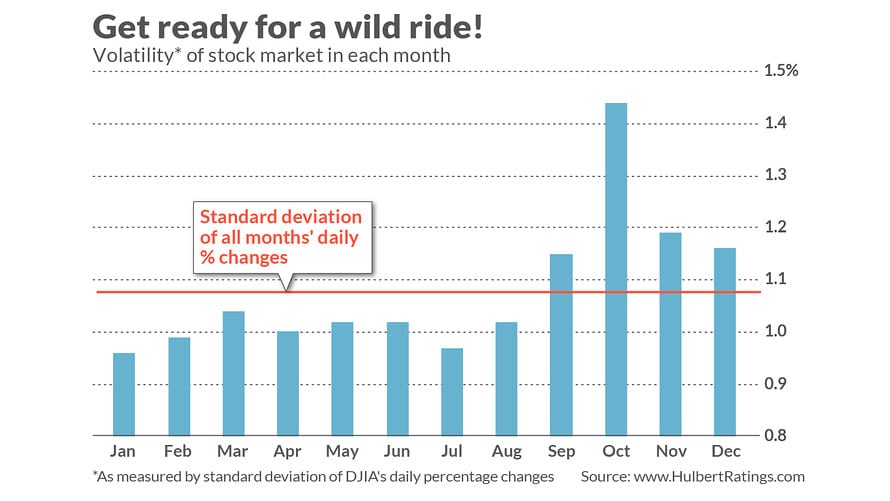 October is the obvious leading contender for "Rocky Road" honors, but the entire last trimester looks foreboding, as well. Looks like those investors that sold in May came back with all guns blazing in September and did not take a break until the New Year dawned. Like it or not, October is jinxed. A few analysts have also done the math and only looked at those years that contained a midterm election in the United States. Believe it or not, history suggests that positive results were then the order of the day.
So what is wrong with October this year? Yes, it is supposed to be turbulent, as the volatility chart portends, but September holds the award for the worst performing month in the historical record. Research does shown that, after long holidays from the work place, analysts and investors do typically reverse direction in the ensuing weeks and months. The S&P 500 Index actually rose this past September. Perhaps, unseen market forces, the invisible hand, so to speak, waited to spring its surprise before this year's midterm elections.
Unfortunately, October does have a reputation for major crashes in financial markets, a blemish borne out by the following graphic: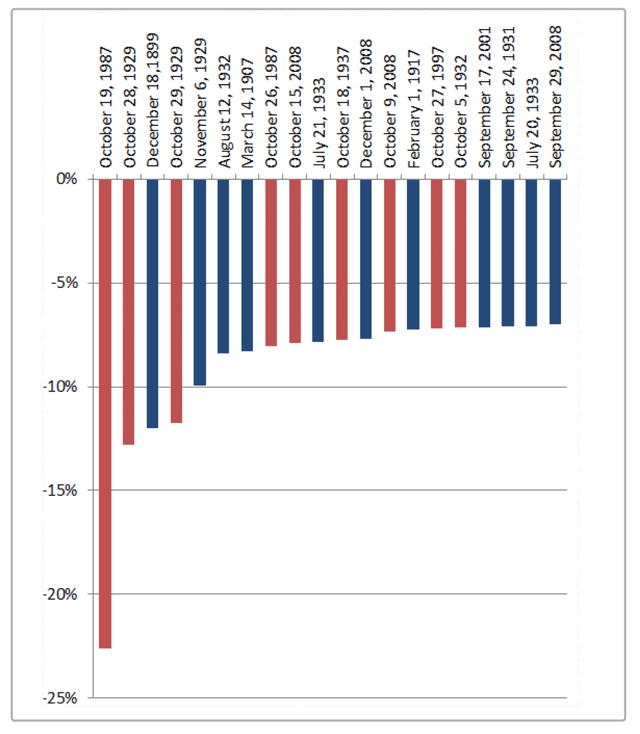 Nine out of twenty is not a record to be proud of, but this may be the reason why the Stock Trader's Almanac has labeled October as "the jinx month". Others have come up with the curious phrase "The October Effect", defined generally as follows:
"The October effect is a theory that stocks tend to decline during the month of October. The October effect is considered mainly to be a psychological expectation rather than an actual phenomenon as most statistics go against the theory. Some investors may be nervous during October because the dates of some large historical market crashes occurred during this month. The October effect is overrated. Despite the dark titles, this seeming concentration of days is not statistically significant."
Has the theory surrounding midterm elections debunked this October Effect?
The hysteria that has engulfed the investment community over the past four weeks does not seem to square well with the so-called theory about midterm elections. This theory is supported by the comparative analysis depicted below: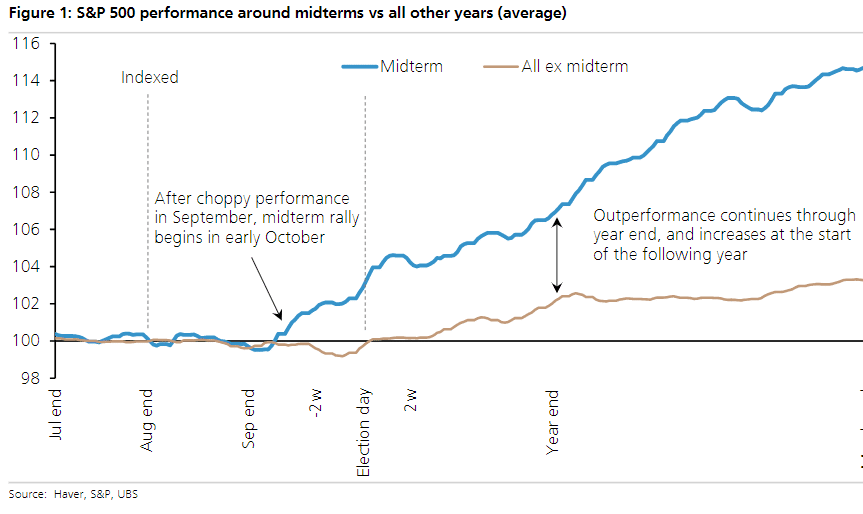 This chart began making the rounds in early September, suggesting that more "good times", rather than bad, lay ahead. According to one analyst: "Markets will be closely watching the upcoming midterm elections, as shifts in the balance of power in Washington could have meaningful implications for fiscal policy and foreign relations. As with those other tangles, however, it isn't clear that the midterm congressional elections on Nov. 6, which could conceivably see Republicans lose control of the House and, though less likely, the Senate, would be enough to derail the bull market."
September, however, did not deliver the "choppy performance" on cue. Instead, the Bull continued its record run. The debate at that time then shifted to whether a change in control on Capitol Hill would have a material impact on stock valuations. The general conclusion was positive in either event. A Republican win might lead to more stimulus, while a Democratic win might put a curb on Trump's trade shenanigans and "economy-unfriendly rhetoric".
What other takeaways can we glean from this year's "October Effect"?
Not to be outdone, other analysts have been hard at work trying to piece together both good and bad news about the carnage that has marked this year's "jinx month". They have come up with five takeaways, the first three being on the dark side, but the last two hold out some hope for the future. Their five points are:
"The S&P 500 is down 8.8 percent month to date, which would make this the worst month since February 2009 and the worst October since 2008 if it finishes the month at its current level.
Six days out of 18 (33 percent) have closed at least 1 percent higher or lower for the first time since 1963, which comes on the heels of not a single 1 percent change during the entire third quarter of 2018.
The S&P 500 has been down 14 days so far in October, the most for any month since May 2012. Also, 78 percent of the days this month have closed in the red (14 of 18), the worst for any month since 82 percent of days in April 1970 closed down.
Since 1950, there have been seven other years when the S&P 500 was positive year-to-date at the end of September, but fell negative year to date at some point during the month of October. The final two months of those years were higher six times and up 4.1 percent on average.
Historically, the last few days of October have been some of the strongest of the year. With markets looking extremely oversold, the stage could be set for a rally."
If the fifth point has you wondering where that notion came from, here is the analysis that supports their proposition (Let's hope that next week behaves as planned):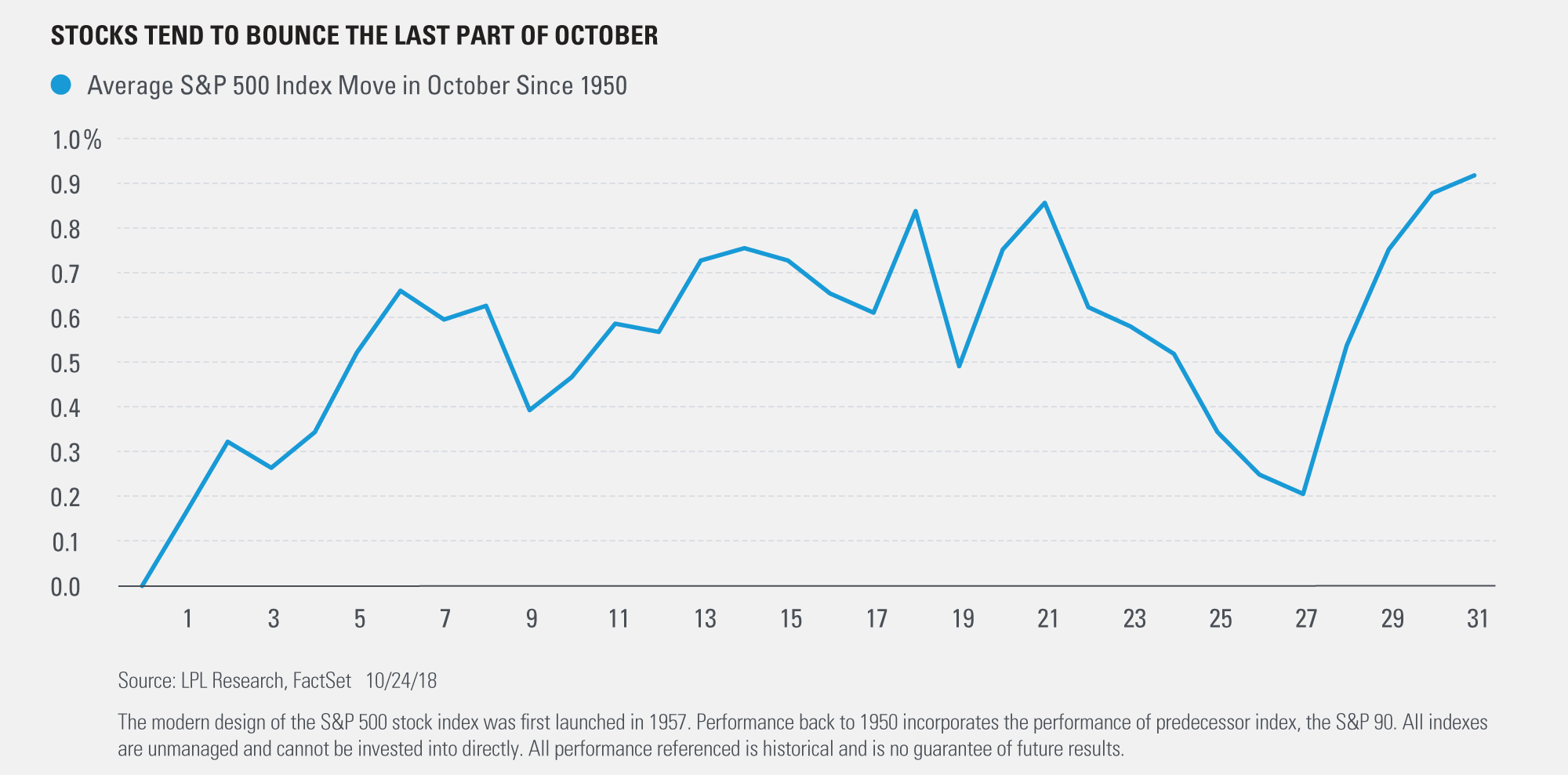 Are we missing the bigger story – Is October carnage a lead up to a recession?
The number of articles in the financial press devoted to predicting the next recession has been sending a steady drumbeat to all that would listen for the past several months. As tiresome as these articles can be, they are but a reflection of the sentiment building in the dark recesses of the collective mind of the public. Yes, we continually hear that the underpinnings of this global economy are strong, that the Bull has more room to roam, and that profit taking is another healthy sign that the economy has truly recovered. Turmoil and chaos in financial markets, however, has a way of changing sentiment on a dime. Fear and confusion are building, seemingly to a tipping point.
Evidence of this state of confusion is that the supporting narrative for recent market actions is in a constant state of flux. Here is a brief recap of why we are where we are:
At first, analysts began to think that "the economy is growing faster than the Fed is tightening", which made many bail out on Tech and Growth stocks;
Fed jitters, however, caused many to believe that it was "tightening faster than we are growing";
Overreactions on the selling side were brought on by systematic selling of algo-driven robots, designed to de-leverage and de-risk volatile portfolios;
The idea of "peak earnings" began to circulate, making many believe that earnings would begin a sharp decline in the fourth quarter, presuming that corporate buybacks and tax cuts had done their dash;
Italian budget problems in Europe and tensions related to China trade wars will not dissipate and could undermine the current house of cards.
Investor sentiment can be fickle at times, but uncertainty will typically shift the discussion to when will the meltdown occur. Some veterans have expressed shock about the inability of investors to accept that stocks cannot go up all the time. There are always two forces at work, both buying and selling. It should not come as a surprise that both fundamental forces are present again in the market, but are we missing something?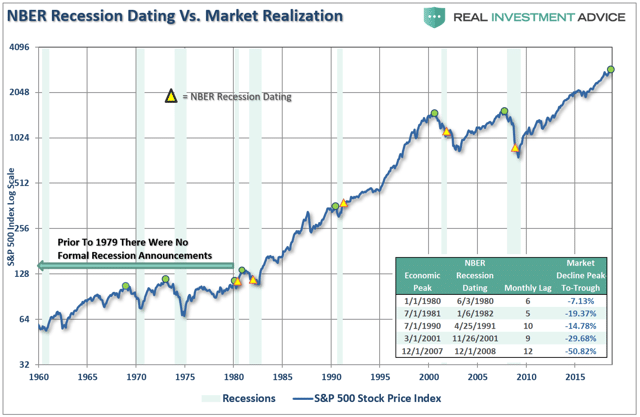 Before we get into this chart, let's remember that, "The consensus is that with the current spate of strong economic growth, unemployment and jobless claims at record lows, and confidence near record highs, there is simply no way the economy is even close to starting a recession. Furthermore, with economic growth slated to come in at 3.4% for the third quarter, this is further evidence a recession is nowhere in sight."
With that said, Lance Roberts, a realist knows that these points in time are subject to future revisions and that in the past, many economists have been duped by current data elements, such that they never saw the recession coming. 2000 and 2007 are both examples of this phenomenon. As Roberts recently noted, "During the entirety of 2007, the majority of the media, analyst, and economic community were proclaiming continued economic growth into the foreseeable future as there was no sign of recession."
As for the chart, the "green" circles denote peaks in the S&P 500 index, while the "gold" triangles mark the points when the National Bureau of Economic Research officially dated the recession, after it had taken into account revisions of previous data points. For example, it announced the economic peak of the last cycle as being December of 2007, twelve months after the fact. In January of 2008, Ben Bernanke stated," The Federal Reserve is not currently forecasting a recession."
Concluding Remarks
October has almost come and gone. Is there more carnage to absorb, or will we see the market bounce out of its present stupor? Trying to read the tea leaves this time around is just as challenging as in years past, but we do know that current economic data points can be deceiving. Only after revisions can our various recessionary models produce creditable results. In the meantime, we have to wait for the data to catch up, and as one wise veteran suggests: "Be defensive when everyone else is being aggressive."
Preserve cash for trading opportunities, which are sure to come.