Brought to you by:

A rally in the pound yesterday afternoon on reports of a breakthrough in the Irish border dispute has proved short lived with sterling coming back under pressure today and falling below the $1.30 handle. The GBP/USD cross is now back near the lows seen at the beginning of the month and on a trade weighted basis the pound has actually hit a 6-week low. Politics continues to weigh on the pound with Theresa May's position remaining under near constant threat as she is set to address Tory MPs later today with calls growing for her to be replaced.
Try a Forex Demo account with XTB

Should this happen then it would likely see a wave of selling in the short term as her replacement is seen as pushing towards a "harder" Brexit. Having said that May's position is similar to that of the pound in that it seems to be carrying on despite the sizable challenges faced. This could well be telling as the currency has held up pretty well considering and it seems to remain more sensitive to good news that bad, which may mean a fairly sharp move higher should an agreement be reached.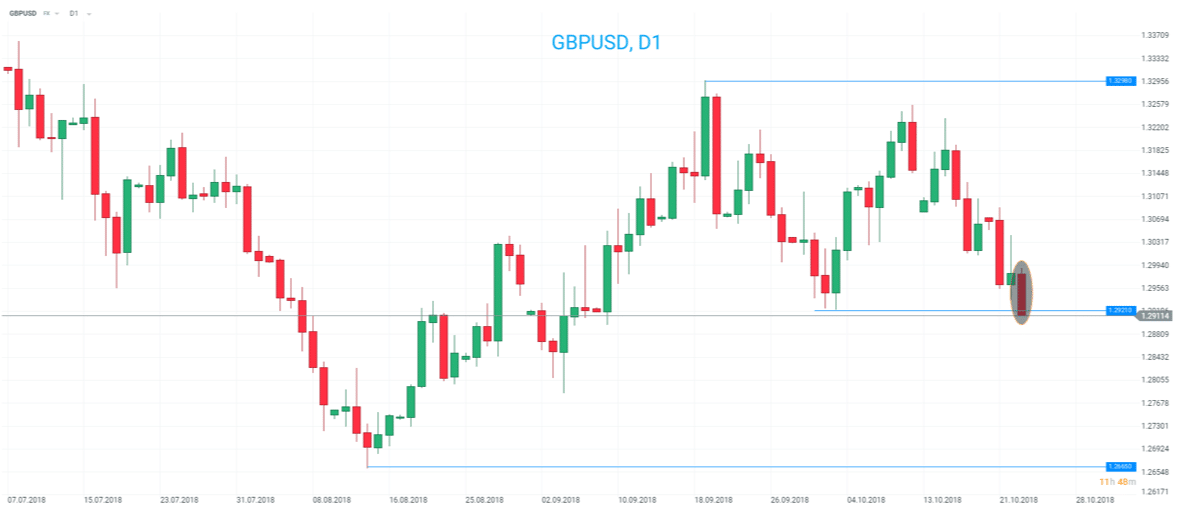 The GBPUSD has just dropped to a 6-week low and the market is now testing the 61.8% Fib at 1.2906. A break below here would open up the possibility of a decline to the 78.6% at 1.2799 and even the 100% at 1.2663. 41.4% at 13036 possibile resistance. Source: xStation
Given the heavy newsflow surrounding Brexit negotiations of late, the pound has actually held up pretty well with reports of a lack of progress on a future deal and even speculation of a vote of no confidence for PM Theresa May failing to cause a larger sell-off. This relatively diminished sensitivity to perceived bad news could be seen as a good omen for sterling, with the logic behind this school of thought being that a failure to drop on bad news means that the currency could rise on any good, or even less bad, developments.
Get Mobile Trade Alerts directly to your phone with XTB's exclusive Whatsapp group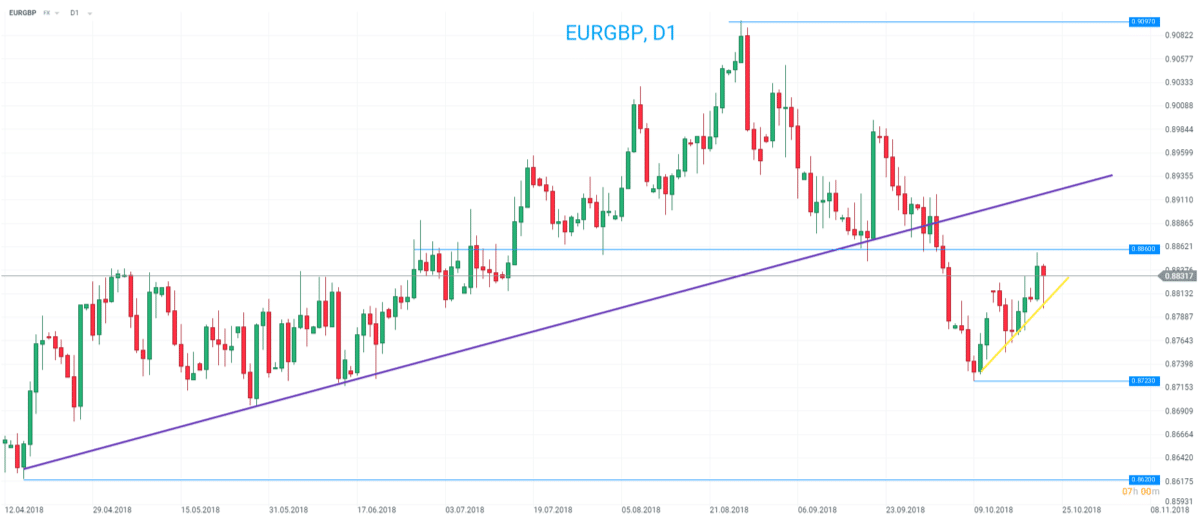 The EURGBP has been rising in recent weeks on some weakness in the pound, but the gains are fairly measured considering the political backdrop in the UK. 0.8860 remains potentially key resistance for this market while a break below the rising trendline (in yellow) could open up a retest of recent lows around 0.8725. Source: xStation