While markets continue to wrestle with the Trump rally fantasy bubble, a potent combination of a stronger U.S. Dollar and rising interest rates could easily put an end to this year ending party. Even before taking office, considerable headwinds are building on the horizon that could wreak havoc on the global market stage. A stronger USD inevitably means that exports will suffer, long before any trade deals can be re-negotiated. Higher borrowing costs ultimately put a drag on economic growth, and both, as a tag team duo, will put a headlock on corporate earnings. All in all, 2017 is already shaping up to be a year fraught with uncertainty and chaos, a trader's delight for some.
There was carnage in the streets in the bond market, when, as one analyst put it, "A cool $1 trillion in value vaporized in a week." The rout was violent, the worst on record for the past fifteen years. As for details, "Bond prices fall as yields rise, and rise they did after President-elect Donald Trump's election win. The yield on the benchmark 10-year U.S. Treasury bond spiked from 1.87 percent on Election Day to 2.34 percent by Nov. 15, which is where it stands currently." Fear of inflation was cited as the driving factor, not the Fed's plan to hike rates in December, which had already been factored into prices.
Read more current market news
As for the Fed's highly anticipated normalization move, the USD Index clearly reflected the market's expectations for the month ahead: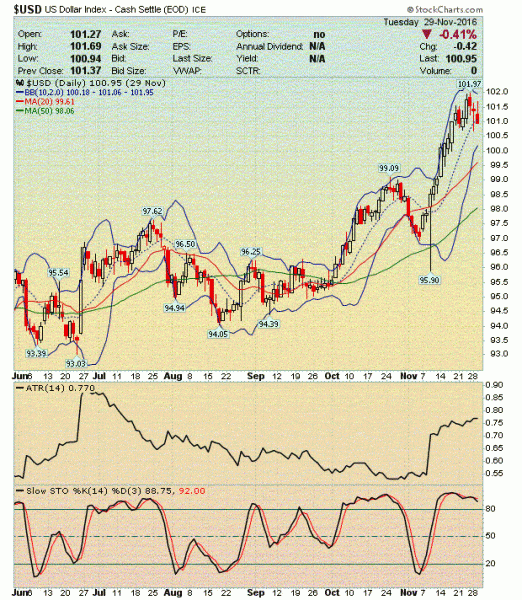 If Donald Trump thinks he has friends on Wall Street or that appointing a Goldman Sachs (GS) alumni to head the Treasury will buy him a few favors, he had better do a quick read of the financial pages. Senior analysts at Goldman Sachs have issued a harsh assessment for 2017. As they describe it, the central theme for Trump's first year in office will be "utter disappointment". Trump's "honeymoon" has yet to begin, and GS senior executives are already raining on his parade. Their sober forecast is in direct opposition to the current euphoria in equity markets, but sanity may soon prevail.
Is the USD over-hyped or can it rise higher?
The current uncertainty fever that is gripping the market is reminiscent of the old metaphor of throwing everything at a wall and waiting to see what sticks. All manner of ideas have been floated after Trump's surprise victory. Many fell to the floor, but a few have yet to be dislodged. The so-called Trump-phoria regarding stocks has been primarily a U.S. domestic phenomenon. International equity indices have gone negative, while emerging markets have plummeted. Outside of U.S. borders, confusion reigns as to how current trade arrangements might proceed or dissolve. Inventories are high. The issue is not one of supply, but mainly of demand and at what price?
On the domestic front, the potential for tax cuts, increased infrastructure spending, reduced regulatory controls, and escalating military expenditures has sent the market into a buying frenzy. It sounds like growth and prosperity to come. U.S.-based assets are in vogue again, and, as a result, the USD index has soared above historical highs to find a new support level at 101. Once again, however, increasing supply when demand is dormant is a tricky proposition, but why spoil the fun with facts.
The questions are whether the Dollar is over-hyped, will it go higher, and when will gravity take over? The simple fact is that, "The US Dollar Index has broken out to new bull market highs, ending a range-trade that lasted almost 2 years." The Slow Stochastic indicator purports that the greenback is over-valued, but, from a technical perspective, the slope of this indicator has been pointing north since early August. If you adjust for the uncertainty leading up to Election Day, the conclusion would be that the technicals are suggesting that the Dollar has more room to go. How much more room is open for speculation, but it may be too early to begin shorting the Euro, the Yen, and other major currencies versus the USD.
When forecasting where the USD index will go, analysts peruse over long and short-term bond differentials for U.S. Treasuries versus a composite of G10 country offerings. For the past two years, the differential has been positive and growing for 10-Year government bond yields. The same is true for short-term cash rates. Central bank policy divergence is at the heart of this market reaction and is not going away anytime soon.   As for how much higher the Dollar might go, the pressure from bond markets has been increasing. Momentum will surely carry the index higher and past a sustainable position.
At some point, the shear weight of the Dollar will force its demise. Dollar Bulls may expect the Fed to keep raising rates if Trump follows through with his campaign promises, but the impacts of a strong Dollar have already been a considerable drag on exports, job growth, and, ultimately, GDP growth. Year-over-Year growth in exports has been negative for six quarters in succession, and similar measures for job growth have been declining gradually over the same period. Housing could suffer, as well.
The current forecast for Y-O-Y GDP growth for 2016 from the Fed is 1.57%, the lowest since the Great Recession. Trump has been promising growth in excess of 4%, driven by infrastructure projects and tax cuts. Although governors are claiming that "shovel-ready" projects are in place as soon as funding is approved, the workers willing to work on these jobs may not be around. They may have to come from south of the border, another issue. Infrastructure spending plans in the past have generally failed to produce the results that were promised during their approval phase.
Will a new round of deficit spending result in a jump in inflation?
Increased government spending, accompanied by tax cuts, implies that the deficit must expand. New securities must be sold when investor demand is absent, thereby causing a rise in the yield curve, and, coupled with a jolt to the economy, could lead to unbridled inflation. Per one analyst, "Bond investors start chewing on the furniture at the mere mention of inflation because it makes their bonds less valuable. Currently, the people selling bonds — so-called bond vigilantes — predict that inflation and bond yields will continue to move higher in the coming months. Several market experts have even sounded the death knell for the bull market in bonds."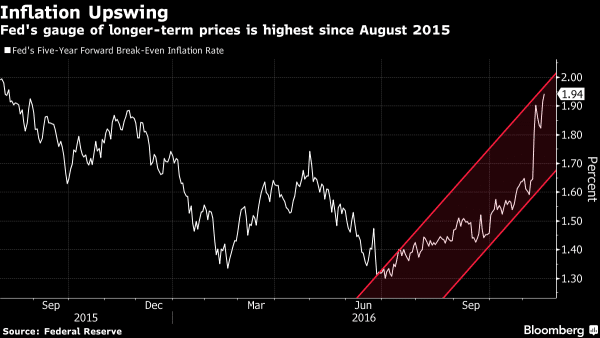 The upward thrust of inflation is not new news. The trend depicted in the above chart is worrisome now, but, if Trump puts a fire under it, bond investors could head for the exits. Bill Miller, chief investment officer at LMM in Baltimore and a well respected investor of legend, recently quipped: "In my opinion, the 35-year-old bond bull market is over." Not everyone is convinced. Some believe that bonds could move sideways for years. The debate is ongoing, but one sobering quote remains: "Some of the best and brightest minds on Wall Street have jettisoned their bond holdings and encouraged others to do the same."
Is the Goldman Sachs forecast really that dour?
Although "utter disappointment" is not exactly the theme any President-Elect would want for his first year in office, once you get past the Goldman Sachs flashy headline, you begin to read that the year might just be "more of the same." The GS forecast for growth is 2.1%, a slight increase over this year's run rate, with the S&P 500 index stagnating at 2200, about where it is today. They also see the U.S. 10-year Treasury bond dropping 0.50% in 2017, with its yield ending up at 2.75%, another 40 basis points higher than current yields.
The GS staff is also concerned that productivity is gradually retreating, the opposite that you would expect with modern technology improvements. Productivity comes from investment, but businesses have chosen rather to stuff their balance sheets with cash, buy back their stock, or pay hefty dividends. Charles Himmelberg, the senior strategist on the team, wrote, "We are skeptical. Until more clear evidence accumulates showing that the outlook for productivity and trend growth has improved, the opportunity set for investors is likely to remain low."
Not everyone agrees with these GS gurus, but all admit that it will be a challenge to balance inflation and interest rates, while preserving a growing economy. A consensus is forming around two possible outcomes: "1) The Ricardo Effect will kick in and give us an old-fashioned recession that will reset the stock markets and reallocate poorly invested capital so that real growth can begin, or 2) we could get a return of the stagflation of the 1970s in which we enjoyed high inflation and high unemployment at the same time."
Where are the obvious opportunities in the forex market?
Election Day surprises brought turbulence to a few major pairings with the Dollar, while others danced to the beat of their own drummer, a mixed bag of sorts. The Yen fell from grace, sliding from 103 to 114 in today's market. The Euro also went in to a tailspin, falling from 1.11 to 1.05, but recovering a bit on a gradually inclined trajectory to 1.06. The Aussie, on the fear that trade might be disrupted in Asia, backed off 0.78 to reside today at 0.74. Pound Sterling acted as if it were on another planet, perhaps, enraptured with what Brexit might mean. It has remained flat within a very tight range about 1.25. Lastly, the Loonie is more concerned with oil prices to worry about Trump. It, too, has bounced about a 1.34 level for the past few weeks.
What will the next year bring for these major pairings? It will be a very interesting year, where central bankers will be tested once again, and where Trump and his advisors will roll dice on a global economic stage. Many analysts are predicting parity between the Euro and the USD, but at some point, as discussed above, King Dollar will have to abdicate its throne or threaten the global economy with recession. The same can be said for the Aussie and the Yen, not parity by any means, but a special moment in time when the greenback will succumb to gravity. In these three cases, the advice is to stay long on the Dollar, until the reversal takes over. It should then be a good time to short like a madman. If inflation does raise its draconian head, Gold will be a good thing. If a recession is imminent, look for safe havens.
Concluding Remarks
Boredom will not prevail in 2017. Timing will be everything!