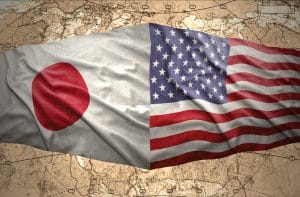 The Japanese yen managed to surge ahead yesterday amid claims that US President Donald Trump is planning to take his war on free trade to Japan.
Since taking office, President Trump has threatened, or actually imposed, trade barriers on a range of countries and blocs. These include his North American neighbours and, most famously, China – on which his administration has imposed several billions of dollars' worth of duties.
According to Wall Street Journal reporter James Freeman, who recently had a phone call with Trump, the President talked about how well he got along with the political leaders in Japan before then adding: "Of course that will end as soon as I tell them how much they have to pay."
Freeman argued that the comments indicated that Trump still has his eye on spreading trade barriers around the globe.
"…the President sees a problem and even if he wraps up negotiations with our friends in North America and Europe, the trade uncertainty won't necessarily end. It seems that he is still bothered by the terms of U.S. trade with Japan," he said.
As a result of the developments, the yen actually surged in value rather than dipped, and was 0.8% higher against the greenback at $110.65.
The dollar index, which assesses how well the dollar is performing compared to a range of other international currencies, lost around 0.2% but ended largely unchanged.
Next week is set to be a busy week for the forex markets, too, and there are lots of significant economic calendar releases on the horizon.
Monday morning will see a range of Chinese data releases, including the consumer and producer price indices for August as well as the foreign exchange reserves rate for the same month.
Following on from the recent announcement that the Reserve Bank of Australia would hold interest rates at the same levels as before, the Bank's Assistant Governor Michele Bullock will give a speech likely to discuss the Bank's future approach.
Later in the day, all eyes will shift to Britain where the country's gross domestic product data for July will be released at 8.30am.
Tuesday, meanwhile, sees more British data releases including average earnings for July both including and excluding bonuses.
Over in Germany, the results of a major economic survey on economic sentiment for September will be out at 9am.
On Wednesday, Italian industrial output data will kick off the major events of the day. At 9.30am there'll be a speech from the Federal Reserve's St. Louis President James B. Bullard, too, which could hold some hints as to whether or not the Fed will stick to its apparent plan to raise rates once or even twice in the coming months.
Thursday's highlight will be the interest rate decision from the Bank of England, which is out at 11am GMT. It's considered likely that the Bank will keep rates as they are at 0.75%.
There will also be press releases from major continental European countries, including the French and German consumer price indices.