We are not even a full quarter into 2019, and the financial narrative for the year is already shifting. Analysts were having a difficult time a few months back fixing upon a consensus for the twelve months to come. 2018 did not turn out as expected. With trade negotiations up in the air, a slowing global economy, and a Fed that seemed hawkish, forecasts were slow in coming, or if they did, they were weighed down by a multitude of caveats. The easy way out was to repeat the plan for the prior year, which had obviously been delayed.
What was the so-called new narrative? Once again the U.S. economy was supposed to pull back, allowing the rest of the world to catch up. Other central banks would pick up on the normalization trend, and the divergence of monetary policy would gradually dissipate. As a result, the Almighty Dollar would hit the skids and descend back down to reasonable quarters, where emerging economies could recover and commodities would re-price. Inflation would begin to act as expected, and everything would be rosy again.
NOT! The global economy is slowing more quickly than in the U.S. Europe is in a sadder state, if that is possible. Other central banks are continuing their accommodative binge, and the Fed is in a quandary, backing down from its hawkish perch and now becoming as Chairman Powell espoused – "patient". The latest Non-Farm Payroll report was a shocker, if a 20,000 gain versus an expected 180,000 meets that definition. The only positive takeaway was that wages actually grew (See below):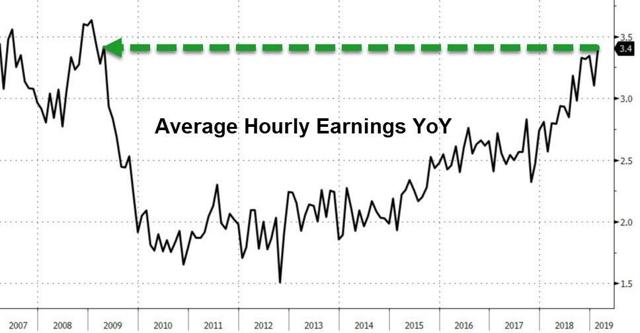 Since core inflation figures were below 2%, the growth in Average Hourly Earnings were "real", a trend that has continued for much of 2018. It has taken nearly a decade, but this data point is finally back to the general level pre-financial crisis. The labor report, however, was still strange, considering how low the net job addition figure came in at. The 20,000 number is actually the lowest in a long trend of positive job gains since 2010, as depicted in the now famous "bikini" chart: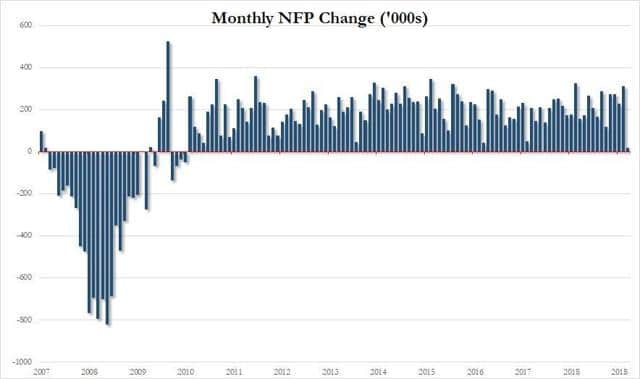 December and January data had small upward adjustments, if that brings you solace. Although job gains were their lowest in nearly a decade, the increase in wages was the highest for the same period. Analysts attribute the low job creation to bad weather, always a seasonal copout this time of year, but the wage gains were not generally across the board. If you drill down into the data, it is apparent that higher paying professional and factory related jobs boosted this figure.
What do economists now think? Here is one summarization: "In conclusion, what we saw in the latest jobs report was some curious numbers that could be pointing towards economic weakness over the coming months. The report was certainly disappointing to economists, and while the increase in hourly earnings was nice, it could also be pointing to a slowing business environment."
What is the new narrative? It is still a mystery at the moment. The Dollar has never weakened. The USD index started the year at 95, rose to 98, and has hovered about 97 ever since, where it sits today. The administration may want it to drop, but no other economy can see its way to grab the baton and run. The trade negotiation "can" has been kicked down the road, with no insights given for China, Japan, and Europe, or for the threatened tariff wars that could disrupt trade relations across the planet. Brexit is still up in the air, and China's economy may grow in the 6% to 6.5% range, if Chinese officials figure out how to boost domestic production and consumption.
With this milieu as a backdrop, the Fed has elected to take a "wait-and-see" attitude, being ever mindful of short-term and global data. The bankers have also pulled back on their commitment for four more interest rate hikes. We might get one or none, by most estimates, a genuinely conciliatory move for equity markets in every jurisdiction. It also seems that, during this "pause", everything from inflation guidelines to future interest rate dot plots are under review and discussion. The search is on for the magical mix of policies and economic models that will deliver us from this current quagmire.
This apparent shift from stalwart confidence to implausible indecision came swiftly, as the Wall Street Journal noted last week: "By Wednesday morning, the chances implied by the futures market of any rate increase over the course of 2019 had shriveled to barely 25% and the odds of a cut were over 5%, according to analysts at Bespoke Investment Group. The famously plain-spoken Mr. Powell left the market with little doubt that the probability of tightening had shifted, noting on Wednesday that "the case for raising rates has weakened."
In Europe, the ECB also performed a "180" reversal in its direction, pivoting even more quickly than its brethren at the Fed: "The European Central Bank has reversed its policy of slight monetary tightening and announced a new stimulus package in the face of data which show a sharp downturn in growth in the Eurozone. The unanimous decision was taken at the meeting of the ECB's governing council held in Frankfurt yesterday."
The hopes and dreams of an expanding economy that would permit a cutback in bond purchases and allow for interest rate hikes soon dissipated when the local economy slowed and unrest broke out in Italy and France. Masterful Mario could no longer mince words: "The decision by the ECB came as a result of what president Mario Draghi characterised as a "substantial" downward revision of growth estimates for the region. He said the new outlook for annual growth in gross domestic product was 1.1 percent for 2019, 1.6 percent for 2020 and 1.5 percent in 2021."
The U.S. and EU are not alone in these gyrating machinations to right their own ships. The BoJ, the PBoC, and the BoE are also in disarray. For the past decade, our central bankers have been imbued with superhero status. They could do no wrong and were there to "do whatever it takes" to make the economy well again, but as one cynic recently quipped: "Today's superheroes are falling faster than their box-office ratings. Now it appears the once unchallenged superpowers of central bankers have now entered this same universe, and that's a very real problem for all of us."
Our "superheroes" are beginning to question whether they truly do have the powers to fix all things economic. At this late stage, their lack of confidence is a bit frightening, and the outlook is not that good: "Everything that was supposed to be going right is suddenly going wrong. GDP seems to be not as strong as first thought, interest rates are cramping the housing markets globally, the latest employment report was a mess, trade wars are heating up everywhere, not subsiding, U.S. trade deals are seen to be collapsing into inertia, nuclear powers are once again shooting across each others' borders (e.g., India – Pakistan)."
Unfortunately, there is more: "Russia is sabre rattling, China is also. The EU and UK with Brexit seems to be in a slow motion car wreck of a situation. German banks are floundering. Italy, Spain, Greece and others are joining into the fray for political condemnation in solidarity with the "Yellow Vest" movement in France. Ambassadors are being called back home in alarming rates globally. North Korea and Venezuela are problematic, as well."
Where do we go from here?
If our central bankers, economists, and analysts do not have a clue as to how to answer this simple query, then how long must we sit in "auto-pilot" mode before the train wreck happens? While many knowledgeable types are quick to say that alarm bells are ringing, those responsible parties that keep tabs on our best recession warning models are not concerned for at least the near term. While spring is just around the corner, and it may necessarily heat up the political tensions across the globe, GDP growth data going forward is still forecast to be positive, even in the EU.
If there is a consensus forming, then it is around these apparent conclusions:
"10 years into an expansion, with unemployment below 5% and officially reported inflation at the central bank target of 2%, the global economy is still too fragile to handle historically normal interest rates."
"If central banks can't normalize monetary policy now, they'll never be able to. Let that sink in. The old conception of monetary policy is over for the remaining life of the current global financial system."
"Since debt is soaring even in this late stage of the expansion, with most people working and paying taxes, the financial headwinds that now prevent rate normalization will continue to strengthen. If 2% inflation is necessary to stave off collapse today, then 3% will be necessary shortly. Then 4% and so on, again, for the remaining life of this financial system."
And then we come to the "elephant in the room". Debt and deficits are escalating to levels never before seen. Politicians continue to take the easy way out by borrowing from the future. As this chart demonstrates, debt is not the answer for growth: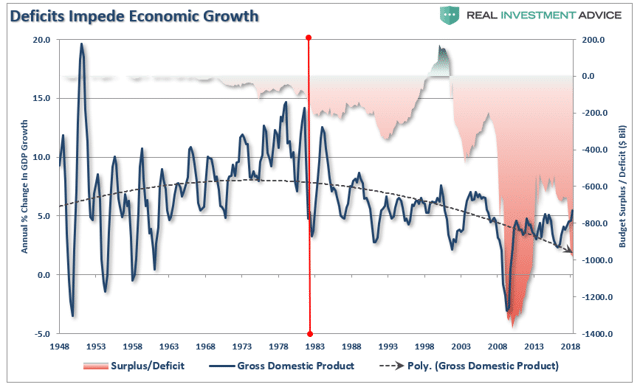 Investors may be happy with central bankers equivocating and becoming more accommodative, but these moves come at a price. Late stage tax reform pumped another trillion dollars into the national debt, and recent data revealed that deficits are climbing, as well. These actions are not "fixes", nor do they have long-term impacts, other than to reduce the potential for future growth. The Piper will be paid. Debt service will take funds away from more productive activities. We are then left with the oldest of solution for this kind of predicament – You must inflate your way out of this situation.
Concluding Remarks
If you are driving a car at high speed, you know better than to attempt an immediate u-turn. Our central bankers have been driving our "economic car" for a decade on near-zero interest rates and quantitative easing bond purchases, and, instead of trying to "normalize" the situation, they have chosen to make an immediate u-turn and to revisit to accommodation.
As our respected "superhero" central bankers ponder their next moves, are we to assume that they will do the right thing or must we accept that their "feet of clay" are beginning to show? Whatever the case may be, the ride will surely be a bumpy one. Maybe it's time to buckle up and wait for volatility to pass.