What goes around comes around, as the old adage testifies. In many ways, we are seeing the recent past unfold once more before our eyes. For those of you with short memories, we wrote nearly two years ago that there was "a trifecta of major themes for 2016 – central bank policy divergence, China, and commodities, with an underlying unknown influence thrown in for Europe and whatever curve balls it might hurl into the mix." With complacency down the tubes and uncertainty and volatility making solid comebacks, these basic themes have reappeared to drive our financial markets.
Now, two years hence, the notion that fundamental forces actually drive market prices is once again in vogue. Interest rate differentials, created in part by central bank policy divergences, have grabbed U.S. Treasuries, driven their yields to heights not seen in four years, and propelled the U.S. Dollar on an appreciation binge that was totally unexpected. Did the world suddenly rise from hibernation and shake off the cloudy thinking that was pervasive during the winter months and, perhaps, even longer?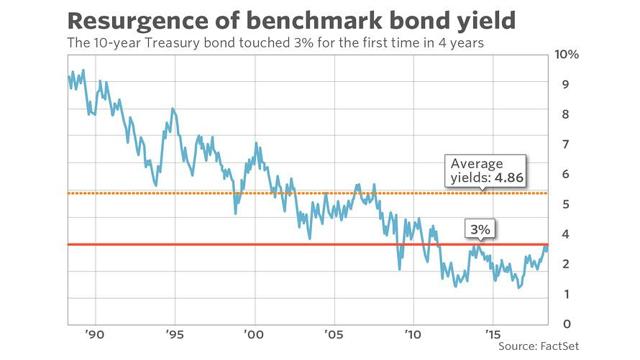 The investment community has been paying so much attention to "Trump tweet risk", geopolitical tensions here, there and yonder, and trying to guess when the next recession might be upon us, that it has taken its eye off the eight ball, as some would say. This long period of fuzzy logic has been called complacency by several veterans of the trade, who have opined that the "new normal" does not necessarily mean that the old rules of what drives financial markets are no longer valid. If anything, the validity of fundamental forces driving markets has sprung forth, as if provoked by pent-up rage on its own behalf. Interest rate differentials really do mean something in foreign exchange markets.
See more forex market news
Will "Sell in May and stay away" return or is that one out the window for now?
May is upon us again, a time marked by new economic data, but also a time when analysts and investors consolidate market positions and prepare for an enjoyable summer excursion to parts unknown. The S&P 500 index, the accepted proxy for the global economy since half of the revenues of its participants is derived from foreign sources or operations, has fluctuated between a range of some seven percent, but, at present, it is about where it began the year (See chart below):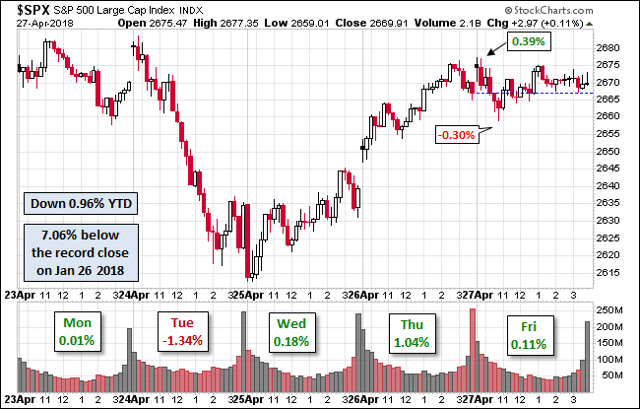 This snapshot of last week's activity is emblematic of 2018 to date. Markets swing to the tune of the previous weekend's fear, only to snap back to support or resistance levels, as if on cue. Our intuitive senses suggest that a coiled spring is about to unwind with unspecified consequences. Would you want to go on holiday, knowing that your open positions may be directly in the line of fire? Perhaps, quite a few investors will sell, while others re-allocate capital to safer havens, but the message is clear – volatility is due to ramp up, and more volatility means more opportunity for gain, a trader's paradise, so to speak. The time for preparation is now – Get ready. Get set. Trade!
If previous themes are returning, how do these storylines stack up today?
Let's take them one by one:
#1 – Central Bank Policy Divergence
In 2016, the Fed was the only central bank with a plan to normalize interest rates and with tentative suggestions that reducing its bloated balance sheet was also on the table. No other central bank was even close to this timeline. The ECB, BoE, BoJ, and even the Peoples' Bank of China seemed mired in various stages of QE, ZIRP, and NIRF, an entanglement where a clear exit strategy was not apparent. The fear is that, if another major business downturn strikes, any semblance of monetary tools will have been exhausted. Where will the next round of stimulus come from?
As time played out, the Fed backed away from its aggressive plan to raise its interest rate benchmark. It had declared that the divergence gap was too large and that the rest of the world needed time to catch up. If the global economy were to stumble, based on U.S. positioning, then all would be lost, or so the story went. This line of thinking seemed to be correct, as the UK, Europe, and Japan appeared to make headway. The inability to attain inflation objectives in these regions, however, put the lie to what banking officials had been purporting as a healthy recovery. The "gap" is still present, although the talk now is that the Fed may once again slow down its normalization timetable.
#2 – What's happening in China?
From the RBA's perspective, China's latest attempts at stimulating their economy have come to a close, now limited by a massive debt burden, a similar situation to developed economies in other global markets. Per the RBA: "While Chinese stimulus helped the Aussie between early 2016 and late 2017, the inevitable downturn will weigh on the currency going forward. China has hesitated from launching another significant stimulus program given its massive debt-based spending spree in recent times and the country's rising overall debt load."
In 2016, China had launched a stimulus program, the first since those bleak times in 2011, when the economic slowdown in the form of decreased demand from the West finally hit the Middle Kingdom. How has that latter stimulus program proceeded? As you might expect, the Royal Bank of Australia tracks every sneeze that occurs in the Chinese mainland, since it is a given that, as things transpire in China, Australia is the primary beneficiary of both good and bad news. Here is their charting of key data points: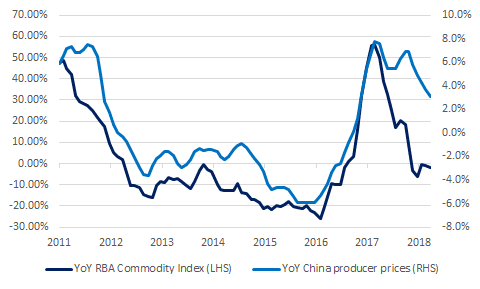 #3 – How have commodities reacted to the New Normal?
All eyes have been focused on oil prices over the past several months. Prices for WTI crude gained 10% in the past two weeks alone, topping out at $67 a barrel, but falling short of penetrating $70, a contract high established back on April 19. Projections from the IEA and OPEC suggest that the much ballyhooed global supply "glut" has finally been decimated. Demand dynamics are back in charge, leading many analysts to scream that $85 oil will hit by yearend.
Much of that demand will come from China, and, with a stimulus pullback all but apparent in China, the eight major banks across the globe are actually projecting a price decline back below $60 as the more likely scenario by the end of 2018. Commodities in general have made a dramatic comeback since 2016, bolstered more recently by ascending oil prices and a weakening Dollar (See chart below):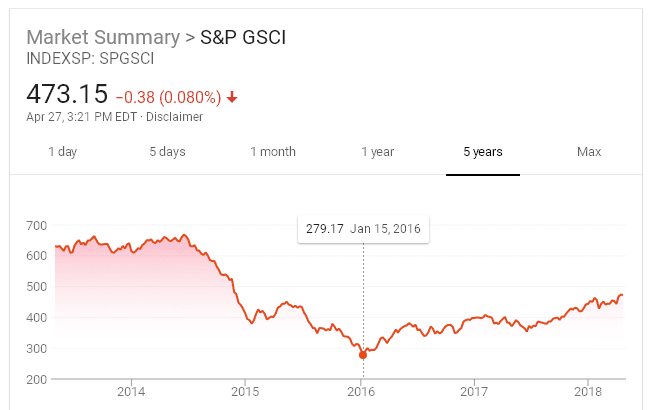 The S&P GSCI ETF is a good index to follow to assess the overall health of the commodities market. The Chinese stimulus program did have a favorable impact on prices, as have oil and a weaker USD, but, if the bankers cited above are correct, then a flattening out or even a decline may be the story over the balance of 2018.
#4 – Will Europe and Draghi ever make a difference?
Europe remains a quandary. The Euro quickly rose from 1.20 to 1.25 during January, perceived to be a testament of good news to follow. Europe was coming back. Draghi might actually pull a rabbit out of a hat at last, but positive economic results, at least the one that mattered to everyone, that being achieving inflation targets, continued to elude him. Always the optimist, his oft-repeated message was that everything was right on target. For the last three months, however, the Euro has been stuck in a moderately declining channel. It ended last week at 1.21. The ECB failed to modify its dovish stance, and the beat goes on.
Across the channel, the Pound has followed a similar path, but there was hope that the UK economy would improve, in spite of Brexit. Recent data releases, unfortunately, did not impress. The Pound was pounded in eight of its last ten sessions, falling from 1.43 to 1.38 in a matter of weeks. Per one report: "The British economy had a slow start to 2018. Purchasing manager indices (PMIs) for manufacturing, construction and services have disappointed this year. Bank of England (BoE) Governor Mark Carney surprised investors last week with comments suggesting the central bank could not hike rates in May. Carney has pointed out that mixed data could push out a rate rise until later this year." The divergence theme obviously has legs and will continue indefinitely.
How will these themes play out in the foreign exchange markets?
The U.S. Dollar has been on a run of late. The USD index has risen 2.4% in the last seven trading days alone, while on a much broader index maintained by the Wall Street Journal, including a basket of sixteen currency pairs, the Almighty Dollar has improved 2.3%. In other words, this appreciation trend is broad based. Improving T-Bill yields, as noted earlier, have been given the credit for boosting the greenback, but the quickness of the rise suggests that this week's action will resemble more of consolidating tone. The question is what next? The WSJ chart implies that the USD is at a crossroads: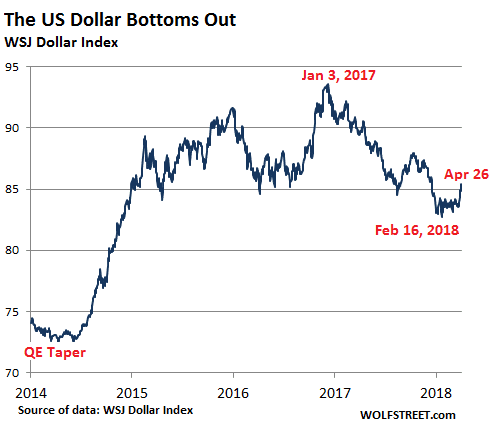 If the path northward becomes a reality, then commodity prices will be impacted, the reason that many traders are suggesting a shorting strategy at the moment for the Aussie from down under. Due to global sluggishness in the first quarter, no one is expecting the Fed to raise rates at its May meeting, but no one is expecting the RBA, the BoE, the ECB, or the BoJ to raise any rates either. With employment data a few days away, you can expect the Dollar to pull back a bit from its recent tear, but interest rate differentials are widening, and fund managers cannot ignore that fact forever. Positions will change over time. How quickly and by how much remain the questions.
Concluding Remarks
Believe it or not, our financial markets are returning to basics. Returns do matter, as do interest rate differentials. The U.S. Dollar is in transcendence once more, but it may take a breather leading up to Friday's Non-Farm Payroll release. As we learned in Forex 101, fundamental economic factors drive our foreign exchange markets. The period where fear, "tweet risk", and outright speculation ruled the day is behind us. The complacency that accompanied that type of analysis has dissipated like snow in the desert. Central bank policy divergence, China, and commodities will be the drivers.
The result will be momentary uncertainty and volatility, until the dust settles. In times like these, spreads will expand. Opportunities to trade for gain will proliferate.
Be prepared and prosper!
Are you ready to trade?
Sign up with

76% of CFD traders lose