Brought to you by:

BoE's Haldane pushes sterling back up
Attention was on BOE. The British pound rebounded yesterday, after Chief economist Andy Haldane said he favours a narrow withdrawal of the BOE's stimulus introduced in August 2016.
Haldane's comments was a contrast to Governor Carney's statements on Tuesday as he stated now would be a suitable time to raise rates.
EUR/GBP traded lower on the hawkish remarks from Haldane. Resistance was hit at 8840 (R1) and founds its support at 0.8775 (S1) before further rebounding.
RBNZ stands pat, disappoints Kiwi shorts
RBNZ kept its policy unchanged overnight as expected. The tone of the meeting seemed optimistic on the economy which dismissed the soft GDP growth in Q1. This indicated the growth outlook remains positive.
We think the outlook of the NZD is neutral overall. The next big indicator that could cause a direction for the NZD may be the CPI data for Q2 due out in July.
The NZD/USD traded higher on the less concerned tone of the RBNZ. This pair rebounded when it hit support at the lower bound of the short term triangle.
The rest of today's highlights:
The Norges Bank is due to announce its rate decision during the European day. The forecast is for no change in policy. At the latest gathering, the Bank noted the outlook has not changed much since the assessment in March.
As for economic indicators, there is the Eurozone's preliminary consumer confidence index for June, along with Canada's retail sales for April.
On the agenda today, we have only one speaker. Fed Board Governor Jerome Powell will be testifying before the Senate Banking Committee. This will be an interesting event as the FOMC appears to be divided with optimistic and cautious conflicting viewpoints.
EUR/GBP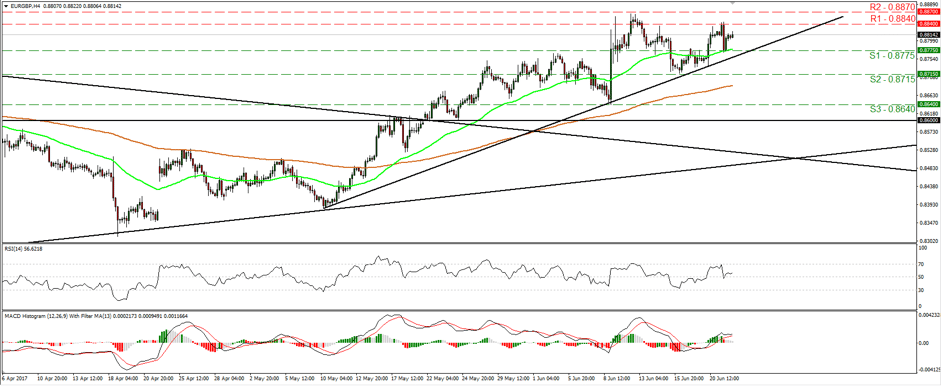 Support: 0.8775 (S1), 0.8715 (S2), 0.8640 (S3)
Resistance: 0.8840 (R1), 0.8870 (R2), 0.8945 (R3)
NZD/USD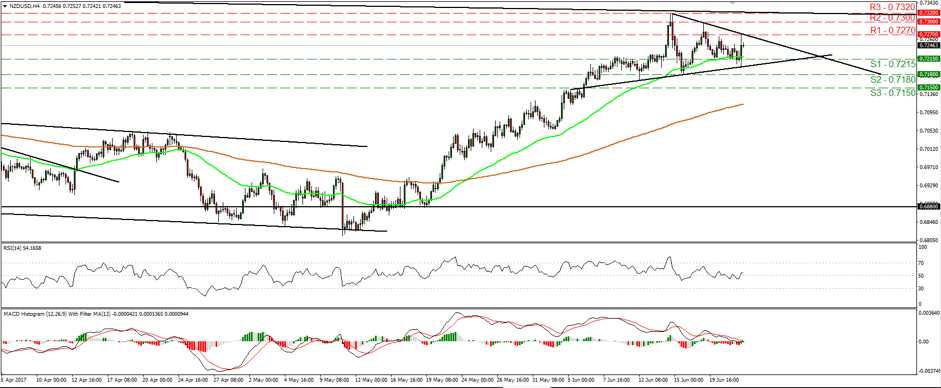 Support: 0.7215 (S1), 0.7180 (S2), 0.7150 (S3)
Resistance: 0.7270 (R1), 0.7300 (R2), 0.7320 (R3)