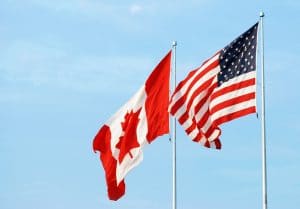 A major free trade agreement struck between the US and Mexico could be accepted by the last remaining major North American nation as early as tomorrow, Friday, overnight reports have suggested.
While officials in the Canadian capital of Ottawa said that there will still be some problems to iron out, it's believed that Canada could enter the "new NAFTA", or North American Free Trade Agreement, in the coming hours.
When trade barriers spring up between nations or are otherwise bolstered in some way, traders in the forex markets tend to head for the "safe haven" currencies as a destination for their investments and, in practice, this frequently ends up being the US dollar.
However, when these barriers are either removed or appear to be on the verge of removal, traders find themselves turning away from the dollar and going for less certain currencies instead.
This week's announcement that Mexico will join a replacement for NAFTA, then, led to the dollar making an overall loss with only marginal, occasional gains here and there.
The dollar index, which analyses the greenback's performance against a range of other important worldwide currencies, finished the day at -0.19%.
The euro has done well out of this change. The common European currency has risen by a value of over 3.5% in the last fortnight.
The British pound, meanwhile, has now reached $1.30 in the GBP/USD pair, which is a high position compared to its performance over the rest of the month.
However, this may in part be due to a Brexit-related olive branch offered yesterday by the EU's main negotiator, Michel Barnier.
Barnier told Britain that the EU had not ruled out a strong ongoing connection between the two once Brexit takes place next March.
According to some sources, Barnier had even said the EU was considering a "partnership with Britain such as has never been with any other third country".
Looking to the rest of this week, there are plenty of other important moments for the forex trading world to watch out for.
This afternoon sees a number of major economic data releases in the US, including both continuing and initial jobless claims as well as month-on-month personal income changes.
Analysts are expecting a decline of 0.1% in the core personal consumption expenditure price index information, which comes out at 12.30pm GMT.
Consumer price index information is also out in Japan later when the Tokyo CPI data, excluding fresh food, is released at 11.30pm GMT.
Looking to Friday, German retail sales information is out at 6am, with French producer price data for July and consumer price index information for August due at 6.45am.
Other European countries will follow suit during the day. Italian CPI data for August will be out at 9am GMT, while the Europe-wide CPI data will also be out at 9am.
Given the euro's recent role in hoovering up some of the forex investment previously tied up in the dollar, analysts and traders will no doubt watch these developments with interest.