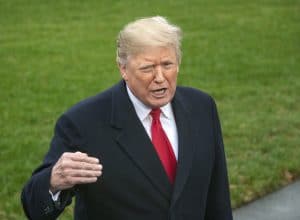 The foreign exchange markets were in a reactive state on Monday and Tuesday after US President Donald Trump brought the issue of international trade back to the fore.
Speaking to a journalist from the Wall Street Journal newspaper, President Trump said that he plans to give the green light to increasing tariffs on $200 billion worth of Chinese imports from their current level of 10% to a much higher position of 25%.
As a result of the developments, the dollar index, a tool used to assess the greenback's performance relative to a number of other global currencies, rose a little and managed to hold firm at 97.06. This is its highest point in almost two weeks.
The potential for a trade war was a significant issue for the foreign exchange markets earlier in the year, although the topic has not been discussed at length recently – suggesting that a cooling-off period has emerged.
However, the latest comments by Trump may indicate that trade issues are now back on the agenda. This often leads to investors feeling nervous and investing all of their capital in perceived "safe" markets, meaning that further rises for the dollar are not out of the question.
Elsewhere in the forex markets this morning, the pound managed to drop 0.2% during the Asian session as the Brexit issue persists.
Prime Minister Theresa May will this month face a crucial vote to get the deal she has negotiated through parliament.
There's still a lot on the horizon for foreign exchange traders as the week goes on.
Today (Tuesday) will see several significant monetary policy events in New Zealand. The Reserve Bank of New Zealand's financial stability report is due out at 8pm GMT, while there'll be a speech from Adrian Orr, the governor of the bank, at 10pm GMT.
Also, out today will be the S&P/Case-Shiller home price indices covering September. Analysts expect that these will actually decline in value year on year, and that it's likely a drop of 5.5% to 5.3% will occur.
Wednesday will see some Australian information come out overnight GMT time. Information on construction work done in the third quarter of 2018, for example, is expected out at 12.30am GMT, and is due to show a drop from 1.6% to 1%.
Over in Europe, the Italian producer price index for October is expected at 9am GMT. Preliminary annualised gross domestic product data for the third quarter of the year, meanwhile, is expected out of the US at 1.30pm GMT. This is expected to remain static at 3.5%.
Jerome Powell, who heads up the US Federal Reserve, is expected to deliver a speech at 5pm GMT.
On Thursday, one of the first significant events of the day is likely to be the announcement of the German unemployment rate for November. According to analysts, this is due to remain at 5.1%.
Later in the day, European business climate information for November will be released. This is expected to show a slight decline from 1.01 to 0.96.
The German preliminary harmonised index of consumer prices for November is due out at 1pm GMT. This is also forecast by analysts to remain constant, with year on year positions remaining at 2.4%.