At its mid-June meeting, our favourite band of banking buddies once again astonished Mr. Market. Yes, they did decide to increase their benchmark rate by a monstrous 25 basis points, but the surprise came further down the line. Certain time-honored phrases, the ones that connote an accommodative spirit on behalf of the Fed, were nowhere to be found in their latest statement to the public at large. Not only were expected buzzwords dropped, but this austere group announced its intention to make two more increases before 2018 had concluded. Oops! Every analyst on the planet was sure that there would only be three changes in this year, not four. Although the upper limit for the current range stands at 2%, the reaction was as if the sky were falling. Has this tepid group suddenly turned hawkish? Is the Almighty Dollar off to the races once more?
Read more forex market news
What is driving this sudden shift to a more aggressive tone? It appears the answer is that our job gains in recent months have finally convinced them to step up their game, but, in addition to a "strong" labor market, it also came down to consumer spending. Per their own words: "Recent data suggest that growth of household spending has picked up, while business fixed investment has continued to grow strongly." Some economists had actually speculated that the Fed's reaction to these facts would be to drop a commonly repeated sentence, "The federal funds rate is likely to remain, for some time, below levels that are expected to prevail in the longer run." Such an action is a sign that Fed governors want to pull back on the gas. Current rates are roughly where they want them in order to ensure price stability and full employment.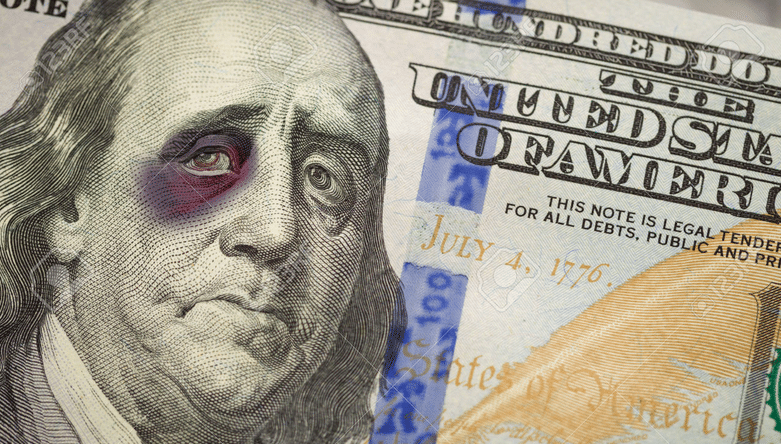 The stunner, however, is borne out by the fabled "dot plot" of future interest rate projections. It now shows that a majority of Fed officials see two more rate upticks this year, when just back in March, the group seemed evenly divided over two or three rate changes for the remainder of 2018. New projections also see unemployment rising back to the 4.5% level and a forecasted 2.8% GDP growth cycle for 2018, well below the gargantuan estimates made by President Trump in support of his campaign to make America great again. If we track back an entire year, the Fed had fixated on 2.1% growth for this period. Perhaps the domestic economy has really heated up after all. Trump supporters claim that the second quarter spending by consumers, after tax breaks took effect, will pump GDP up to the vaunted 4% level, but one quarter does not a year make.
The hand wringing and expected jostling about are much ado about nothing at this stage. The issue on everyone's mind, however, is what does all this mean with respect to the strength of the U.S. Dollar. A silent minority had been suggesting that the greenback might actually continue its upward surge, contrary to what conventional wisdom was spouting over the past several weeks. Yes, T-Bills had boosted yields beyond expectations and, when compared to German Bunds, the margin between the two was widening, not the other way around. The translation is simple. The Euro is on the way down, and, since the Euro is the major component of the USD index, then it follows that the Almighty Dollar can only get more almighty.
Is the U.S. Dollar now winning the currency pair beauty contest?
The USD index had peaked near the end of 2016, but the ride thereafter has been decidedly downward, perhaps not by gargantuan amounts, but from 103 down to 89 would be considered pretty large in many forex trader playbooks. It has rallied since before January of this year to arrive at a 94 plateau level, but insiders felt the fun was over. Surely, Europe and the rest of the world would regain strength, cut back on QE, and follow through with necessary normalization efforts.
New reports are surfacing, however, that note an amazing improvement in the capital account over the past few months, enough to make a real difference when all is said and done. These gains are also broad based. The USD index includes a restricted handful of developed country pairings, but from a truly weighted trade-basis, the Dollar has also rebounded, especially at the expense of emerging markets. Commodity prices have leveled, when most analysts were expecting them to soar.
Conventional wisdom, if there is such a thing this era of new normal, has always focused on the divergence of monetary policy, as the major driver behind perturbations in the Dollar and its other major pairing brethren. The Fed is obviously tightening, while the ECB and the BoJ talk a good game, but the lack of follow through on their parts has been excruciating for investors that favor long-Euro positions. The last word from the ECB is its attempts at tightening may not appear until 2019. The BoJ wants to follow suit, but the inability to hit inflation targets has stalled their efforts to date. When you add to the mix that the U.S. capital account differential compared to the Euro has been widening, forming a trough of sorts that can only portend that the Euro must weaken down the road. Analysts are now pointing to the fourth quarter from a timing perspective.
One analyst summed up the situation, as follows: "Almost all the macro factors remain in favor of the US currency, especially those that matter in FX currency valuation. Against the EUR, the dollar's most stalwart rival, GDP growth spreads now lean favourably towards the U.S. With regards to the spread of the 2yr bond and 2yr bund (instruments closest to the official policy rates), it's almost no contest – the spread is massively in the U.S. dollar's favour. The recent EUR bounce against the US Dollar has been triggered by a relief that no Italexit is likely to happen soon. But the EUR rebound was unlikely to last very long based on this factor – and it did not."
There is also a technical reason for the renewed focus in the Dollar's strength, as depicted in the chart below: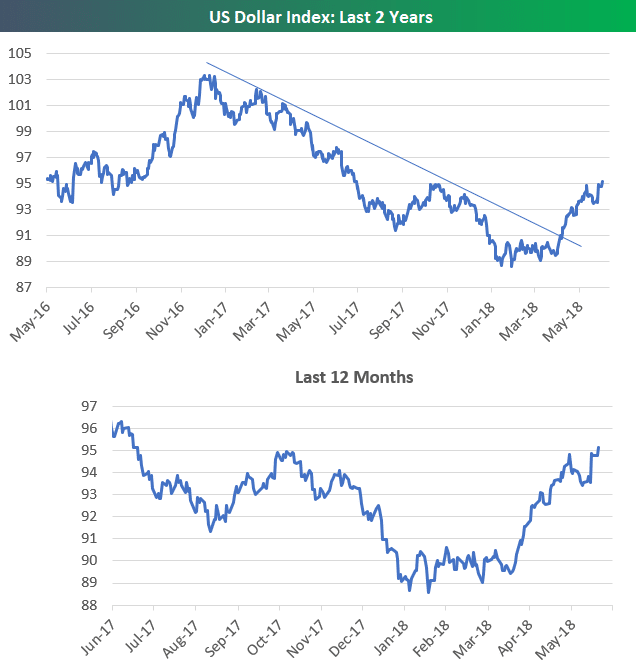 There are many analysts that have opined on the above reality of the moment. Here is just one: "The US Dollar index is now up 7.4% since its 2018 closing low hit on February 15th. Tuesday morning, we just wanted to provide a heads-up that the dollar is breaking above another key resistance level at 95. The index couldn't break through 95 last October/November, and it failed once again at 95 at the end of May. The break above resistance at 95 Tuesday morning clears out additional supply and provides room to run towards 97 in the near term."
Will investors be emboldened by these recent moves? If they are heavily into equities, they are more than likely to shift positions that favor more domestic companies, since they tend to benefit more from a stronger Dollar. We suspect, however, that they are more concerned with brewing trade wars, something that could really upset Mr. Market.
As trade war winds howl, investors run for cover under the nearest safe haven
Whatever complacency existed a few months ago, it has vanished in deference to forceful winds brewing over escalating trade wars. It is certain that China and the United States are embroiled in a tit-for-tat match that may last for several weeks. As one satirist noted, "Investors' complacency has given way to sheer terror as there can be very little doubt that the US and China have locked horns in a legitimate trade war as battle lines get drawn, and investors hunker down with safe havens preparing to ride this one out." Gold has crested at $1275 an ounce, but treasuries still have a way to go. Whichever way you look, demand for the USD is rising at a good clip.
How prolonged might this China/U.S. battle be? Consider the following summary: "On June 15th, U.S. President Donald Trump announced tariffs on $50 billion of Chinese exports. The Chinese government immediately followed with a proportional $34 billion tariff on U.S. exports. Subsequently, Trump threatened to levy as much as $200 billion more in tariffs in case of Chinese retaliation." If you check the math in the background, the U.S. imports nearly three times what it exports. Translation: The U.S. has a larger pool to tax. China is limited in the severity of its response, but it will surely enjoin the skirmish and persist. At the end of the day, U.S. companies and consumers will be the most hurt by these activities.
Many analysts are viewing the trade wars as more distraction than impending doom and chaos. According to these folks, the real problem is in emerging markets and how a renewed hawkish tone from the Fed is drying up capital in countries like Brazil, Argentina, South Africa, Indonesia and Turkey. Rising interest rates and a rebound in the Dollar are creating havoc in emerging markets, as investors move capital from riskier locales back to safer positions.
One analyst's take on the current situation is not heart warming: "It'd be a mistake to view all these emerging market panics as one-off events. It's no coincidence that they're all happening at the same time. As long as rates keep rising in the US, investors will be tempted to pull money from riskier markets back to safety. When the risk-free rate goes up, it lowers valuations and investor appetite for everything else. As long as the Fed keeps on with aggressive rate hikes, capital will keep leaving emerging markets, creating more accidents."
Concluding Remarks
Fed governors are patting themselves on the back for what they perceive as a job well done. The U.S. economy is back, and according to Chairman Powell, "The main takeaway is the economy is doing very well. Most people who want to find jobs are finding them." Inflation is also rising to meet targets and expectations, but, unfortunately, the rest of the world is lagging behind. Per one analyst: "Japan's economy is flirting with returning to negative growth again, and Europe is showing mixed signals. And clearly, the rebounding US dollar and rising interest rates are creating a world of problems for emerging markets."
Trade wars may be getting the headlines, but the real story is that the U.S. Dollar seems primed for another run. Yes, there may be some pull back, but many in the trade are seeing an appreciation path running through 2019. Expect more volatility and trading opportunities in its wake.
Are you ready to trade?
Sign up with

76% of CFD traders lose