As is the typical case, the financial press will focus on a few key topics each week that tend to be obvious to all. Occasionally there will be a few "outlier" pieces that look beyond the clutter of the day and present convincing arguments for why things might change in the near or long term. A quick review of the general flow this week, however, reveals a lack of that focus. Articles are all over the map, so to speak. Trump, in his truly narcissistic fashion, is creating chaos, misrepresenting the facts, and tweeting away to his heart's content. Jamie Dimon, the head of JPMorgan and the longest tenured CEO of any of the major global banks, is once again forecasting strange things, while other writers ponder oil prices, yield curves, and the possibility of a recession on the horizon.
President Trump seems determined to create carnage at every turn, or, as a one pundit quipped, "Everything he touches dies." If it is not trade negotiations or strife at home, he is out poking the eye of Iran, as if oil prices will not suffer in the consequence. Despite his misgivings, the economy seems to weather each storm, but how much longer can this self-generated maelstrom continue without striking at the very foundations of this record-setting Bull market? Trade wars, interest rates, escalating oil prices – take your pick or all three at once, but sooner or later, something has got to give. Business and investor confidence can only take so much before reversing, giving rise to a downturn.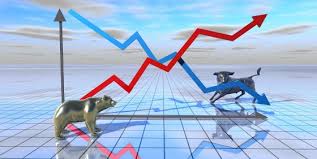 As disjointed as the various articles in the financial press would seem to be, the various topics noted above seem to be leading to the same place, a kind of "All-roads-lead-to-Rome" scenario. Analysts and investors are overly concerned about a possible pull back in economic fair tidings. It does not matter how sound or strong economic releases appear to be on the surface. The prevailing undercurrent suggests that all is not good, that a severe reversal is building to a tipping point, and that a need to exit risky positions is imminent. The economic sun may be beaming, but your underpinnings are thin ice.
As disparate as the topics may be, here is a quick summary before we get into the details:
Trump's Latest Machinations: Each new week seems to bring more chaos, building upon the chaos generated by the previous one. If it is not trade wars, then it is taking a shot at Iran that can only lead to more chaos;
Jamie Dimon's Interest Rate Forecast: When the longest serving CEO of a major global bank speaks, we tend to listen, but Jamie Dimon has a way of going off track at times. Which is it this time?
Escalating Oil Prices: Commodities may be in a down spiral, but oil seems to be acting contrary to its brethren. How high can it go, and will it stop global commerce in its tracks?
Yield Curve Fanaticism: First it was flattening, signaling an imminent recession. Now it seems to be broadening. What is going on?
Recession Watch Vigils: All roads lead to a concern that a recession is on the near-term horizon, if you count the number of articles on this topic. We will update various models, each of which says steady as she goes.
At the end of the day, financial press pundits try their best to hit upon the topics that are top-of-mind at a moment in time. While they may be broadly focused this week, their focus will more than likely dramatically change next week, when new concerns present themselves. Until then, here are a few more details on this week's financial news:
Trump's Latest Machinations
With each passing week, Donald Trump astounds us all by finding one more pot to stir with his antics. The international trade pot has been stirred to a frothy boil, yet, he found the time to throw out the Iran Accord, re-instate sanctions, and demand that no one trade with them or lose the U.S. as a trading partner. Europe must comply, as will China, unless they establish "middlemen" that insulate them from culpability. Advisors had warned that such a move would force Iran to block oil tanker flows through the Strait of Hormuz, but when has Trump listened to advisors, or lawyers for that matter.
Whether we like it or not, the global economy is being held captive by a petulant child that creates a mess, blames others for it, then moves on to the next "mess-in-waiting". His tax plan may have delayed the inevitable business downturn, but fault lines are beginning to appear. Trump's response is to make outrageous claims of success, where no evidence of support exists. As one reporter opined, "The hyperbolic claims of the Trumpistas are laughable. Throughout history, governments tend not to end well when led by demagogues that rely on continual, non-stop lying, fake news, demonizing foreigners and minorities, seeking "enemies" in the media and anyone else who dares to disagree, and that have no respect for the rule of law." And miles to go before he sleeps.
Jamie Dimon's Interest Rate Forecast
Jamie Dimon, the highly respected CEO of JPMorgan, has often found the need to express his opinions in public. Not known to be bombastic or "laughable" as per Mr. Trump, Dimon does like to comment on financial issues that he deems worthy of his attention. His recent dictum took many by surprise. He noted this past Saturday that 10-Year Treasuries should be at 4% and that he felt 5% was in the cards. This rate currently sits just below 3% at 2.95%. Other analysts do not see what could add another 200 basis points or more to the mix, especially considering the safe haven nature of our Treasury securities.
Depending upon whatever model you choose to believe, interest rates are at an unusually low point, as per the following chart presentation that the Fed reviews: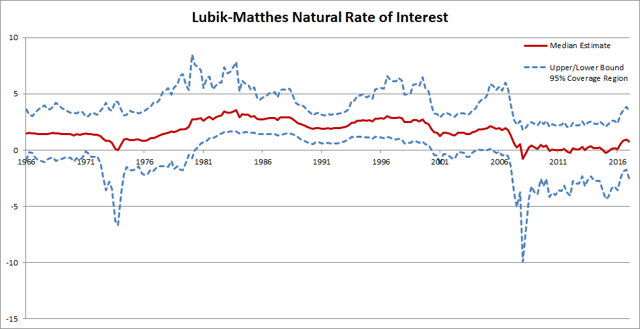 The probability of hitting or exceeding the upper band in this chart seems remote, but then Jamie did not disclose a timeline for his prediction. He also noted that he expects the current Bull market to keep running for another two to three years, and he reiterated his contention that Bitcoin is a scam. He also pontificated that Bitcoin could reach a $100,000, but no one took him up on that wild forecast. A raise of 200 basis points in global rates of interest, however, could seriously create debt defaults across the planet.
Escalating Oil Prices
Commodities have not been an investors' paradise for the past few weeks or months. Declines have been the name of the game for precious metals, agriculture products, and lumber, too. Copper, the accepted leading indicator of the group, has not fared well either, plunging from $3.30 to $2.70 per pound since early June, even though a strike   at the world's largest copper mine in Chile is a given. Oil prices, however, have been on the rise, pausing recently to catch a breath, as depicted in the chart that follows: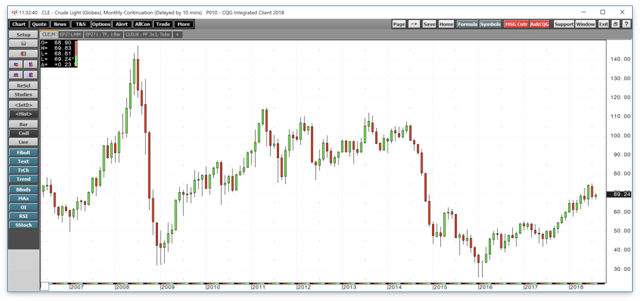 How high could the price of crude go? Industry insiders say that $100, the price that persisted from 2011 through 2014, is very much on the table. Trump's machinations with Iran notwithstanding, there are a host of other contributing factors. Venezuela, the holder of the world's largest reserves, is in political disarray, as is Libya. If Iran falters, other OPEC members cannot pick up the slack. The situation looks dire on many fronts.
Yield Curve Fanaticism
Not that long ago, there was hysteria in the streets, as every analyst on the planet was pointing to a flattening yield curve in the U.S., a signal for a surefire recession, if and when the curve actually reversed. The buildup was constant ever since the margin between 2 and 10-Year Treasuries dipped below 50 basis points, as demonstrated in the chart below: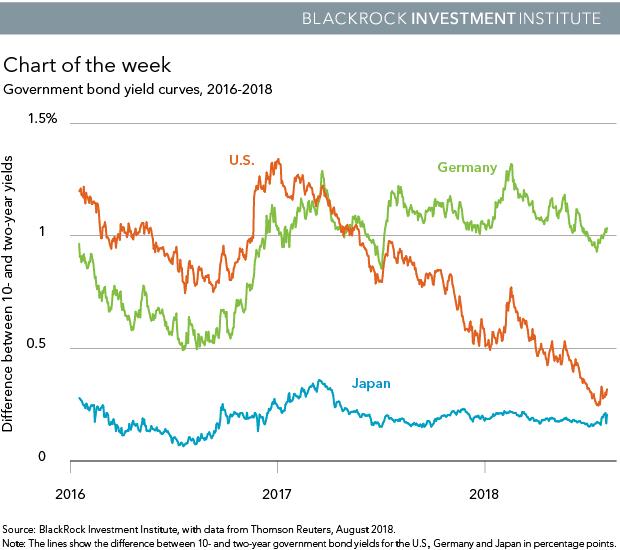 A recent "steepening" brought calm to the roiling waters of debate, but what happened? To begin with, the "margin" or "difference" is a net between two varying supply and demand curves. Short-term yields are tied primarily to anticipated actions by the Fed, while long-term yields reflect investor perceptions of long-term inflation and risk. An influx of capital into the U.S. for safe haven reasons has depressed long-term yields, but the BOJ recently tweaked its monetary policy, thereby producing a beckoning call for safe haven capital. The bumps in both U.S. and Germany data points suggests a correlation exists, causing one analyst to comment, "The U.S. yield curve provides less information about recession risk than it has historically and is shaped by many factors."
Recession Watch Vigils
The flattening yield curve also produced a flurry of activity amongst the so-called "Recession Watch" crowd. It seemed as if midnight vigils would now be commonplace to forecast the exact time and market where Armageddon would commence. As quickly as the yield curves went in the other direction, the opposing camp of analysts began shouting that recessionary trends were nowhere to be found.
A host of probability models were trundled upon the stage for inspection, each proclaiming that the chance of a recession in the next year was less than one chance in ten. One bold fellow even offered one chance in 91, but who is counting. There are several recession prediction models in the public sphere, but our favorite is the iM Business Cycle Index. It consists of three charts, but the one displayed below suffices: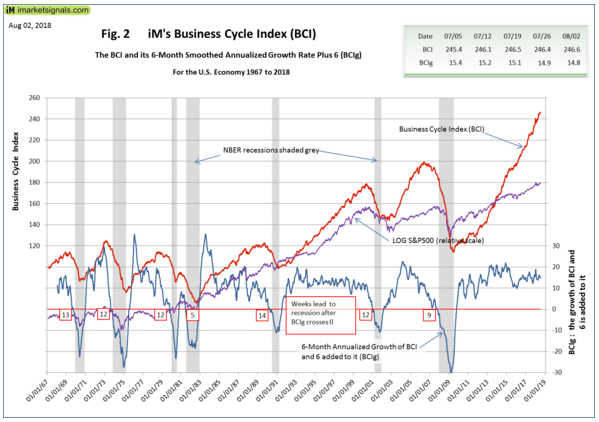 The key indicator is when the Blue line in the lower half of the chart crosses beneath the flat Red zero line. It has been accurate on every occasion since 1970, even predicting the number of weeks of lead-time before each recession event. Economic data swings can abruptly occur, but for now, the indicator Blue line seems to be traversing safe territory, sloping upward, too, as it does. Bottom Line: We have a ways to go before Armageddon.
Concluding Remarks
There was very little consensus among writers on what one or two key topics would drive the financial narrative this week. In the meantime, the Fed will continue to raise benchmark rates. Other central banks will begin normalization efforts, as well, and a few fault lines are beginning to appear in the global economy, outside of trade wars, oil prices, and rising interest rates. A few writers have pointed out that Italy, Brazil, and China are wobbling at the knees, although everyone is doing their best to disguise the apparent shaking.
When next week arrives, let's see if any analysts have noticed.
Are you ready to trade?
Sign up with

Your capital is at risk