Donald Trump is no longer President Elect. He has sworn the oath and assumed his rightful place in the oval office of the White House, and now the guessing begins. Every analyst is hanging upon his every word, as if he were in charge of the Fed, hoping to gain some insight that will peel away a bit of the uncertainty as to how he will really proceed over the next one hundred days. One thing is certain, however – a strong U.S. Dollar will not help his administration achieve any of its near and long-term goals.
Trump even said as much in a recent interview, repeating again and again that the greenback must weaken before he can make "America great again." The Wall Street Journal reported his remarks as, "The U.S. currency has gotten "too strong," especially considering the China's yuan is "dropping like a rock. Our companies can't compete with them now because our currency is too strong. And it's killing us." His comments seem to be in opposition to central bankers, causing a new form of roller coaster ride:

This "loop-de-loop" was for only one week. Will simple jawboning in the press media be the major fundamental factor that moves our current financial markets going forward? The last Trump "dip" was a reaction to his inaugural address, which spent more time dwelling on protectionist threats than on aspirational affirmations about the future. The fear that hit the streets was that a new wave of currency wars might soon be upon us.
Trump is already on the record, proclaiming that he will be the greatest jobs creation President in history. If "jobs, jobs, and more jobs" is his primary campaign commitment, then he and his advisers will have their work cut out for them. Like it or not, they have inherited a complex web of central bank policy maneuvers that were never intended to be unraveled quickly by dramatic changes in fiscal policy. Tax cuts, repatriation of foreign corporate profits, infrastructure spending, an expanding military, import tariffs, and a host of renegotiated trade agreements must all deal with rising interest rates, a ballooning national debt and deficit, and, yes, an appreciating U.S. Dollar. At some point, something has got to give. Will the Fed-induced stock bubble burst in 2017?
Read more forex trading news
What does a review of history tell us about Presidents and a weaker USD?
Although the present situation may seem to be without an historical precedent, there have been previous times when U.S. Presidents have had to deal with a national currency that was stronger than what they needed for their intended changes in policy direction. The diagram below depicts three major USD declines since the seventies: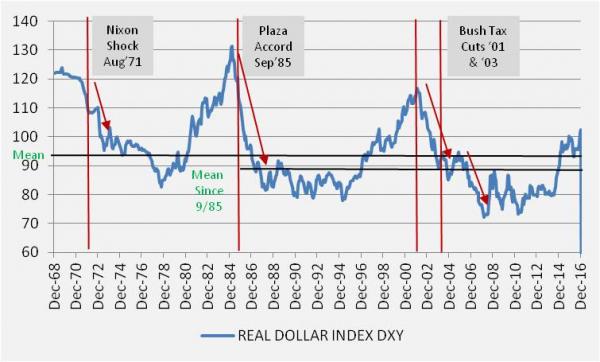 From a purely technical perspective, one can easily visualize a descending channel since the sixties, if one connects the peaks and troughs with lines. We are presently above the historical means from both the beginning of the period, as well as from 1985, a more recent calculation and obvious support/resistance level. As for each of the cycles, here is a brief description:
Nixon Shock Period: The seventies were a tumultuous time for the global economy and international trade. Nixon hastened the decline of the greenback when he voided the Bretton Woods agreement by removing the value of the Dollar from Gold. Forex traders will remember this as a time when the free floating system of foreign exchange was initiated, confusing most central bankers as to the level of daily volatility that was witnessed. Inflation soon went on the rampage, necessitating attempts at wage and price controls. OPEC began to flex its muscles, demanding higher prices for oil, and within a few short years, stock markets tumbled some 46% in late 1974.
Reagan and the Computer Age: The introduction of computers had wide reaching ramifications on international trade and the currency markets. The populist demands at the time screamed for more protectionist measures, but President Reagan opted for the negotiation route, creating the Plaza Accord. Within two years, the Japanese Yen appreciated 50% versus the USD. Interest rates fell. Stock prices rose, as did economic growth. Unfortunately, all was not to be well forever. Black Monday in October of 1987 occurred, wiping out 40% of stock values, although its making could not be directly attributed to the Plaza Accord. The message, however, was clear. Market forces cannot always be neatly manipulated by policy decisions without eventual consequences. In other words, an unwinding event is inevitable.
Bush Tax Cuts and 9/11: When President George W. Bush took office, job growth went negative. A questionable series of tax cuts enabled consumers to buy more goods from foreign sources, namely China, thereby increasing the nation's deficit and weakening the USD in return. After "9/11", officials did their level best to bolster the economy, but the Dollar progressively moved lower during the following four years, a prelude before the Great Recession. Stocks were pummeled when the Internet bubble burst, after 9/11, and at the outset of the financial crisis of 2008. Once again, fiscal policies designed to weaken the Dollar were successful on a temporary basis, but consequences followed.
When we last wrote about the U.S. Dollar at the end of November, it subsequently went on a tear from 100, peaking at nearly 104 by the end of the year. From that lofty realm, gravity soon took charge, and King Dollar has gradually assumed a more realistic tone, stopping today at the 100-guidepost level for a refreshing pause. Whether due to market sentiment, basics fundamentals, or highly critical missives delivered by the new President, it has fallen, just as in the other three precedents cited above.
As we previously declared, "A stronger USD inevitably means that exports will suffer, long before any trade deals can be re-negotiated. Higher borrowing costs ultimately put a drag on economic growth, and both, as a tag team duo, will put a headlock on corporate earnings. All in all, 2017 is already shaping up to be a year fraught with uncertainty and chaos." What happens next?
Will a falling Dollar and rising interest rates spell "Doom" for stocks?
The quick answer would be "yes", since we have three major historical examples that support this eventual outcome, but none of these three or four situations are exactly the same. The Devil may truly be in the detail, but you can expect analysts to be searching for clues at every turn. Let's start our search by looking at a chart: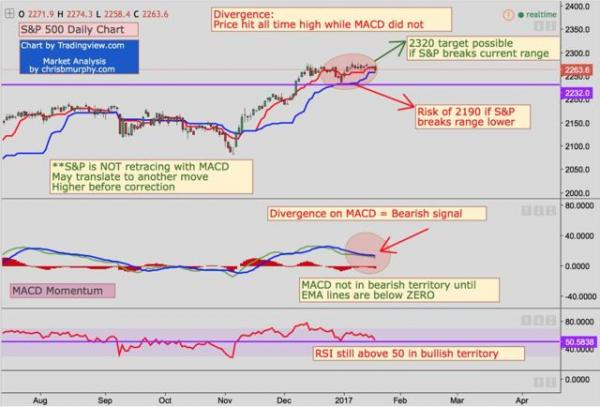 The S&P 500 index closed at 2265 today, after absorbing the first few days of a Trump administration. Per one pundit, "The dollar is mixed against majors after the inauguration of President Trump. The markets did not get enough information on Friday to support the dollar as the tangible pro-growth agenda items were missing from the event. Trump's speech was delivered in his combative style and he made a pledge to put America first. The protectionist message did not resonate with markets as the dollar and stocks fell.
The Trump rally has left its mark, but there has been no retracement, just a simple ranging behavior above the 2200 level. Forecasts to date for 2017 have been mixed, but cautious. The majority sees a slight improvement, but timing is everything. The fear, of course, is that Trump will stumble, sending a shudder through markets. A low of 2190 is then in the cards. If all goes well, then 2320 becomes a possibility, accepting that a pullback will occur before the end of the year.
For the time being, no one is jumping on the "R" word just yet. Recession has been postponed to a later period, as long as Trump follows through with his stimulus agenda. For now, analysts will be keeping close tabs on Treasury yields and "USD/JPY" currency pair trends. Escalating yields in T-Bills, almost a necessity when the Fed hikes rates, will signal a downward move in stocks. A strengthening Yen will also indicate a "risk off" investor sentiment, never good for stocks in general.
So where will the U.S. Dollar go with Trump at the economic helm of the world?
What will drive moves in the Almighty Dollar? Interest rate differentials still rule, and, if Conservatives have their way, the national debt and deficit will both decline, adding more fire to the appreciation camp. What about investor sentiment?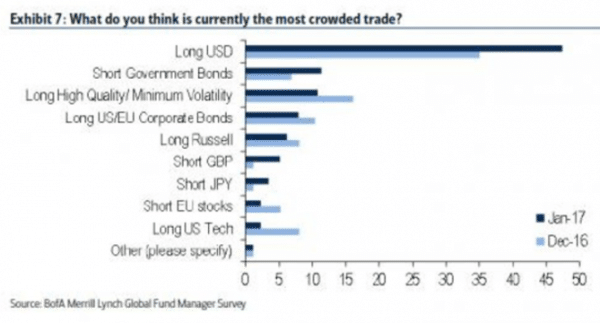 A recent survey of fund managers conducted by Bank of America's Merrill Lynch revealed that the market's "most crowded trade" by a long shot is the Long-USD, nearly four times its nearest rival. Analysts believe that these trades are in the process of unwinding, but sentiment in this arena typically takes a while to resolve itself. It may turn into a face off between the Dollar and stocks, with avid Gold bugs salivating over the possibility that their fortunes are just around the corner.
Once again, the majority believes the USD will appreciate, perhaps, back over 104 to 106 or so by yearend, driven by interest rate differentials, the political unrest in Europe, and the commitment of the Bank of Japan to weaken the Yen to promote growth and inflation. Trump and his advisers will have to walk a tightrope, but as one analyst pointed out, "Ultimately, a strong dollar strengthens the Trump administration's hand in international trade negotiations, particularly with many emerging market countries."
Concluding Remarks
Trump's protestations about "Our currency is too strong. And it's killing us," came before he had taken the oath of office for the Presidency. He may still have been in campaign mode and not expecting his every word to be dissected right and left for policy consistency. As one analyst noted, "The world's long experience with floating exchange rates and open capital markets since the early 1970s should have taught us that verbal foreign exchange market intervention to affect a currency's value has at best only fleeting results. Indeed, history is replete with failed attempts at such verbal intervention."
The market's current assessment of Trump's possible policy directions is that they would lead to a strengthening greenback, not the other way around. The Long-Dollar trade is presently the most crowded trade on the street by leaps and bounds, but unwinding. If the USD appreciates, will Trump "double down on his America First policies"? Will global trading partners retaliate in kind as a consequence? We are speeding haphazardly into uncharted waters in the days ahead, which can only mean more uncertainty and volatility, a recipe for rough sledding in the global economy, but for success in the retail forex trading world.
Sharpen your pencils, and get ready for countless opportunities across the board.