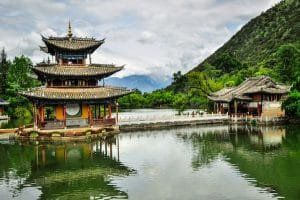 US President Donald Trump has gone ahead with another round of tariffs on $200 billion dollars' worth of imports from China.
In a statement on Monday, Trump avoided the worst case scenario, a tariff rate of 25%, for now. However, while the rate will be 10%, it will rise by the end of 2018 to the 25% level.
Trump's words yesterday suggested that there may be more tariffs to come.
"If China takes retaliatory action against our farmers or other industries, we will immediately pursue phase three, which is tariffs on approximately $267 billion of additional imports," he said.
"We have been very clear about the type of changes that need to be made, and we have given China every opportunity to treat us more fairly."
"But, so far, China has been unwilling to change its practices," he added.
In a surprise development, however, the US dollar did not immediately appear to leap in value following the announcement.
Often, international trade problems lead to the dollar being seen as a safe bet. On this occasion, though, the dollar index, a tool used to assess the performance of the US currency compared to others around the world, hovered at a relatively poor level of 94.09.
The Australian dollar, which often performs badly when its major trading partner China is hit economically, was actually up by 0.39% against the US dollar.
The dollar did manage to perform relatively well against the Japanese yen, however, and it rose by 0.06%.
All eyes will remain on Japan away from the ongoing tariff wars, too, as a series of important economic data announcements are expected to come out of the country later today.
Year on year import changes for August are out at 11.50pm GMT, and it's expected that these will rise from 14.6% to 14.9%.
Export data is out at the same time, and that's expected to go up even more – from 3.9% to 5.6%.
This data will be followed tomorrow by a monetary policy statement from the Bank of Japan. This key interest rate decision is not likely to be particularly surprising, with the current rate of -0.1% expected to stay the same.
Also on Wednesday will be retail price index data for August out of Britain, which is out at 8.30am GMT. Consumer price index data is out at the same time, and this is expected to drop slightly from 2.5% to 2.4%.
Looking ahead to Thursday, the Swiss National Bank will announce its interest rate decision at 7.30am GMT. As is the case in Japan, this is expected to be held steady, although in Switzerland the rate currently sits at -0.75%.
Initial and continuing jobless claims in the US are out at 12.30pm GMT, both of which are likely to be watched with interest given the ongoing speculation that the Federal Reserve may raise interest rates again soon.
Friday, meanwhile, will see important retail sales data for July and consumer price index information for August come out of Canada at 12.30pm GMT.