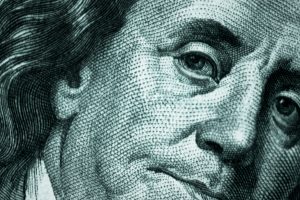 The US dollar managed to preserve its position and even begin to head towards an annual peak despite the trade dispute with China continuing to persist.
The dollar index, which weighs it against a number of other major currencies, was up 0.2% and managed to hit 95.27 at one stage, which brings it very close to its previous year-long high of 95.652.
This was in part due to some buoyant information releases in the US last week. Jobs data, for example, indicated that the overall unemployment rate has dropped by 0.1%, pushing it under 4% overall.
The rise came in spite of China's suggestion last week that it may add another layer of fees on goods imported from the US. The major Asian economy has acted to protect itself against US-led tariffs with reciprocal moves.
In the latest round of the trade battles, Beijing suggested on Friday that there could be tariffs of up to USD $60bn levied on American products. However, the main effect of this announcement appeared to be on China itself, as its stock index plummeted by well over 1% as a consequence.
Elsewhere in the forex markets, countries which enjoy an exporting relationship with China found their currencies suffering.
The Australian dollar was one of them. The AUD/JPY pair, for example, was down.
Over the ocean in Europe, meanwhile, the EUR/USD pair continued to suffer, and it remained at a low point of $1.1550.
Looking ahead to the week, the next few days hold a number of important moments for investors to look out for.
Monday sees some significant consumer data coming out of Japan, including year-on-year household spending levels.
Tuesday, however, is the key day. The Reserve Bank of Australia (RBA) will reveal its interest rate decision at 4.30 am GMT. Rates in the country currently sit at 1.5%, and it is believed they will stay the same.
This will be followed up on Wednesday with a speech by the governor in charge of the RBA, Philip Lowe. This speech is likely to hold more value for traders than the actual decision itself, as it may indicate the bank's perception of the economy's performance or hint at potential future shifts in policy position.
Wednesday will also see a range of key Chinese data points, including year-on-year export and import data for July as well as the country's trade balance figures, which will be of great interest to yuan traders given the aforementioned trade battle currently raging.
Antipodean interest rates will continue to be on the agenda later on Wednesday as the Reserve Bank of New Zealand makes its interest rate decision. As with its Australian counterpart, the bank is likely to keep rates as they are currently, although the New Zealand interest rate is slightly higher at 1.75%.
New Zealand watchers will also have more to look out for on Thursday when the country's Purchasing Managers' Index data for July is released at 10.30 pm GMT.