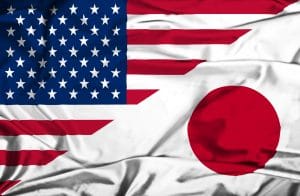 The US dollar rose to its best position in the last 11 months against the Japanese yen during trading on Wednesday.
During the overnight trading session, the greenback went up to 114.55 against the yen and then settled back down at 114.345. It is now looking at scaling the heights of the 114.735 yen position. If it manages that, it will set a new record it hasn't beaten since March 2017, more than 18 months ago.
The developments came after Jerome Powell, the President of the Federal Reserve central bank, made comments which implied that the Fed was feeling very hawkish. The US economy was beginning to look "remarkably positive" after a series of positive data releases, he said.
Analysts consider that one possible threat to the dollar surging ahead in the coming months would be any political interference from a White House looking to curb the dollar's rises. President Donald Trump is believed to be concerned about the rising performance of the dollar, and the high-interest rates that this could lead to.
"I don't like all of this work that we're putting into the economy and then I see rates going up", he told news network CNBC in July.
However, there are other positive US statistics which appear impossible to control politically.
The Institute for Supply Management, for example, said this week that its activity index (including manufacturing) was at its highest rate since Bill Clinton was President in August 1997.
As the week begins to draw to a close and a new forex trading week is on the horizon, there's plenty to keep traders occupied.
Today's main market focus will be the employment statistics coming out of the US at 11.30am GMT, including both continuing and initial jobless claims. Initial claims are expected to drop by 100,000, but continuing claims may rise.
If these are positive, it's likely that they'll be used to fuel further speculation that the Federal Reserve will raise interest rates one more time before the year is out.
Later in the day will be some important Japanese statistics too, including overall household spending levels for August and foreign reserves for September.
Looking ahead to tomorrow, Australian retail sales data for August will be out, with analysts predicting a positive month on month change from 0% to 0.2%.
New homes sales data from the Australian Housing Industry Association will also come out tomorrow.
More US job market data is expected at around 12.30pm GMT, when average hourly earnings information for September as well as labour force participation rates are made public.
Similar statistics for Canada are expected at around the same time. September employment net change figures will be out then, and these are predicted to be about to rise significantly from -51,600 to +25,000.
The day will finish with the weekly CFTC Commitments of Traders report, or COT, which looks at what direction certain markets are taking as the week comes to a close. These will cover a variety of different instruments, including gold and oil as well as the GBP, JPY and EUR currencies.