Our financial markets are definitely in a confused state of mind. If there was one certainty in this uncertain Trump world, it was that volatility would reign, especially in the foreign exchange markets. We are now one month into 2017, and volatility is nowhere to be found. The VIX, the most widely accepted measure of true market volatility, just experienced its third calmest January month in history. Implied volatilities for both the Euro and the Yen have ticked up a bit, but nothing that meets expectations.
Analysts are presently in a quandary to explain the situation and what it means for the near and long-term future. The "Long Dollar" trade remains the most crowded trade on Wall Street, but these longs have taken a beating over the past few weeks, as the USD heads into its sixth week of negative week-over-week results. Yes, financial markets have been moving more based on sentiment and public posturing by Trump and his advisors, but at some point, the influence of fundamental forces must take control again. The only question is when?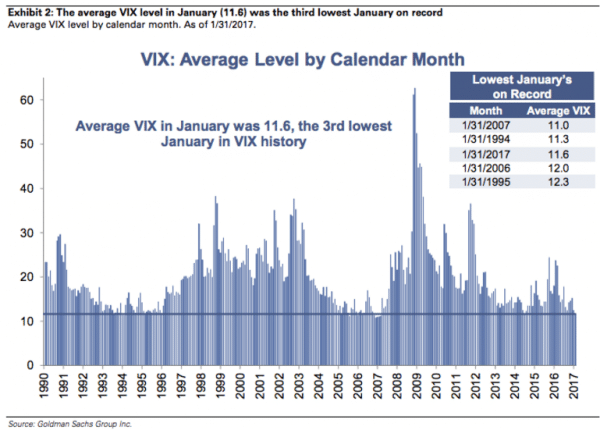 Read more forex trading news
Why was January so calm amidst the chaos of the Trump Administration?
We will get to the "When" question later in this piece, but for now, both investors and analysts are scratching their heads in wonder. A calm VIX, coupled with a weakening Dollar, was not what nearly everyone expected. Yes, a few contrarians got it right, only because they believe the best course to follow, when confusion is rampant in the streets, is the opposite direction that the herd is going. In this case, that strategy would have produced a few bucks last month, but one month does not a year make.
The most often heard word to explain the lack of active responsiveness to the abrupt changes that have already occurred stateside is "complacency". Market participants have "numbed out", so to speak, not knowing how to price in risk when their dependable tools, fundamental and technical analysis, seem to have lost their effectiveness. Perhaps, the "deer" metaphor is a better description. Analysts and investors, alike, are behaving like proverbial deer caught in the headlights – they are frozen in place, waiting for the inevitable shock that will jerk them back into a conscious view of reality.
If fundamentals are not driving the market, then what is?
The conundrum that has frozen our deer is that a weaker U.S. Dollar makes no sense in the context of a world dominated by Fed interest rate hikes, expanding rate differentials, trade protectionism, and fiscal policies designed to stimulate the economy. The first Non-Farm Payroll data release under Trump's rule hit the wires today, and nearly all measures exceeded expectations by good margins. Mr. Market's reaction? The USD weakened yet again versus a majority of the majors. Banks are scrambling in confusion.
Goldman Sachs is one group that is betting on a stronger greenback. According to them, "The Dollar is responding to rhetoric instead of fundamentals." Trump and his advisors have been vocal in their angst regarding a stronger Dollar, and the recent onslaught of their verbal intervention efforts seem to have had an effect per this annotated chart: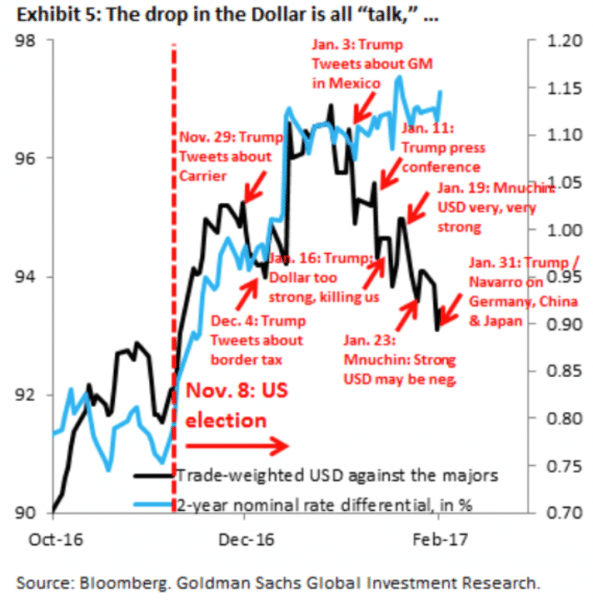 One of the most dependable predictors for the future directions of the Dollar has always been 2-Year Nominal Rate Differentials, the light-blue line in the above chart. The apparent correlation disconnect has confused the experts. If you review the results of more complex models that take into account such things as oil prices, the VIX, and European bond prices, the same condition exists. The tentative conclusion is that the Dollar is undervalued by 3 to 4%, if these models are to be trusted.
We recently wrote that Trump-onomics would fail if a strong Dollar were to prevail, the primary reason that Trump's minions have been so vocal in the press against the greenback's proclivity for appreciation. A recent Bank of America survey also revealed that, "The market's "most crowded trade" by a long shot is the Long-USD, nearly four times its nearest rival. Analysts believe that these trades are in the process of unwinding, but sentiment in this arena typically takes a while to resolve itself." We are beginning to witness the early stages of an inevitable financial face off.
Bankers have been vocal, as well, without the same impact.
Goldman Sachs was the first out of the box to trumpet what has been called a "Trump Paradox" – "Trump's attempts at stimulating trade will only strengthen the Dollar, which in turn will eventually weaken trade across the board." At present, banks are standing firm on their forecasts for an appreciating Dollar. Here are a few of the more notable statements in defense of these previous assertions:
Goldman Sachs: "The principal reason for the divergence is "Dollar down" rhetoric from the new administration. Needless to say, Goldman – like Credit Suisse – thinks "tweet risk" will eventually give way to the reality that the proposed policy mix and other structural factors favor a stronger greenback."
Credit Suisse: "The combination of a strong US economy, a hawkish Fed, protectionist risks in US trade policy, ongoing balance sheet challenges in China and political risk in Europe/UK all argue in favor of a structurally higher USD. Our forecast set remains mostly biased in favor of a stronger dollar, and we are not looking to revise it for the time being"
Deutsche Bank: "Our bullish dollar view has been suffering on the back of positioning adjustments and a number of US officials, including Trump, commenting on exchange rates in recent weeks. It is not Twitter but the Fed and US tax reform/stimulus that will ultimately determine the direction of the dollar this year."
Societe Generale: "The US campaign of words is clearly having an impact on market participants, and many are now looking for an alternative to the dollar as the currency to be the long leg of trades. It's not the short-term rates that matter or nominal ones, but relative real long-term yields."
Barclays: "The dollar continues to be on the back foot. The Fed may hang on to see the new fiscal plans of the U.S. administration before we get a clear indication of how the Fed sees things."
In the meantime, forex traders are sailing into uncharted waters, where fundamentals must contend with haphazard remarks in the press. As one pundit wrote, "The White House is intent on implementing its weak dollar agenda via verbal FX market intervention. That's a decidedly slippery slope, but if the last week has taught us anything, it's that the new administration cares nothing about how slippery a given slope might be." Forex traders must now factor in and be wary of "tweet risk". Welcome to the brave new world of President Donald Trump.
The word on Wall Street is that there are strong "animal spirits" in the economy.
Amidst all of this uncertainty and confusion, there is a positive spin that is currently circulating on the floor of trading rooms. Sentiment and confidence are up across the board, a good thing, all things being considered. It would seem from the comments from various firms that they must have a firewall between themselves and their respective forex departments, since the expressions of optimism are in direct contrast to the ones from above.
It also appears that each group chose to use the phrase of the day, "animal spirits", to describe their heartfelt thoughts. What are "animal spirits, you might ask? According to one in the know, this euphemism is best defined as "a way to, in plain English, gauge how bullish corporate America is on their future prospects. When animal spirits are present, you're likely to see a surge of hiring, investment, and spending as better days are assumed to be ahead for the economy. When animal spirits are non-existent, it is because a cloud of uncertainty is, these business leaders might say, hanging over the investment environment."
Here are three comments that seem mysteriously alike:
Goldman Sachs: "The surge in most measures of business and consumer expectations since the election does raise the possibility of a self-sustaining rise in 'animal spirits' that boosts especially the investment side of the economy."
Bank of America: "Scanning the survey data, we have seen across the board improvements post-election, indicating stronger animal spirits in the economy. Increased optimism should help to support a rebound in business investment."
Wells Fargo: "A new positive earnings cycle, a broader global economic recovery, an easing of global deflation, and, of course, the election of Donald Trump — This is an impressive list of positives, which for the first time in this recovery may be juicing animal spirits. The question is whether this surge in confidence is sustainable?"
Animal spirits are not always a good thing. The gap between hyped spin and true reality must eventually be closed, or dire consequences could result. Per one analyst: "It certainly appears that Trump's economic message has been compelling for many consumers and business leaders. However, the surge in economic confidence has come before any new policies have been clearly articulated or implemented… If Trump and the Republican-led Congress do not take quick action, and if the economy does not quickly improve, this surge in confidence may prove to be fleeting."
When will fundamental forces take back control of our financial markets?
After today's Non-Farm Payroll Report, the Fed may be inclined to pass on a rate adjustment at its March meeting. It is doubtful that other central banks will step up to the plate to reduce any rate differentials in the interim. Experts will tell you that the current Dollar cycle will peak when short-term nominal rates peak. No one is claiming that a peak has been reached in real rates, the reason economists are not passing on a further uptrend in King Dollar. In other words, we are currently experiencing a temporary bit of unexplainable turbulence that is being buffeted by winds from the White House. Winds have a way of subsiding and reversing their direction. Caution is advised.
Concluding Remarks
Are we living in different times? Is Trump immune to slippery slopes? Is the U.S. economy really as good as optimists are trying to make it out to be? Are investors now getting significantly more nervous about global politics? Yes, these are different times that we live in, but gravity has not disappeared. What goes up must eventually come down. The only question has to do with timing. Forex markets will definitely lead the way, and, as one trader quipped, "It's Donald Trump's world, you just trade in it."