Once more, the well-heralded Non-Farm Payroll Report has left everyone speechless. After 313,000 net job additions in February, March came in at 103,000, quite a bit below expectations and the lowest rise in employment since September of 2017. The S&P 500 dipped accordingly, but global markets remain nervous, especially after Trump has stirred the pot with tariff talk and air strikes over Syria in the Middle East. Analysts have taken much of this in stride, claiming to have already adjusted for "tweet risk", as it is now called on Wall Street, but the focus is now shifting to earnings, oil, and the forex markets. Uncertainty and volatility are back, with fundamental forces in charge.
As the diagram above depicts, the S&P 500 index, our best proxy for the global economy at large, has shrugged off the mediocre jobs data during its following week, but a degree of nervousness still permeates the minds of investors. The latest employment report is seen as encouraging, though lackluster, in that the Fed will be less inclined to accelerate its normalization process and ignite the fires of inflation, the one true topic of concern on the Street. If it truly is steady as you go, then what could possibly go wrong?
See more forex news
Geopolitical tensions, like it or not, will stimulate capital flight in various sectors
News of air strikes over Syria came late in the news cycle on last Friday evening. It will be interesting to see how much risk was baked into equity valuations, as well as in Gold and Silver prices. Investors were left to ponder if a face-off between the U.S. and Russia, who took up the gauntlet and began ranting that its missiles would surely shoot down the others and on and on. It was almost comical or "cartoon-ish" as some recounted these limp attempts at saber rattling. Were we to think the un-thinkable, that the situation would truly ramp up and lead to "a direct military confrontation between the U.S. and Russia"?
The Ruble was bouncing all over the place as a consequence. Even Steve Mnuchin chimed in at the right moment to steady the ship and dispel the rumors that sanctions might be place on an entirely new range of Russian assets. One level-headed opinion of these goings on reads: "Coming full circle, it's of course possible that the timing of the air strikes will give markets a couple of days to calm down and that temporal cushion could mute the reaction. On the other hand, Russia is most assuredly not pleased, and although their options for retaliating are to a certain extent limited by fears of further economic reprisals from the West, the rhetoric is likely to remain heated for quite some time."
We are then left to ponder how current geopolitical shenanigans rank up against the historical standard. Believe it or not, analysts over at Barclays have devised a clever way of measuring the tension level, so to speak, by tallying news-based accounts in eleven major newspapers in the U.S. and the UK. If you accept the logic in good faith, then the present level of geopolitical risk resides at the same highs as the cold war, having spiked up a bit after the Russia/Ukraine conflict: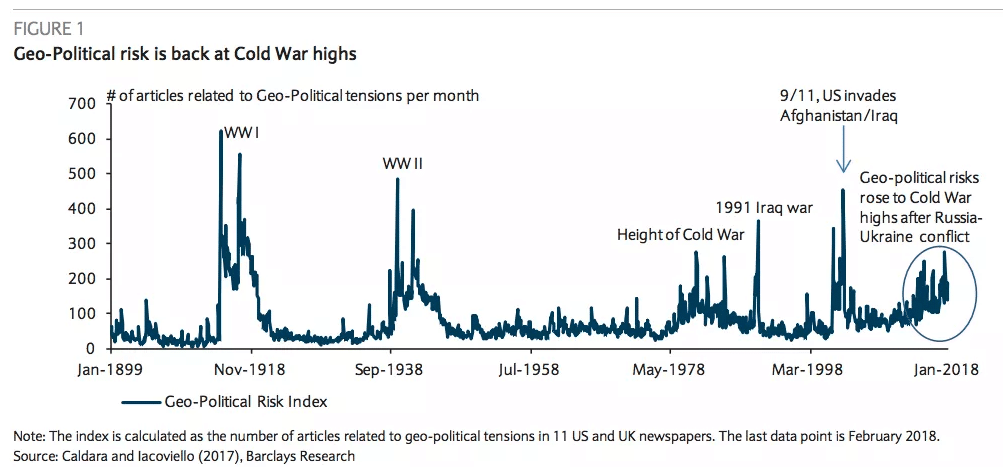 Spikes such as these do not go unnoticed by the investment crowd. Aside from likely boosts in Gold and Silver, Crude Oil prices tend to spurt upwards, as well. As one pundit noted: "This was a blockbuster week for crude. WTI posted its biggest weekly gain since July, rising nearly 9%. There's nothing quite like an acute escalation in the Mid-east to prompt investors to price in a geopolitical premium in crude and you're reminded that at the end of the day, this always comes back to the same question: what's the read-through for the odds of an outright confrontation between Tehran and Riyadh?"
Earnings season is upon us and expectations are running high
Financial markets always get a bit tense, as earnings season approaches after each quarter end. It was not that long ago, 2016 to be exact, when every analyst in town was screaming that an "earnings recession" was upon us. Forecasts at that time were painting an ugly picture of declines in the growth in earnings for innumerable quarters on end. Surely the sky would fall, and our ever-raging Bull would be frozen in his tracts, much like the proverbial deer in the headlights.
Yes, the earnings decline occurred as predicted, but, No, it was not the end of the current Bull market. The Bear never came out of hibernation, and here we are, two years later, with positive earning projections for the future, i.e., increasing earnings over the next several quarters, even after a solid year of the same in 2017. As much as the worrying types want to convince us that a recession is near, corporate earnings continue to put the lie to this mistaken picture of gloom and doom. The underpinnings of the global economy are broad and formidable. The level of GDP growth may not be stellar, but businesses have a found a way to generate steady bottom-line numbers that are predicted to grow some 17% over highly favorable data for 2017. See below: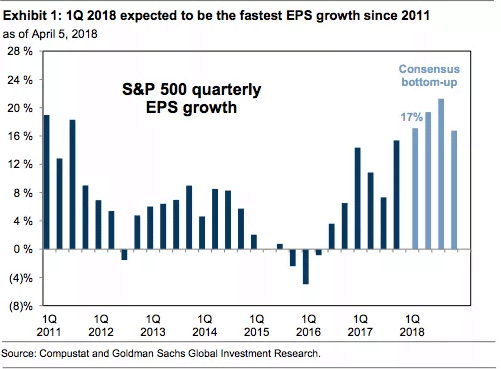 The question on everyone's lips, however, is borne out by the following headline: "Do Stock Prices Already Reflect Strong Earnings?" Barron's is on the record asking whether this high level of projected earnings will save the current rally? Many commentators have opined on this topic, but do so by talking about what could derail the train, an easy task if one takes the time to think logically. Yes, trade agreements are due for harsher times. Immigration, generally a positive, is being ignored. Scandals and accusations make for good headlines, but will they actually bring down stock values in the Age of Trump? Lastly, we have geopolitical stresses, especially in the Middle East, but can they really stop the global economy from chugging along?
Can Big Oil shake the foundations, as prices per barrel escalate northward?
And then, there is Big Oil. Between Trump tweets and missiles flying overhead, we almost forgot about the world's largest market, that being Energy, in which oil is the major player. Analysts have been effusive, of late, singing the praises of Black Gold, as if it were the Second Coming: "Crude Oil has been in a steady uptrend since early 2016 when the price bottomed at about $26. Now, crude oil is trading at roughly $67, and is up by about 60% just since last summer alone. What's more, oil has entered a well-defined uptrend and has managed to break through several key levels of resistance. Furthermore, the overall economic backdrop for oil prices appears positive, and the commodity is likely to go higher from here."
Should we run out now and buy oil futures? Not so fast. Big Banks are not that enthusiastic, as the next chart immediately reveals. In this case, a quarterly average is plotted over time, a wise approach, considering the level of volatility that commodity markets always seem to be mired in, no matter what the occasion. Eight of the world's largest banks see a downturn in prices over the year ahead – See below: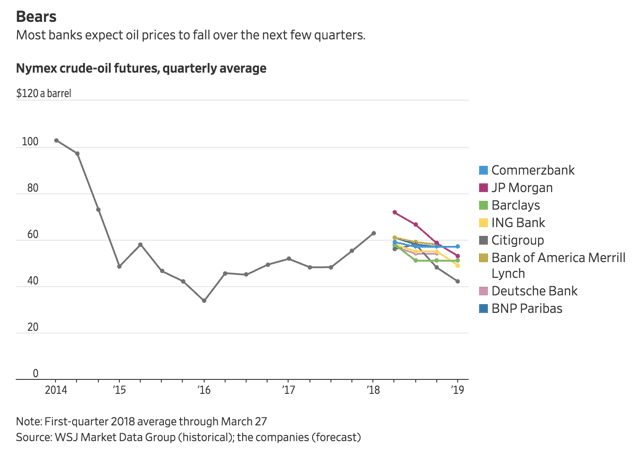 What do the bankers know that no one else wants to accept? Industry experts are screaming $85 a barrel of WTI by the end of the year, but JPMorgan analysts reply that $70 is as good as it is going to get. Bankers believe that, "While all of the fundamentals are screaming bullish, market participants think the recent rally is related to geopolitical risks as opposed to actual fundamentals." If you review industry forecasts, both from the IEA and OPEC, demand has been gradually increasing all along, in the same fashion, as has the global economy. Just one more example that gradual is good. The "glut" is gone.
The oncoming scenario can best be described as follows: "Market participants are reactive, and most won't believe higher oil prices until they see higher oil prices. Price is in itself a great reflexive feedback loop, and as sentiment usually goes, higher prices will force people to realize higher prices are here to stay. The severity of the forecast storage draws by the second half of 2018 will shock and awe market participants. This will come at a time when U.S. shale will be growing production, and the market participants will find it puzzling that storage can keep trending down at such a rapid pace despite higher supplies."
What about the U.S. Dollar? Surely it has a card to play in this poker game?
The Mighty Greenback has come back to life this week across the board. Europe and its Euro seem perplexed by the Draghi show, which is forever searching for signs of inflation, while declaring that everything is pointing toward that goal. It is not only Europe, however, as the Pound, the Yen, the Aussie, the Loonie, the Yuan, and you name it have buckled under to the USD's sudden show of strength.
All that being said, the U.S. Dollar index closed at 91.4, up from its low of 88.9 some eight trading sessions ago. This key level was established as support back in mid-January, but now offers considerable resistance going forward. Equities have sold off a bit, but next week will be a new month with Trump's trade negotiating brigade about to make its debut. If anything is certain, it is that uncertainty will reign for more time to come.
Can the Dollar stay strong or is this just a passing trend, an over reaction to the events at hand? U.S. Treasury yields have been bolstering the greenback. Imagine that – interest rate differentials do really matter after all. With Draghi holding rates and continuing to buy assets at a healthy clip, the old storyline about widening interest rate differentials between central bank benchmarks of developed economies is more fact than fiction – Safe Haven anyone?
Concluding Remarks
The lull before the storm has concluded. Fundamentals are back in charge, as if they had ever left center stage in the first place. Complacency has been replaced by uncertainly and its friend, volatility. Earnings, Big Oil, and the U.S. Dollar are about to do the talking, and, in times like these, a cast of thousands typically reallocates capital at a whim, while searching for supposedly safer returns. Will investors sell in May and stay away? If the energy market heats up, as insiders believe it will, then summer holiday flings may have to take a backseat for a few months.
Stay tuned and stay prepared!
Are you ready to trade?
Sign up with

76% of CFD traders lose