Global equity markets hit their respective peaks back on January 26th, but after that remarkable feat, there has been carnage in the streets. Broad-based selling in both equity and bond markets has ensued, the likes of which has only been witnessed once in the past six double-digit pullbacks, and that "once" was during the aftermath of the Great Recession in early 2009. Investors have forgotten what it is like to lose money, but their memories were soon jolted back to reality. The question now is, "Are we done yet?"
Read more forex news
Amid the chaos, a few saner heads have prevailed to put these matters into their proper perspective: "Coming off of a year in which the stock market recorded the lowest levels of volatility in history, while major global exchanges posted returns from 20-30%, after nine consecutive years of a positive rate of return on the S&P 500, and going on two years since we last saw a correction of greater than 10% – realistically, we've been overdue. That's not to say that anyone necessarily could have possibly known when it was coming, just that none of us should be shocked that it's here."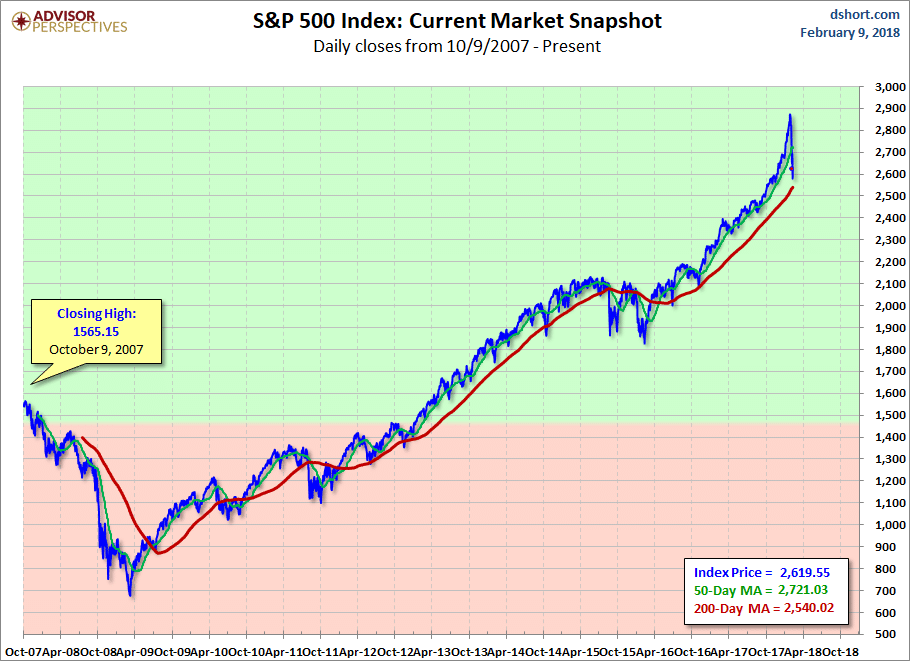 Generally speaking, modest pullbacks are healthy for financial markets. Profits will be taken, and opportunities for new investors to jump on board a positive trend will then be presented. A ten percent drop falls within the definition of modest, but when the pullback exceeds twenty percent, then and only then can we say that the market has truly corrected and whatever Bull was running lose in the streets has now been dethroned by a ferocious Bear. At this moment in time, twenty percent is still a ways out in the future.
This past week, however, was a microcosm of how small things matter, when the right people are focused on specific risk elements, not "chicken little" protestations. A bond sell off commenced on Monday, as inflation worries compounded. On the preceding Friday, "January's employment report showed stronger-than-expected wage growth. The 2.9% pick-up in wage gains – the greatest increase since 2009 – came as a surprise to many investors." Shorts soon jumped on the sell wagon. Programmed funds that are overly sensitive to volatility changes then rushed to the fore. Some $200 billion in global equity positions changed hands, with more de-leveraging possibly to come.
This technical jargon may not play well with the "Average Joe" on the street, but it does not take a rocket scientist to look at the above S&P chart and note that, since last April, the slope of the trend line has been greater that forty-five degrees. That type of ramp up is rarely sustainable for very long. Something had to give, and it did. If you have been following previous articles, you would have seen channel trend lines, drawn about this Bull run since April 2009, that would suggest that even a twenty percent decline would still be within channel boundaries. Do we really have something to fear going forward?
What insights can a walk down history lane with a few veterans provide us?
The tumultuous week that was is by no means a shocker for the older and wiser veterans of Wall Street. They have seen much worse and presently view the latest round of selling as merely a healthy correction. Yes, inflation worries top the list on most every survey of professional fund managers and analysts. Wage growth triggered the latest negative response, but a jump in CPI figures, due to be released mid-week, could result in another sell off. It remains to be seen if panic will rule the week ahead.
The "old hands", not the ones that cry that the "Big One" is coming, regard the latest round of selling as nothing more than a breather for markets. Paul Eitelman, Senior Investment Strategist for Russell Investments, shared these sobering comments in a recent interview:
Is a recession coming? "A much bigger sell-off-a drop of 20% or more into a bear market-is almost always caused by an economic recession. This, however, does not appear to be in the works, as growth data and cyclical fundamentals remain strong and robust."
Has growth taken a beating? "In the U.S., earnings growth has hovered around 13% – which is really good. Europe has been better still. Ultimately, for us to be worried about a much broader and deeper sell-off, we'd be looking at a growth scare to creep in-and we're just not seeing that now."
Are inflation and interest rate pressures mounting? "We haven't really seen a significant widening in credit spreads or the market re-pricing default risk for businesses, which means the borrowing costs for companies hasn't moved up."
How does this recent drawdown compare with historical records? Yes, the S&P 500 index, the accepted standard for global economic health since over half of the revenues its participants derive are from foreign sources, did fall a bit over ten percent, the accepted descriptor for a "correction", but, when put in context with previous corrections, one has to wonder what all of the shouting is about – see chart below: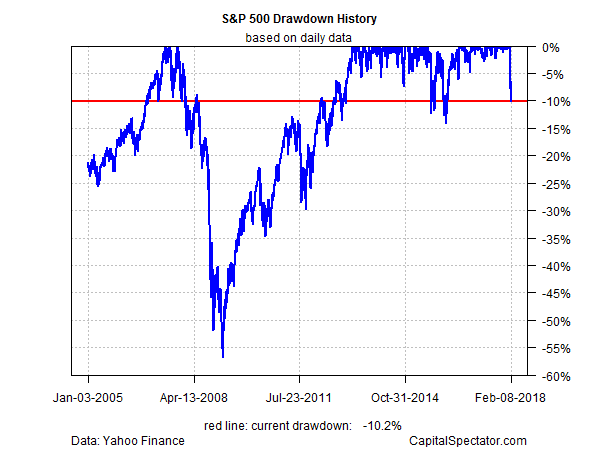 But, is ten percent the end of it or is this drawdown merely the beginning of something much worse? With all of the haranguing over the past three years that the market is preparing for a crash on the order of Armageddon, investors are primed to over react to anything that sounds the least bit ominous. Saner heads, however, do not see an economic downturn in the making, something that could overly disrupt the markets and result in a major crash. Central bankers have done their best to dampen the potential of shocks to the system, but we are living in different times.
One savvy analyst was quick to counter with the following opinion: "Perhaps the only surprise is that the latest downturn was delayed for so long. A simple econometric measure of bubble risk for the S&P 500 has remained elevated for a year (above the 90th percentile) – until now, of course. The current reading, courtesy of the market's sharp drop this month, has fallen to a middling 51%, the lowest in three years." In this fellow's estimation, there is no reason to suspect that a Bear has risen from hibernation.
What could cause a move to the dark side and lead to more red ink? Inflation and interest rate worries will not go away anytime soon. Washington continues to ring up greater and greater deficits, and geopolitical risks have a way of churning, as soon as spring returns to the Northern Hemisphere. As long as the U.S. economy keeps racking up positive numbers, the "Boo Birds" may not take wing, but all bets might be off if we encounter a long losing streak, at least one much worse than the present picture.
Is there a "Big Elephant" in the room that everyone is missing?
If the short-term view is that a small correction in our financial markets is healthy and that economic data are showing no signs of an imminent recession, then what is out there in the long-term that could bite us badly down the road? Once again, it does not require a degree in rocket science to fathom the import of the following chart: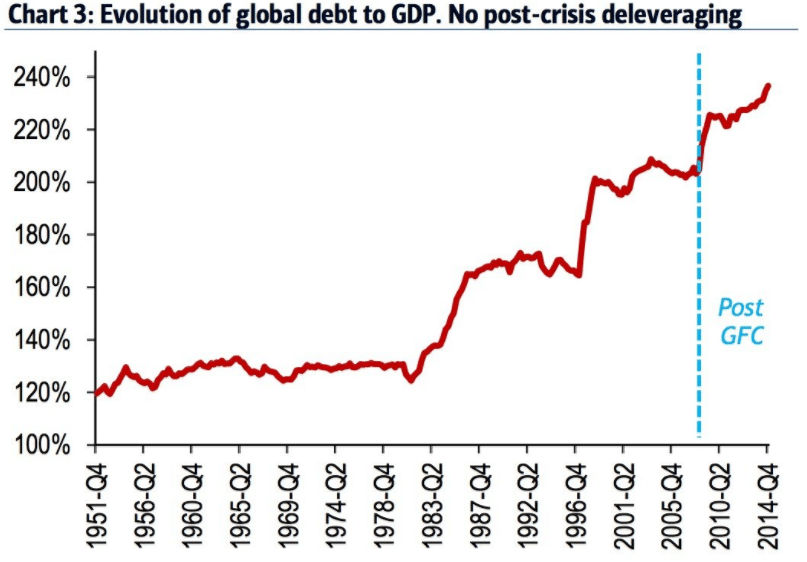 The "Elephant" in the room is definitely global debt and the potential for ever-increasing debt-servicing costs. We have lived through four decades of borrowing from the future, but what might be the consequences of what some would call reckless behavior? One analyst does not mince words:
"What is awaiting us going forward is the classic vicious cycle scenario that tends to occur when a period of debt de-leveraging is upon us. The four-decade-old interest rate decline cycle can no longer provide debt servicing costs relief, because we basically reached the bottom of the cycle. At best, we can still hope that interest rates will not rise. But as long as the debt/GDP accumulation cycle continues, there is a very real danger of interest costs as a percentage of our collective financial resources seeing a similarly rising trend."
The author of this dire warning sees two possible outcomes: 1) Either deal with debt de-leveraging, as has been the case in Japan for decades with little GDP growth to speak of; or 2) Governments the world over could continue to expand deficit spending to delay the pain until some later date. Once again, this analyst predicts the following course of events:
"While there is absolutely no way of telling whether the end of the declining interest rate super-cycle, which helped stimulate the global economy for the past four decades, will have imminent negative consequences, or whether certain policies may help kick the can down the road, the undeniable fact is that the cycle did end. With this, one thing that we can be sure of is that regardless whether economic hardship is imminent or whether we will be able to postpone the pain, with the end of this cycle, we are most likely looking at a very different economy from now on. We may already be living through it; it is just that the effects are not yet being felt."
Sovereign debt crisis may yet again dominate our news headlines, but this time around, Greece will not be the focal point.
Concluding Remarks
Is the sky really falling? Should saner heads now prevail, and we merrily go about our business without a care in the world? If you canvass the opinions of experienced veterans in the investment field, you would hear a consensus much like the following: "The most important thing to do when pull-backs like this happen is to remain calm and do your best to put it into perspective. We've seen this before and we will most certainly see it again. The worst thing one can do is to panic, potentially selling out of positions and locking in losses, and then proceed to miss the ensuing rally."
Yes, it is prudent to be cautious, but as another analyst put it: "Coming full circle, I think it's important for everyone to at least make an honest effort to differentiate between people who are predicting the end of the financial universe and people who are making well-founded arguments about specific things that could go wrong and have the potential to spillover. That spillover need not bring the financial system and the global economy to its knees in order to catalyze one of the worst weeks for global stocks in recent memory."
Or, put another way, "This wasn't "the big one, Elizabeth". But it sure was painful."