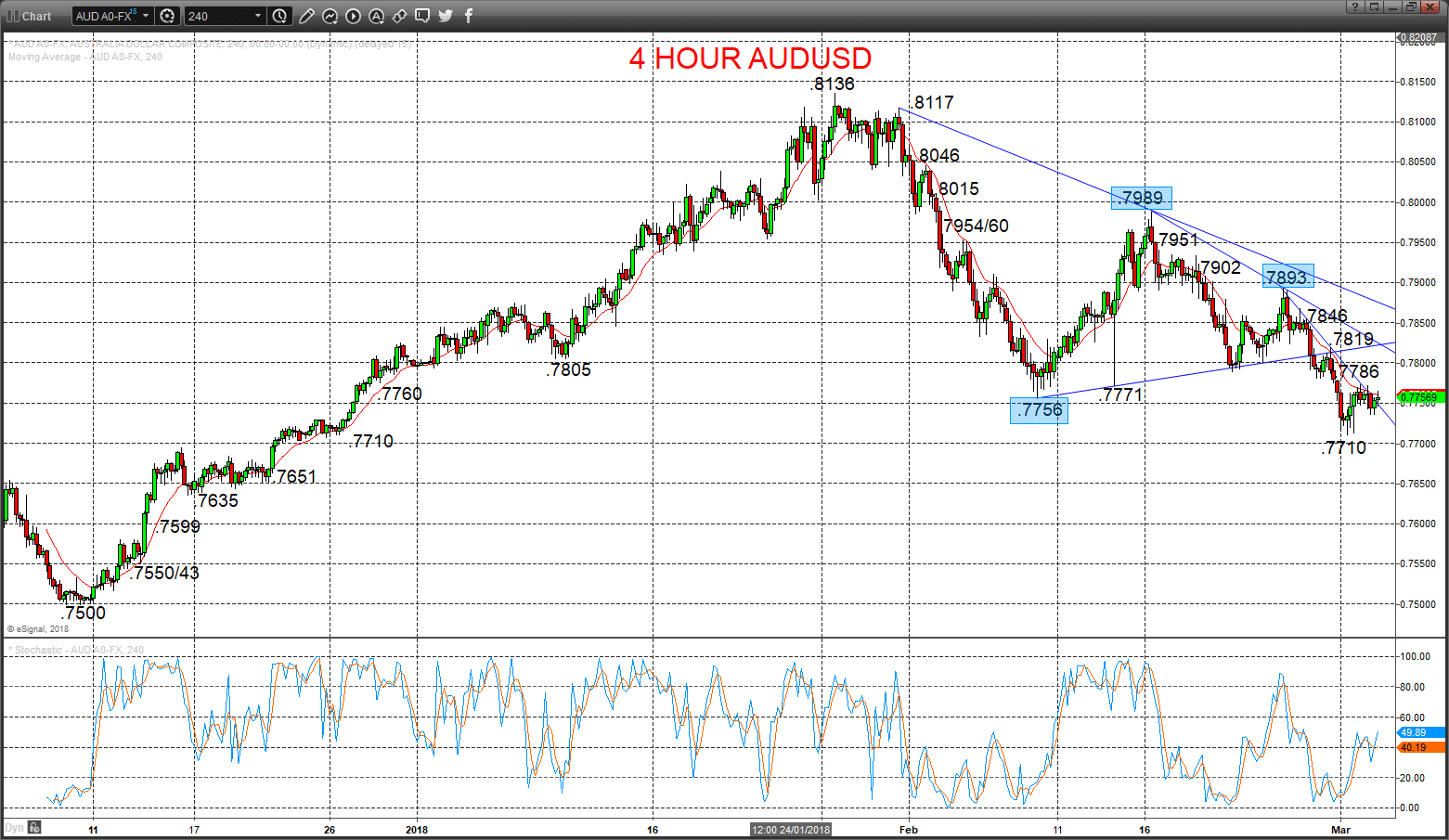 ---
Late February and early March has seen a resurrection of a stronger US Dollar, with a rising expectation of inflation in the US, a more hawkish tone from Powell and the FOMC, plus Trump increasing the prospects for Trade Wars.
For AUDUSD this has produced a sell off through 7756, which has signalled an intermediate-term bearish shift.
Although the NZDUSD currency rate has not quite made the same bearish intermediate-term statement as AUDUSD, the threat is for a push below .7175 for a more bearish tone into March.
Get more technical forex analyses
AUDUSD Bearish shift and downside risks
A low level consolidation Friday reinforced Thursday's plunge through key .7756 to hit the next .7710 target and keep the bias lower Monday.
The early March break below .7756 produced a bearish intermediate-term shift.
For Today:
We see a downside bias for 7710; break here aims for .7677 and .7651, maybe even towards .7635.
But above .7786 opens risk up to .7819, which we would look to try to cap.
Intermediate-term Outlook – Downside Risks: We see a downside risk for .7635.
Lower targets would be .7500 and .7368/31
What Changes This? Above .7893 shifts the outlook back to neutral; above .7989 is needed for a bull theme.
Resistance and Support:
| | | | | |
| --- | --- | --- | --- | --- |
| .7786 | .7819** | .7846* | .7893** | .7902* |
| .7710* | .7677 | .7651** | .7635* | .7599 |
4 Hour AUDUSD Chart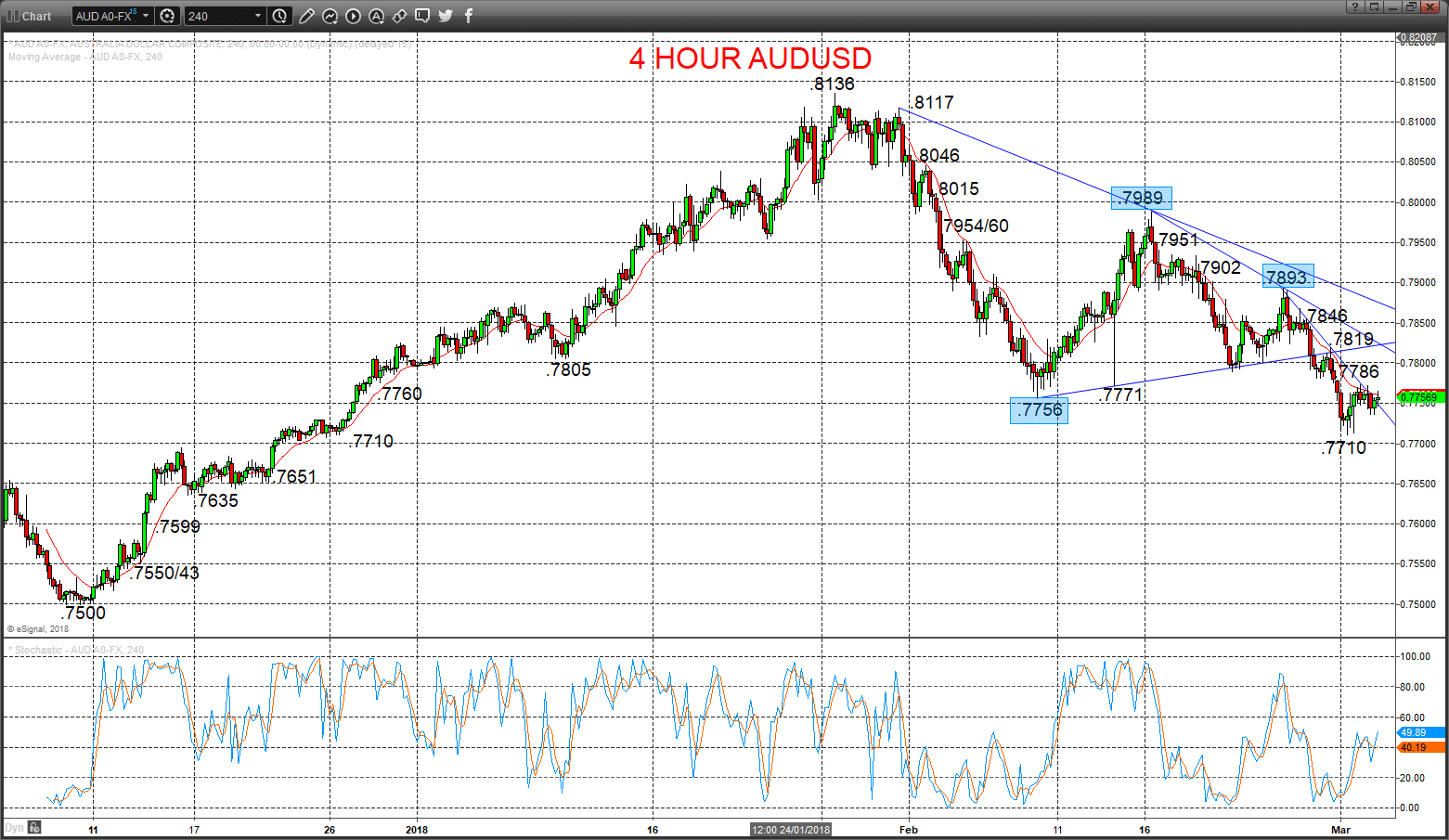 NZDUSD Downside threat to key .7175
A rebound failure back from just above our .7271 resistance (from .7279), to sustain bear pressures from Thursday's setback through .7200 (close to key .7175, a bounce from .7183) plus from the late February reversal below the up trend line from December, to keep the bias lower Monday.
The mid-February surge through .7420 produced a shift to an intermediate-term bull theme, BUT risks is growing for a test to .7175, to shift straight back to a bear trend with a Double Top.
For Today:
We see a downside bias back to .7183; below here quickly targets key .7175, then .7140/38.
But above .7279 opens risk up to .7291/96 and then .7345.
Intermediate-term Outlook – Upside Risks:
Whilst above .7175, we see a positive tone with the bullish threat up to .7558 and .7744.
What Changes This? But below .7175 signals a direct shift to bearish.
Resistance and Support:
| | | | | |
| --- | --- | --- | --- | --- |
| .7279 | .7291/96* | .7345** | .7365* | .7386** |
| .7183 | .7175*** | .7138** | .7109 | .7070/69** |
4 Hour NZDUSD Chart