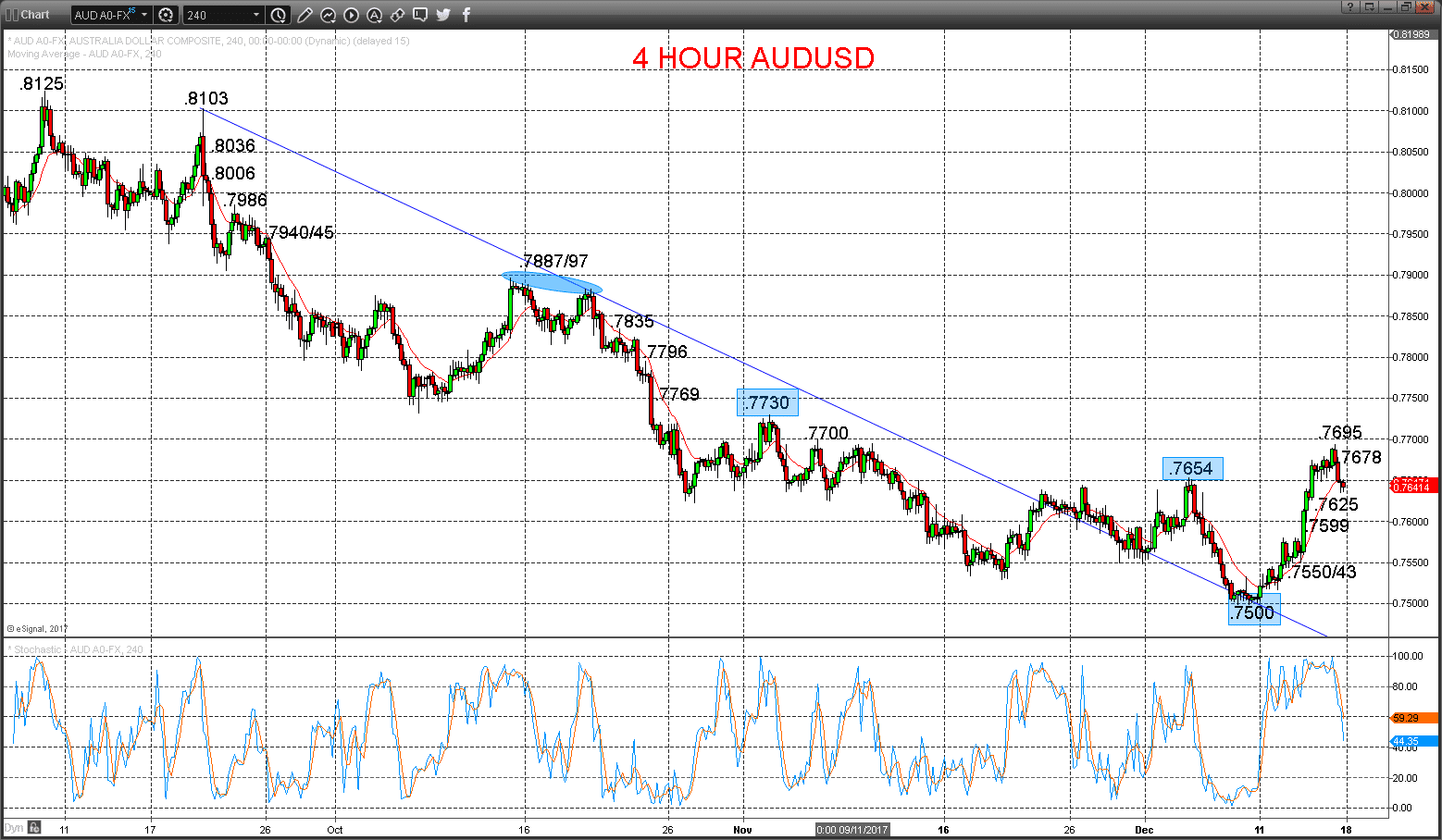 ---
A better recovery tone for both AUDUSD and NZDUSD into mid-December, partially driven by a slightly weakened US Dollar.
For AUDUSD this has seen a move to an intermediate-term neutral, range theme, with immediate risks lower.
But the December threat for AUDUSD is skewed for a more bullish shift (only confirmed above .7730).
NZDUSD secured a more robust basing pattern and shifted the intermediate-term outlook to bullish to target .7211/18, maybe towards .7434 into year-end (although the immediate bias is for a correction lower).
Read all technical analyses and forecasts
AUDUSD Downside bias
An initial push higher Friday above resistance at .7675, but the subsequent setback produced a negative Shooting Star negative candlestick, shifting the bias lower for Monday.
The mid-December push above .7654 saw our intermediate-term bearish view shift back to a neutral, range theme for December (with bias skewed for a bullish shift above .7730).
For Today:
We see a downside bias for .7625 targets .7599, maybe even closer to the .7550/53 area.
But above .7678 aims for ,7695/7700, possibly key .7730.
Intermediate-term Range Parameters: We see the range defined by .7500 and .7730.
Range Breakout Challenge
Upside: Above .7730aims higher for .7897 and towards .8125.
Downside: Below .7500 sees risk lower for .7368/31and potentially closer to the .7155/41 area.
Resistance and Support:
| | | | | |
| --- | --- | --- | --- | --- |
| .7678 | .7695/7700* | .7730*** | .7769 | .7796 |
| .7625 | .7599* | .7550/43 | .7500*** | .7457 |
4 Hour AUDUSD Chart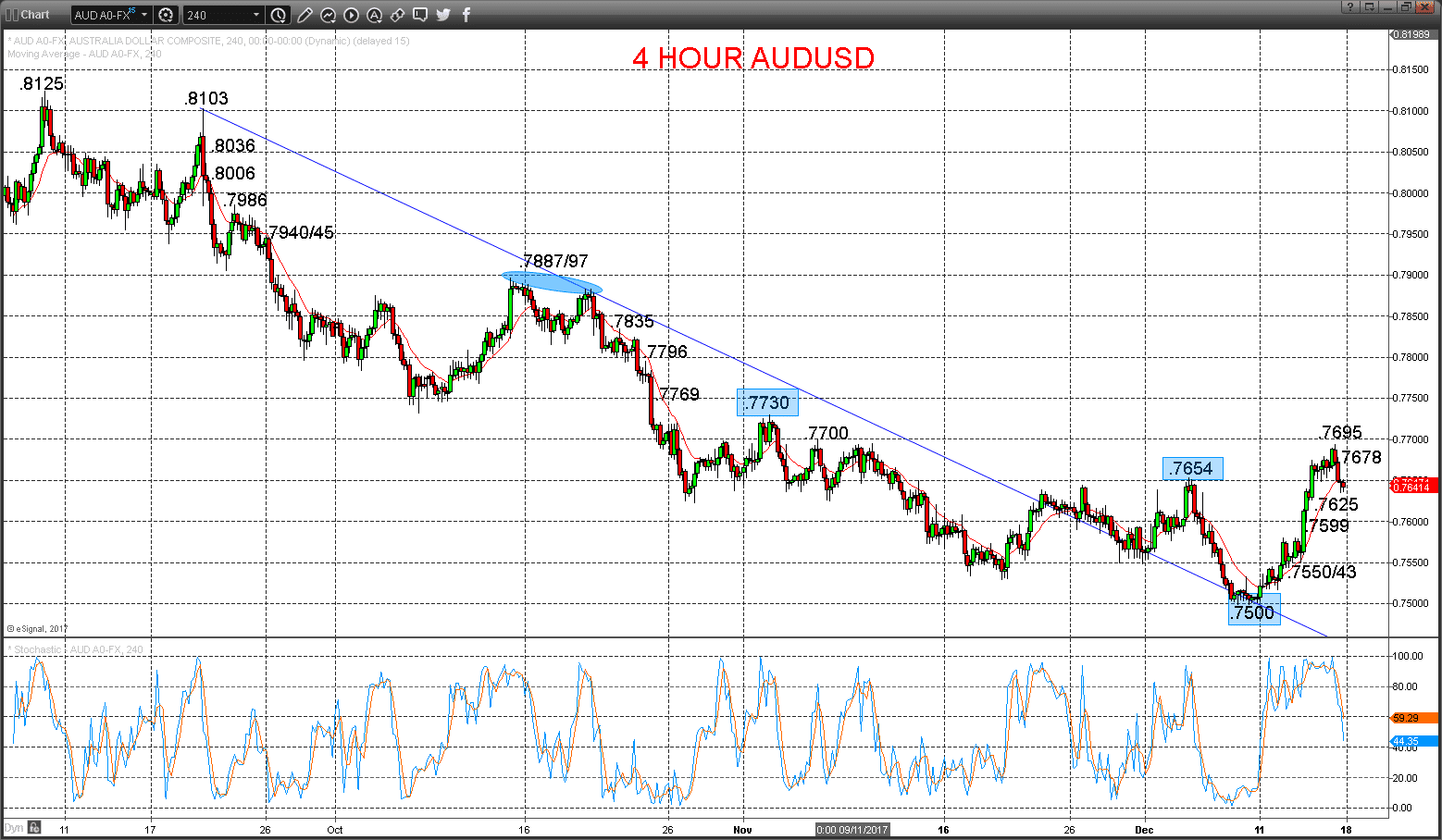 NZDUSD Negative correction tone
A rebound higher Friday to prod at the recent peak at .7028, but the subsequent significant setback has for now rejected upside pressures (from the mid-December push above key .6980) for a negative candlestick pattern to flip the bias lower for Monday.
The mid-December push above .6945 and .6980 produced an intermediate-term shift from bearish to neutral and then to a bullish theme for December.
For Today:
We see a downside bias for through .6976 to target .6931, maybe even closer to .6882.
But above .7028/34 aims for .7056, maybe towards .7105.
Intermediate-term Outlook – Upside Risks:
We see a positive tone with the bullish threat to .7211/18.
Above here targets .7434 and .7558.
What Changes This? Below .6815 signals a neutral tone, quickly shifting bearish below .6778.
Resistance and Support:
| | | | | |
| --- | --- | --- | --- | --- |
| .7028/34 | .7056 | .7105 | .7163** | .7211/18** |
| .6976 | .6931 | .6882* | .6818/15*** | .6778*** |
4 Hour NZDUSD Chart