In our last analysis, we told you about an imminent inverse head-and-shoulders pattern, that would be completed, provided the price of BTC managed to hold above the $6k mark. That pattern would signal a short-term bearish-to-bullish reversal.
This past Tuesday, the said pattern was indeed completed and it was followed by a rather spectacular price-explosion, that took the value of one bitcoin well north of the $7k mark again. Where to now though? What happens next?
Following the above said sudden uptick (the price of the leading crypto rose by more than $600 in 30 minutes at one point), many expected a small pullback, which did indeed come and went too.
At one point, at the height of this mini-rally, bitcoin was trading for $7,562. Its pullback saw it drop to around $7,320, after which it regained its footings, rebounding to $7,432 right now.
Are we going to see further upward motion though, and possibly an attack on the $8k level? Given several factors that underpinned this latest mini-rally, such a turn of events is indeed a distinct possibility.
What exactly are we talking about though? Trading volumes. The massive spike was accompanied by an even more spectacular uptick in trading volumes (around 100% to be exact) and that is always considered to be a sign that not only will the gains hold, the asset-price may indeed continue gaining new ground.
On Monday, the trading volumes were hovering around the $2.9 billion mark, a low not seen since November 7, 2017. By contrast, as BTC broke out, the 24h trading volume shot up to $5.9 billion.
The significance of this trading volume-increase may signal a much more fundamental bullish turn-around though: as the price dropped lower and lower over the last 6 months, so did the trading volumes probe ever deeper levels.
Trading volumes are not the only indicator pointing to a likely short/long term bullish reversal though. The completion of the above said inverse head-and-shoulders pattern has opened the way to around $7.9k for starters.
This is the breakout target, and it is certainly in the crosshairs, or rather: it will be, as soon as the bulls finish booking their profits.
With BTC now once again moving towards $7.5k, this minor correction may indeed be over, and thus we may soon see $8,000 in the rearview mirror too.
Although the pullback occurred under the resistance level defined by the 100-day MA, the price broke above the 50-day MA, gaining acceptance there. That means: the bullish bias remains.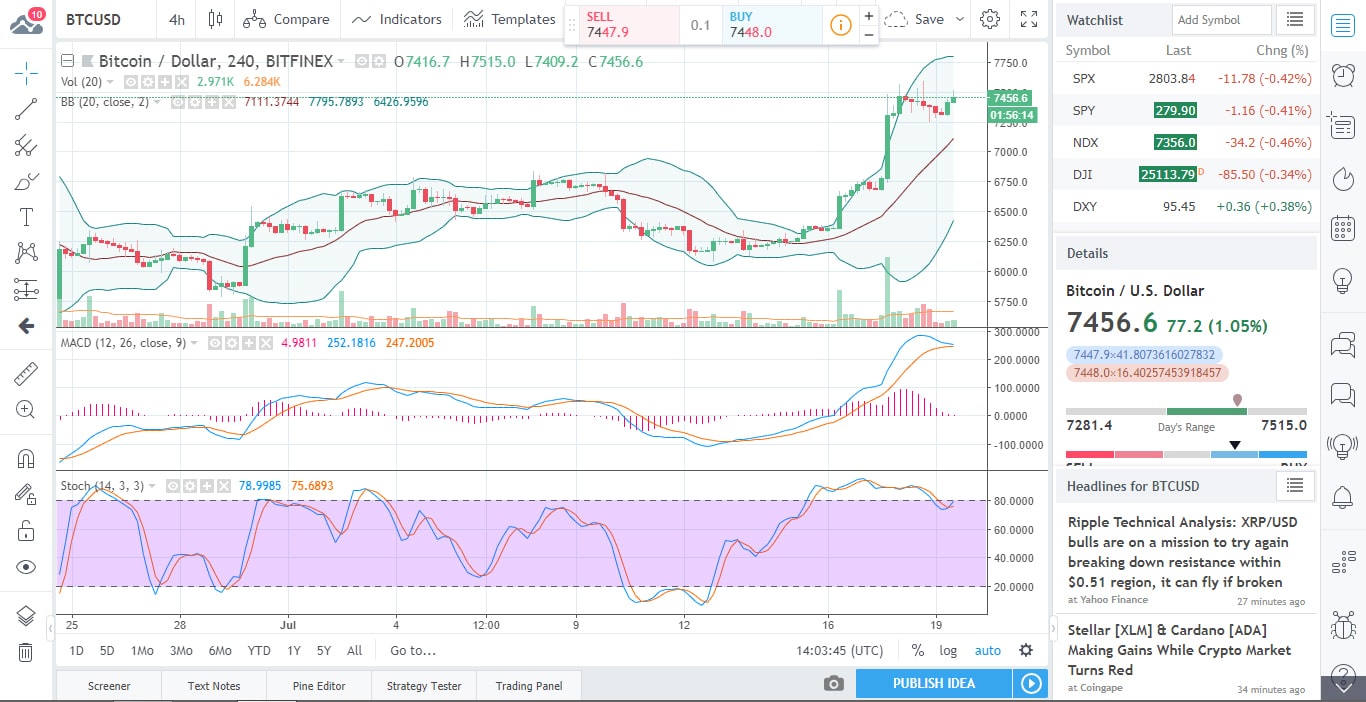 The majority of technical indicators are pointing to Buy as well. While the Oscillators paint a Neutral picture, the Moving Averages are Buy-biased, 9 of them to be exact. 5 still point to Sell, while one can't make up its mind.
What about the fundamentals though?
Interestingly, Tuesday's massive breakout and the consolidation that followed it, were accompanied by a flood of FUD, news-wise. Apparently, certain lawmakers (and their corporate sponsors) are more and more irked by this new technology that just won't fade away and that is slowly but surely emerging as a threat for certain interests.
Congressman Brad Sherman of California – his main donor credit card processor Allied Wallet – has never been a fan of cryptocurrencies. Recently though, he saw it fit to propose a blanket ban on cryptocurrency mining and buying in the US, calling the asset-class a perfect vehicle for money laundering and tax evasion.
The Chairman of the US Federal Reserved got in on the FUD offensive as well, pulling out the time-honored and proven issue of money laundering, while calling cryptos "not really currencies". Jerome Powell's statements came hours before a Financial Services Committee hearing, centered on cryptos.