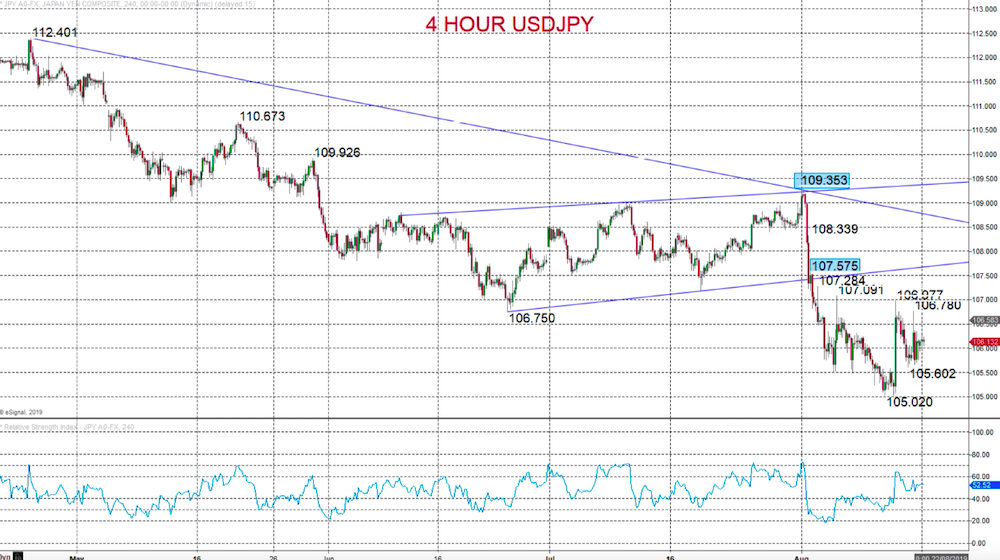 Hi there. This is Steve Miley for forextraders.com and we're now going to look at the U.S. dollar versus the Japanese yen spot effects rate.
Going in today, a very negative tone we still feel, despite us a little rebound in here overnight. Markets still suffering from this very aggressive selloff that we saw at the first part of August in here that was on the back of renewed trade tensions between the U.S. and China.
Those trade tensions continuing this week. It's been a choppy week, we've had some positivity also this week.
We got that impulsive move higher when we thought we had some kind of breakthrough in the talks in the year and we had the tariffs delayed until December. But nevertheless, the market then grinding back lower in here throughout the second part of this week.
And that does leave negative pressures very much intact and we do see risk lower going into the day, risk to the downside back towards a challenge to 105.60 maybe deeper into the low 105s. Really is going to take a move back above 106.78 to signal a more positive tone in here going into today.
Certainly, back up through the 106.50 kind of area to signal anything less negative. Again Steve Miley at forextraders.com have a great trading day.