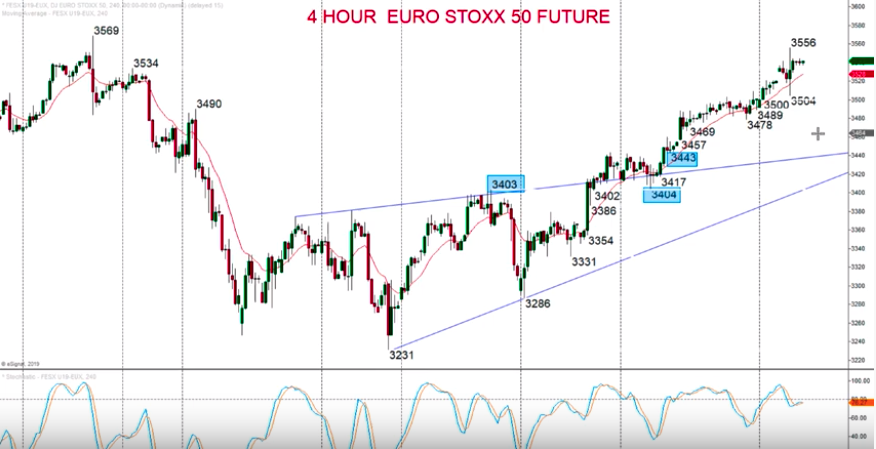 Hi there traders, this is Steve Miley on behalf of forextraders.com and here we're gonna take a look at the pan-european equity index. We're going to switch our focus on to the stock market, to the equity indicies, the averages in here and we're going to look at the pan-european equity average. The bench mark in here is the EURO STOXX 50.
…and the market is certainly very very strong in here right the way through the beginning of September. We had this strong rally in the end of August and we flipped to a more bullish when we broke above this 3403 and out of the top of this kind of wedge pattern in here.
But then the acceleration higher through September and into last week has reinforced short and intermediate term bullish pressures.
And the market will get in close to 3569. This is the high from July. This is the all time high as well and we got up close to there yesterday!
An erratic session through the ECB spiking higher, spiking lower but then the resolution towards the end of the session to the upside.
Firm over night and there's real risk going into today for a real challenge, not only through yesterday's high of 3556, but to challenge this all time high up at 3569 and potentially higher targets above there towards 3582 today and above 3600 as we go through in to the second half of September.
On the down side only back through 3522 today would signal a slightly more negative consolidation theme back to 3512 maybe even as deep as 3504/3500.
But our bias on both a short term – today – and intermediate term – the balance of September – those outlooks remain positive.
This has been Steve Miley, market charters, for forextraders.com and I wish you a great trading day.