---
Both the Euro and GB Pound have displayed a more robust one so far in 2017 versus the US Dollar.
The intermediate-term trend of USD strength from November-December 2016 has been rejected, whilst the risk is growing for EURUSD and GBPUSD to shift to more bullish outlooks into February.
This requires further rallies: a more bullish tone for EURUSD signalled up through 1.0874 and for GBPUSD needing a break above 1.2775.
EURUSD
A dip lower on Wednesday, through minor support at 1.0750/45, but whilst holding above1.0684 we see bullish pressures still from the surge Tuesday through resistances at 1.0800/05 and the strong rebound Monday, keeping the risk back to the topside Thursday
Furthermore, the mid-January push above 1.0653/70 signalled an intermediate-term shift from bearish to neutral, whilst we also see growing Q1 threat for a push up through 1.0874, which would then shift the intermediate term outlook to bullish.
For Today:
We see an upside bias for 1.0811 and then 1.0850, maybe the key 1.0874 peak.
But below 1.0729 targets 1.0684.
Short/ Intermediate-term Outlook – Downside Risks:
We see a negative tone with the bearish threat to parity (1.0000) and .9900, maybe as deep as .9610
What Changes This? Above 1.0670 signals a neutral tone, only shifting positive above 1.0874.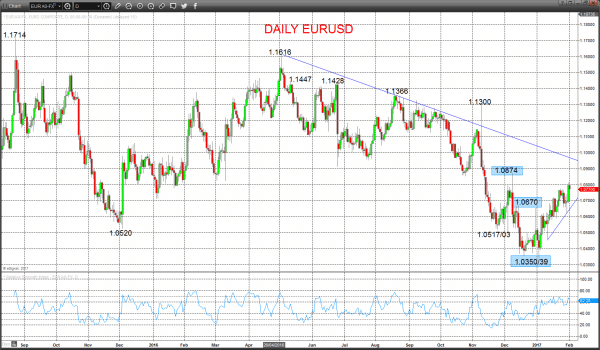 GBPUSD
A strong rebound again as anticipated on Wednesday to push up through resistance at 1.2600/05, reinforcing the strong intraday rebound Tuesday from 1.2412, keeping the risks back to the upside Thursday.
Furthermore, the push above 1.2432 shifted the intermediate-term outlook back to a neutral range environment (but with intermediate-term risks up to the key 1.2775 level).
For Today:
We see an upside bias for 1.2674; break here aims for 1.2724/28, maybe the key high at 1.2775.
But below 1.2542 opens risk down to 1.2412.
Short/ Intermediate-term Range Parameters: We see the range defined by 1.1982 and 1.2775.
Range Breakout Challenge
Upside: Above 1.2775 aims higher for 1.3000, 1.3121 and 1.3455/3534 area.
Downside: Below 1.1982 sees risk lower for 1.1943, 1.1880 and 1.1500.