---
The US Dollar has indicated a more positive tone and strengthened in early March against most major currencies. This has been principally driven by more hawkish comments over the past week from various members of the Federal Reserve Open Markets Committee.
Read more technical analyses
EURUSD remains within an intermediate-term downward trend, but a rebound late last week has eased the immediate bearish threat. Nevertheless, we see a more negative tone resuming into March.
For GBPUSD, a broader range theme remains dominant on the intermediate-term outlook for March. However, the strengthening of the US$ over the past week has shifted the risk from the upper end of the broader range to the lower end (our intermediate-term range defined by 1.2775 and 1.1982).
EURUSD
An unexpected rebound on Friday up to resistance at 1.0572, bouncing exactly from the February support low at 1.0493, shifting the risk to the upside for Monday.
However, the February break below 1.0577 confirmed an intermediate-term top and a bearish theme for March.
For Today:
We see an upside bias for the 1.0631/33 resistance area; break here aims for 1.0680, maybe 1.0714.
But below 1.0535 opens risk down to key supports at 1.0493.
Short/ Intermediate-term Outlook – Downside Risks:
We see a negative tone with the bearish threat to 1.0339 and parity (1.0000).
What Changes This? Above 1.0829 signals a neutral tone, only shifting positive above 1.0874.
4 Hour EURUSD Chart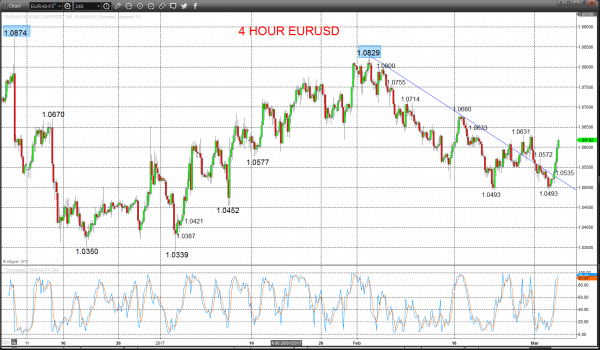 GBPUSD
Another dip Friday below 1.2435, but a holding still above the bullish Hammer candlestick lows at 1.2383 and 1.2345, aiming higher again Monday.
Furthermore, we still see the February risk up to the key 1.2775 level, through which would see an intermediate-term bullish shift.
For Today:
We see an upside bias for 1.2524; break here opens risk up to 1.2582.
But below 1.2383 opens risk down to 1.2345 and maybe 1.2305.
Short/ Intermediate-term Range Parameters: We see the range defined by 1.1982 and 1.2775.
Range Breakout Challenge
Upside: Above 1.2775 aims higher for 1.3000, 1.3121 and 1.3455/3534 area.
Downside: Below 1.1982 sees risk lower for 1.1943, 1.1880 and 1.1500.
Daily GBPUSD Chart