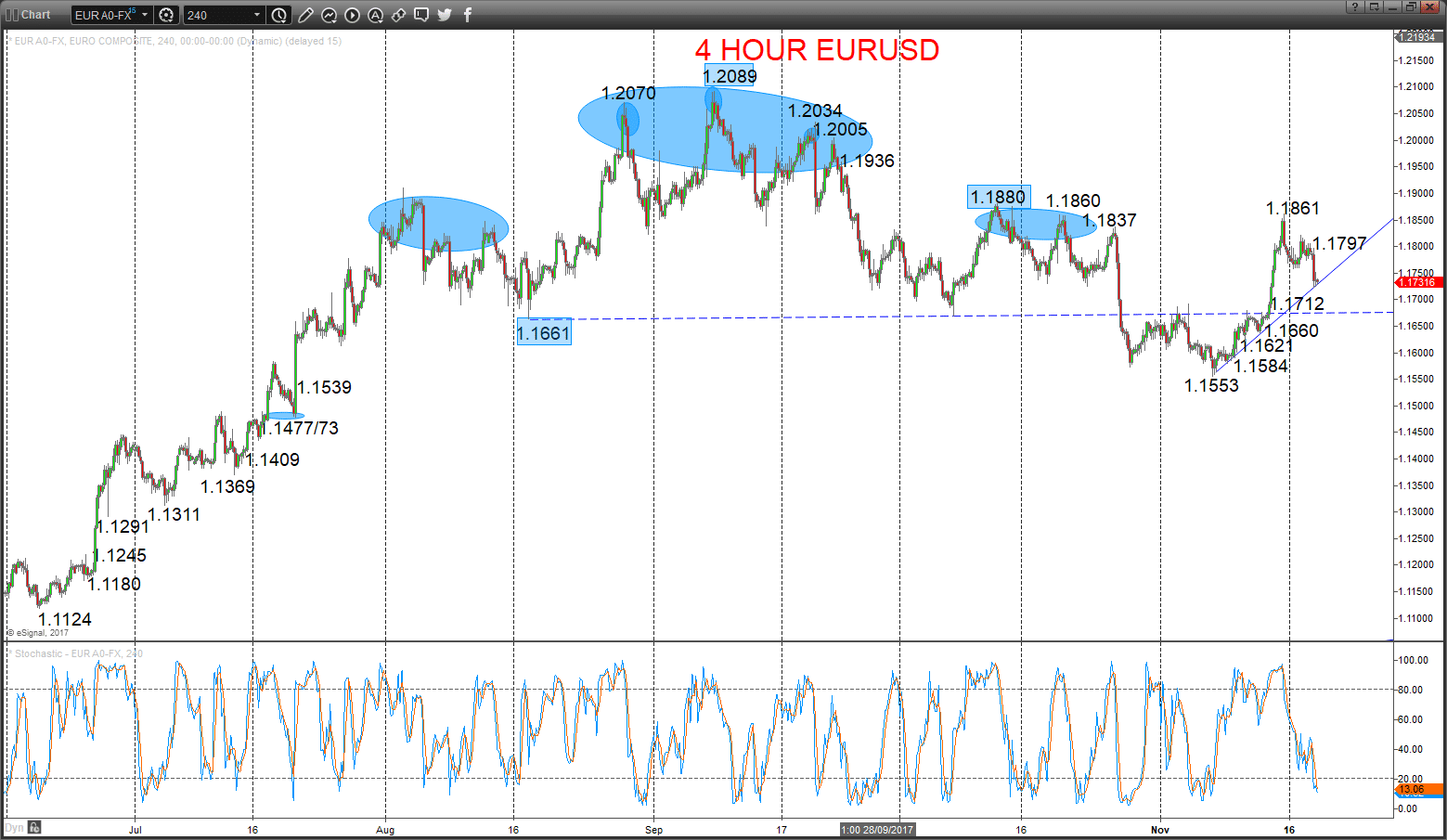 ---
The more positive US Dollar seen in October has faded through mid-November, with the US$ weakening within G3 (versus the Euro and Japanese Yen), but also to an extent against the GBP.
For EURUSD, the recent rebound effort has eased the intermediate-term bearish theme, with risks growing to neutralise this bear trend with a push above 1.1880,
For GBPUSD, the market remains dominated by erratic activity since the Bank of England rate hike in early November, but currently with a positive tone to the non-trend environment.
Read all technical forex analyses               
EURUSD Rebound bias
A solid rebound Friday as expected, rejecting downside forces from Wednesday's bearish Shooting Star candlestick pattern setback from 1.1861 and despite a sell off this already morning through the 1.1756/43 support rea, whilst above 1.1712 we see the bias back higher Monday.
November risk is still for a challenge to 1.1880, above which would see an intermediate-term shift from bearish to neutral.
For Today:
We see an upside bias for 1.1797; break here aims for 1.1835 then 1.1861 and opens risk to key 1.1880.
But below 1.1712 quickly aims at 1.1660.
Intermediate-term Outlook – Downside Risks:
Whilst below 1.1880 we see a negative tone with the bearish threat to 1.1479.
Below here targets 1.1311 and 1.1107.
What Changes This? Above 1.1880 signals a neutral tone, only shifting positive above 1.2089.
Resistance and Support:
| | | | | |
| --- | --- | --- | --- | --- |
| 1.1835 | 1.1860/61** | 1.1880*** | 1.1936** | 1.2005** |
| 1.1712 | 1.1660** | 1.1621* | 1.1584* | 1.1553** |
4 Hour EURUSD Chart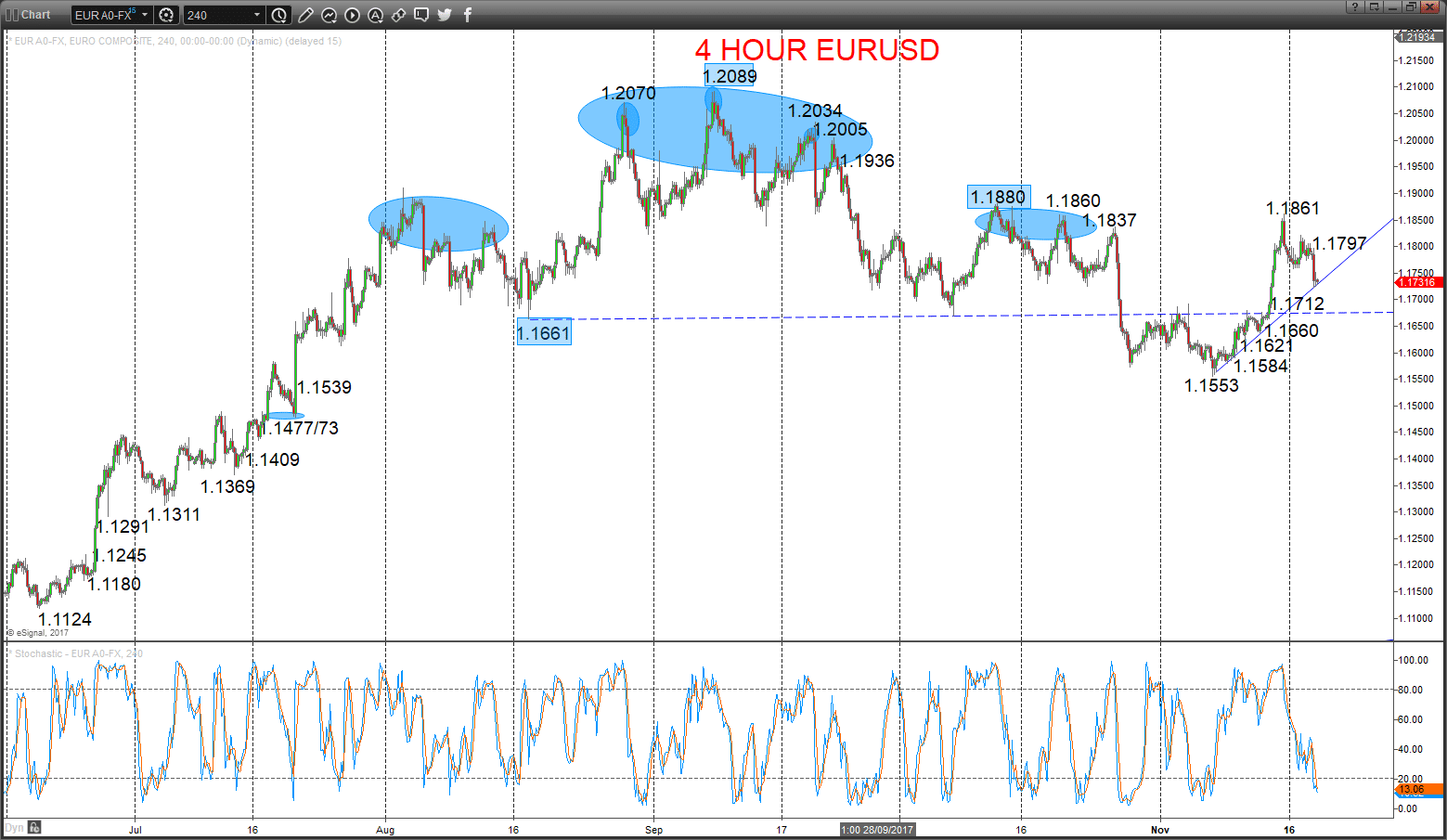 GBPUSD Positive tone
A solid bounce Thursday-Friday above 1.3230 resistance, easing negative pressures from the significant mid-November sell off (that probed 1.3066 support), keeping the bias higher Monday.
We see a broader range theme, but still see November risk for a challenge to 1.2903, below which would see an intermediate-term bear shift.
For Today:
We see an upside bias back to 1.3276, maybe the 1.3321/38 area.
But below 1.3168 opens risk up to 1.3113.
Intermediate-term Range Parameters: We see the range defined by 1.2903 and 1.3658.
Range Breakout Challenge
Upside: Above 1.3658 aims higher for 1.3841 and 1.4000.
Downside: Below 1.2903 sees risk lower for 1.2773 and 1.2587.
Resistance and Support:
| | | | | |
| --- | --- | --- | --- | --- |
| 1.3276 | 1.3321/38** | 1.3366 | 1.3402 | 1.3464 |
| 1.3168 | 1.3113 | 1.3060* | 1.3038/26/17** | 1.3000 |
4 Hour GBPUSD Chart