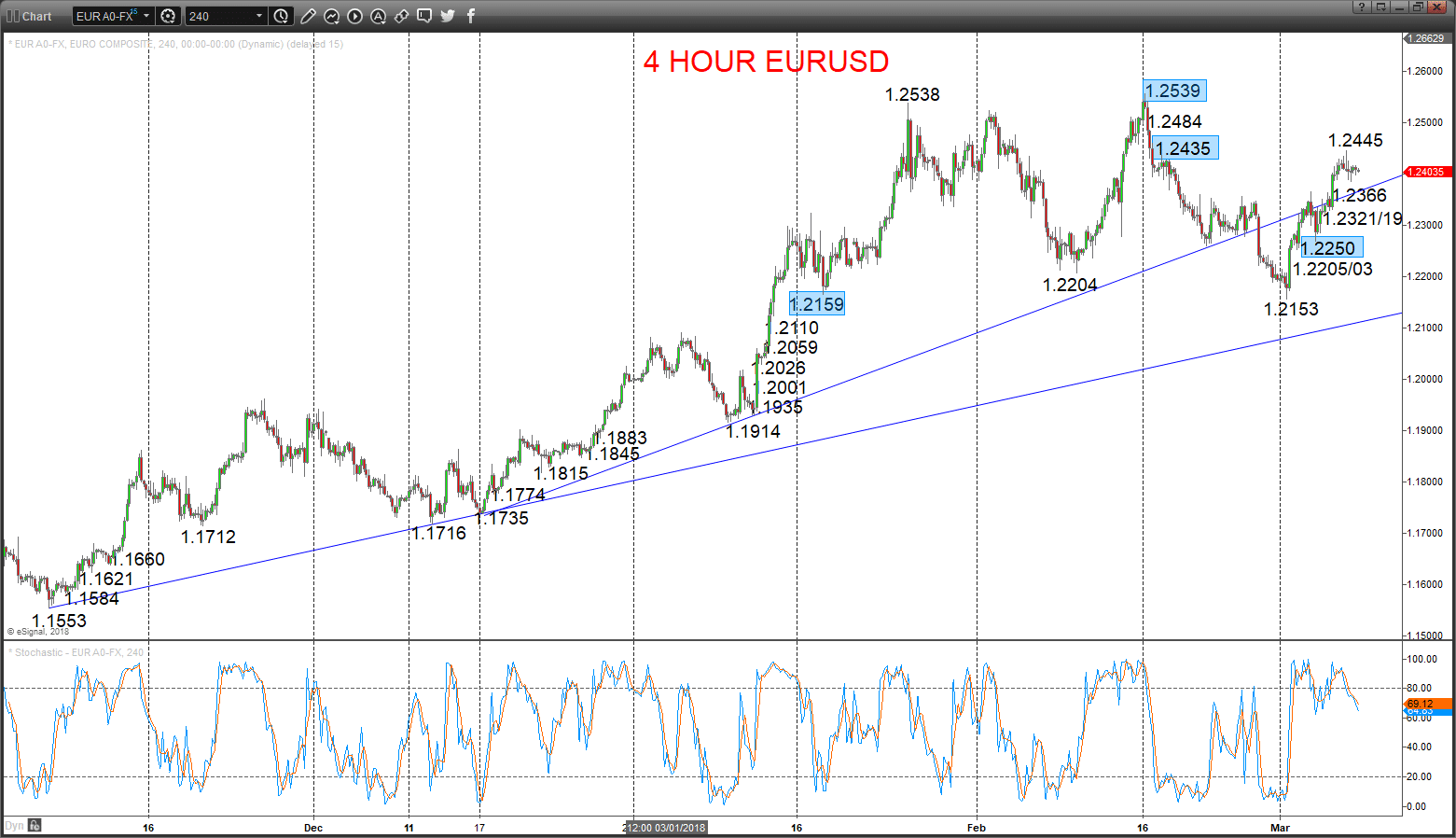 ---
In our last report here on EURUSD and GBPUSD we highlighted US Dollar gains driven by a perception of a more hawkish Fed, increasing inflation pressures and a higher yield environment, BUT the recent threat of tariffs and a global trade war have seen the Euro and GB Pound benefit as reserve currencies and a safe haven in preference to the USD.
EURUSD has pushed above 1.2435 resistance, which has neutralised the intermediate-term bear view, for a range theme into March, poised into today's ECB Meeting.
Although  GBPUSD currently retains an intermediate-term bearish bias, the threat is growing for a push above 1.4070 which would also see an intermediate-term shift to neutral (only to bullish above 1.4145).
Read more technical analysis here.
EURUSD
Intermediate-term shift to neutral; poised into the ECB
We have stated in recent reports that "risk is now for an intermediate-term shift back to neutral above 1.2435" and the Wednesday move above here sets a broader range theme into March.
Furthermore, this leaves the market poised neutral into the ECB..
For Today:
Above 1.2445 aims for 1.2484, maybe the key cycle high at 1.2539.
Below 1.2366 targets the 1.2321/19 area, maybe key 1.2250.
 Intermediate-term Range Breakout Parameters: Range seen as 1.2539 to 1.2250.
Upside Risks: Above 1.2539 sets a bull trend to aim for 1.2600/02, 1.2827 and 1.3000.
Downside Risks: Below 1.2250 sees a bear trend to target 1.1914, 1.1716 and 1.1553.
Resistance and Support:
| | | | | |
| --- | --- | --- | --- | --- |
| 1.2445 | 1.2484 | 1.2539*** | 1.2587 | 1.2619 |
| 1.2366 | 1.2321/19** | 1.2250** | 1.2205/03 | 1.2153** |
4 Hour Chart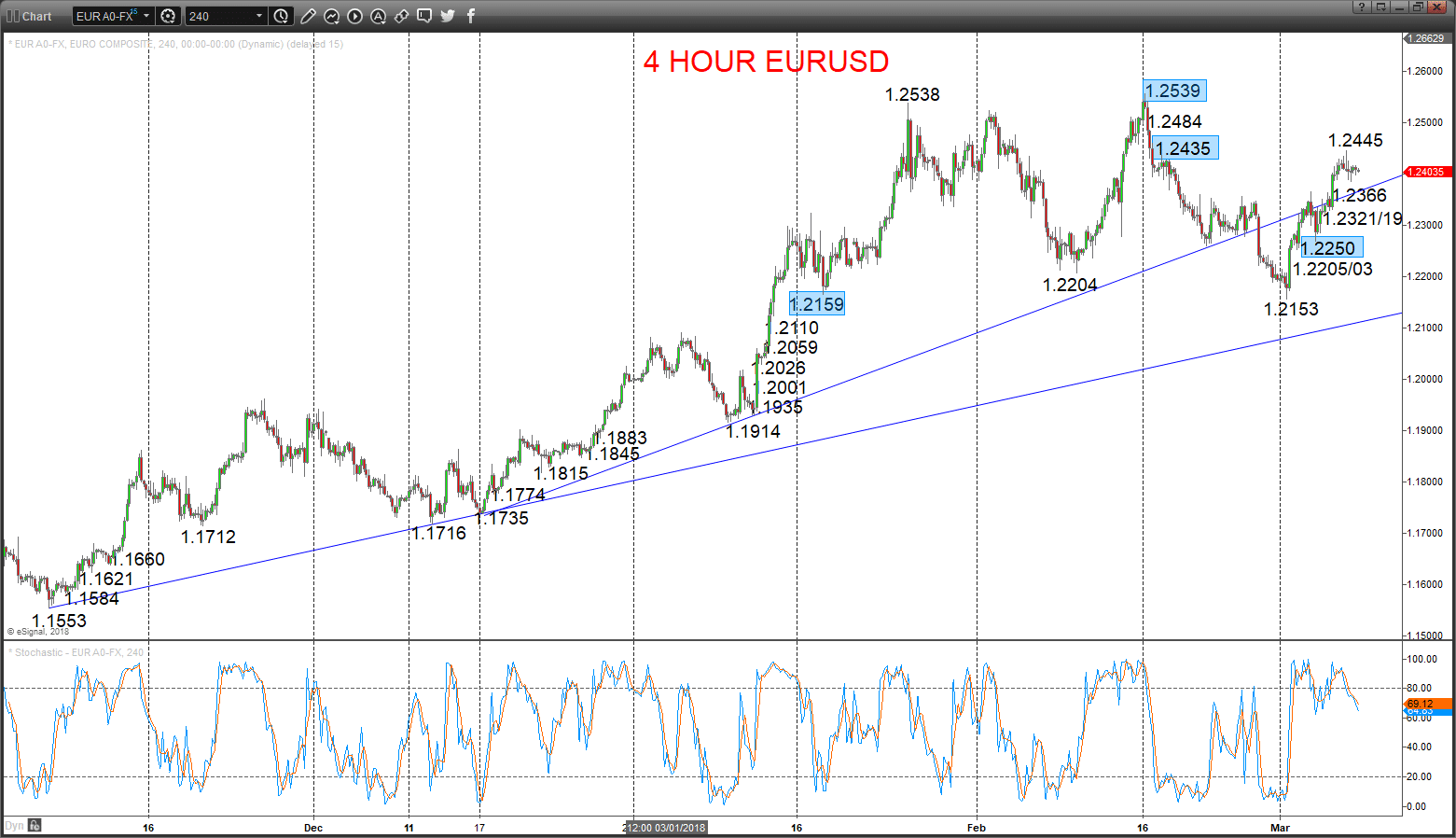 GBPUSD
Positive tone
A solid consolidation Wednesday to sustain the Tuesday's rebound through 1.3878 and 1.3923 resistances, plus Monday's rebound (above 1.3855 resistance), to aim higher Thursday.
The push below 1.3730 to start March set an intermediate-term bear trend into March.
For Today:
We see an upside bias for 1.3930; break here aims for 1.3996.
But below 1.3815 opens risk down to 1.3766.
 Intermediate-term Outlook – Downside Risks: We see a downside risk for 1.3456.
Lower targets would be 1.3300 and 1.3060/38
What Changes This? Above 1.4070 shifts the outlook back to neutral; above 1.4145 is needed for a bull theme.
Resistance and Support:
| | | | | |
| --- | --- | --- | --- | --- |
| 1.3930 | 1.3923** | 1.3996** | 1.4070*** | 1.4145*** |
| 1.3815* | 1.3766* | 1.3710** | 1.3730*** | 1.3683 |
4 Hour Chart