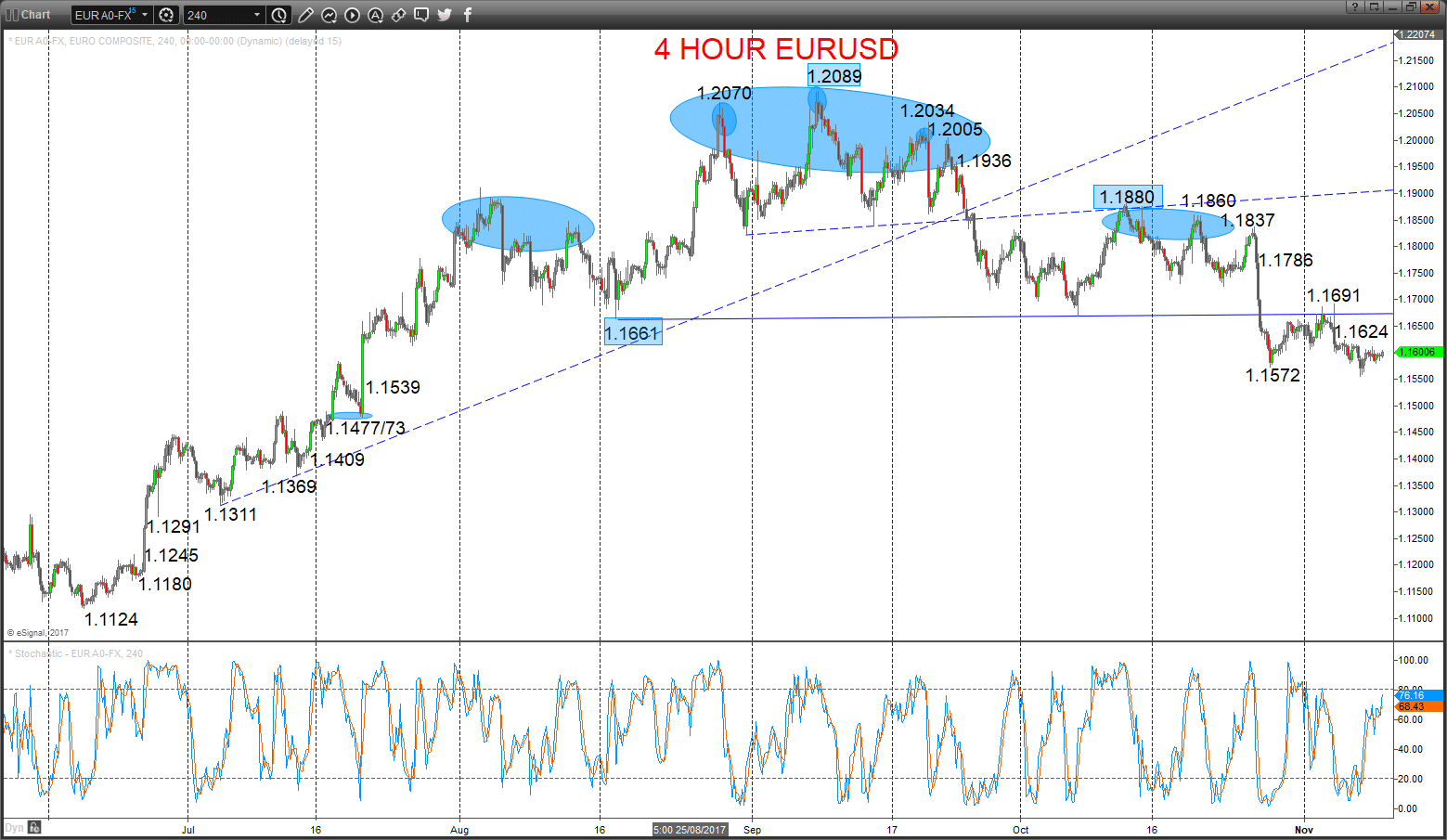 ---
Grinding US Dollar strength continues to be a dominant FX market theme into early October with a solid performance by the USD seen in October, still building on prospects of a tax cuts and the ongoing solid data from the economy.
The Euro continues to weaken as we had highlighted in our last report here , with European Bond yields falling, with EURUSD pushing to another new down move low this week since the September peaks, reinforcing the large, bearish multi-month Head & Shoulders Top formation. Risks remain to the downside.
The GBPUSD Forex rate has been in an erratic range since the sell off after the very much flagged interest rate hike by the Bank of England at the start of November. Although in a broader range, the technical bias is lower.

A negative consolidation Wednesday after Tuesday's push below the 1.1572 late October low, reinforcing negative pressures from the late October plunge after the ECB Meeting (through key support at 1.1668/61), keeping the bias lower again Thursday.
Furthermore, the break below 1.1614 produced a large Head and Shoulders topping pattern, that has shifted the intermediate-term outlook to bearish.
For Today:
We see a downside bias for 1.1553; break here quickly aims at 1.1539, then 1.1500, maybe 1.1477/73.
But above 1.1624 opens risk up to 1.1691.
Intermediate-term Outlook – Downside Risks:
We see a negative tone with the bearish threat to 1.1479.
Below here targets 1.1311 and 1.1107.
What Changes This? Above 1.1880 signals a neutral tone, only shifting positive above 1.2089.
Resistance and Support:
| | | | | |
| --- | --- | --- | --- | --- |
| 1.1624 | 1.1691* | 1.1786 | 1.1837 | 1.1860/80*** |
| 1.1553 | 1.1539 | 1.1500 | 1.1477/73** | 1.1409 |
4 Hour EURUSD Chart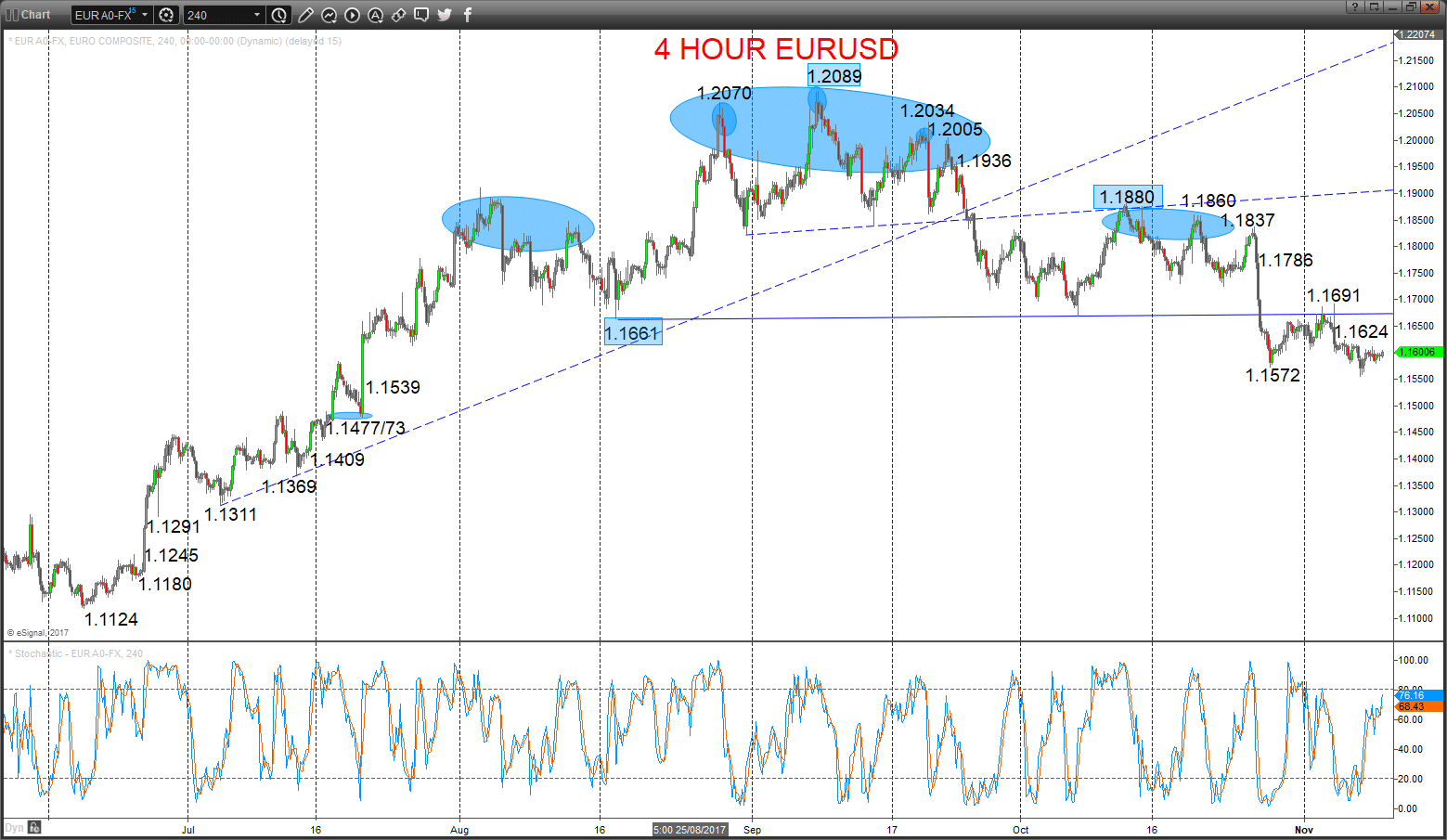 A roll back lower as we had expected from below our 1.3193 resistance level (from 1.3178), sustaining negative pressures from the aggressive sell off after the early November Bank of England "dovish" rate hike, aiming lower for Wednesday (whilst below 1.3178/93).
We see a broader range theme, but still see November risk for a challenge to 1.2903, below which would see an intermediate-term bear shift.
For Today:
We see a downside bias for 1.3066; break here aims for supports gathered at 1.3038, 1.3026 and 1.3017.
But above 1.3178/93 opens risk up 1.3276.
Intermediate-term Range Parameters: We see the range defined by 1.2903 and 1.3658.
Range Breakout Challenge
Upside: Above 1.3658 aims higher for 1.3841 and 1.4000.
Downside: Below 1.2903 sees risk lower for 1.2773 and 1.2587.
Resistance and Support:
| | | | | |
| --- | --- | --- | --- | --- |
| 1.3178/93** | 1.3276* | 1.3321/38* | 1.3366 | 1.3402 |
| 1.3066 | 1.3038/26/17** | 1.3000 | 1.2951 | 1.2903*** |
4 Hour GBPUSD Chart