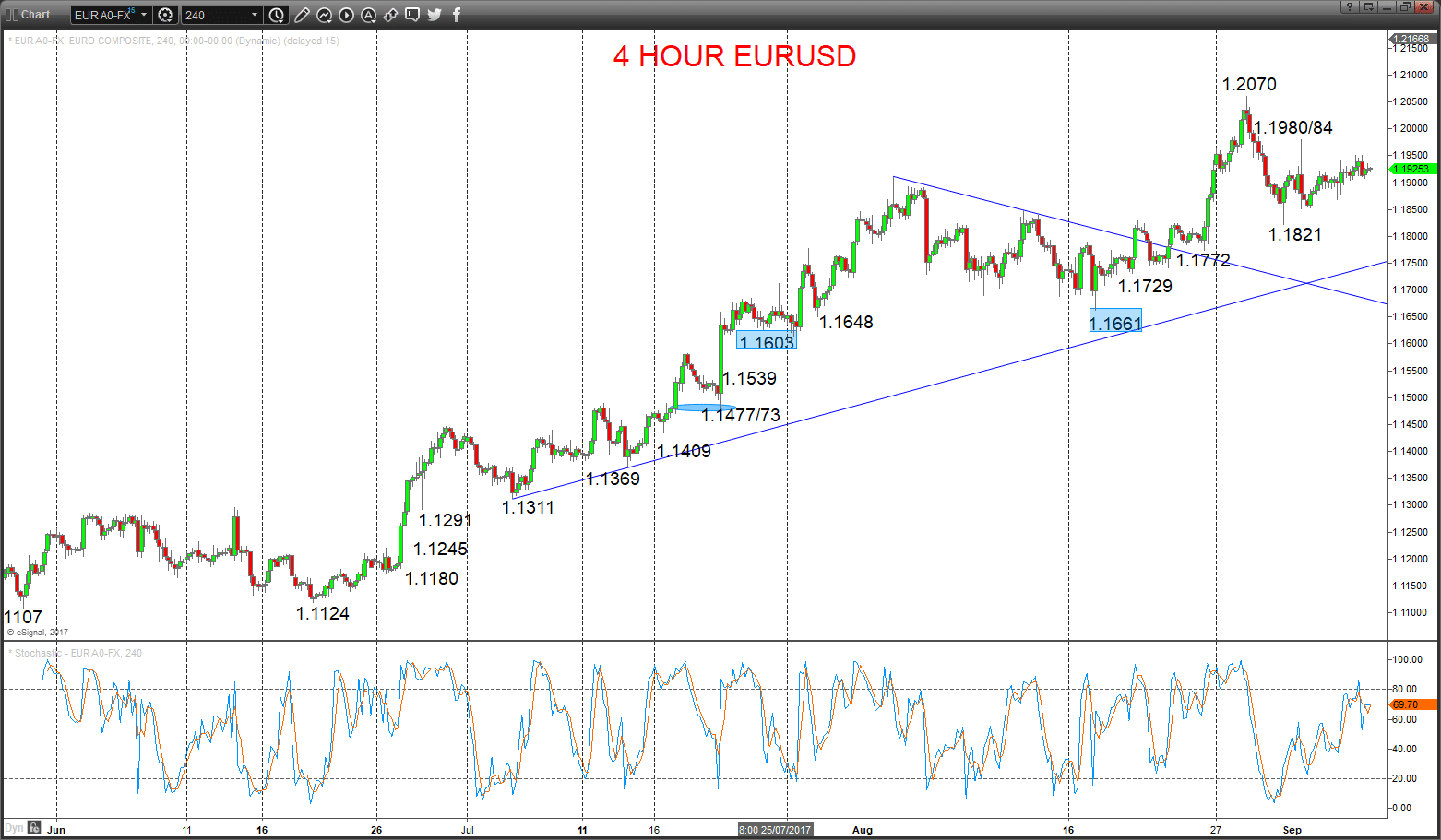 ---
Both the Euro and the GB Pound have remained positive in early September, as a slightly more negative US Dollar tone has resurfaced.
For EURUSD this has meant a resilient consolidation of the strong bullish rally that been seen since June heading into the Thursday 7th September ECB Meeting.
In the case of GBPUSD, the tone is more positive on a very short-term outlook than for EURUSD, although the intermediate-term outlook is more of a broader range environment with a skewed upside risk.
Read more analyses of forex pairs
EURUSD – Recovery bias
Yet again a resilient consolidation Wednesday as seen all of this week, evident since last Thursday's rebound from 1.1821, keeping the risks higher for Thursday into the ECB Meeting (whilst above 1.1821).
Moreover, the latter August bullish extension through the psychological/option target at 1.2000, reinforced the intermediate term bullish threat into September.
For Today:
l Whilst above 1.1821, we see an upside bias for 1.1950; break here aims for 1.1980/84, maybe closer to 1.2070.
l But below 1.1821 opens risk down to 1.1772, maybe 1.1729.
Intermediate-term Outlook – Upside Risks:
l We see a positive tone with the bullish threat to 1.2000, 1.2173, maybe closer to 1.2600/02.
What Changes This? Below 1.1661 signals a neutral tone, only shifting negative below 1.1603.
4 Hour EURUSD Chart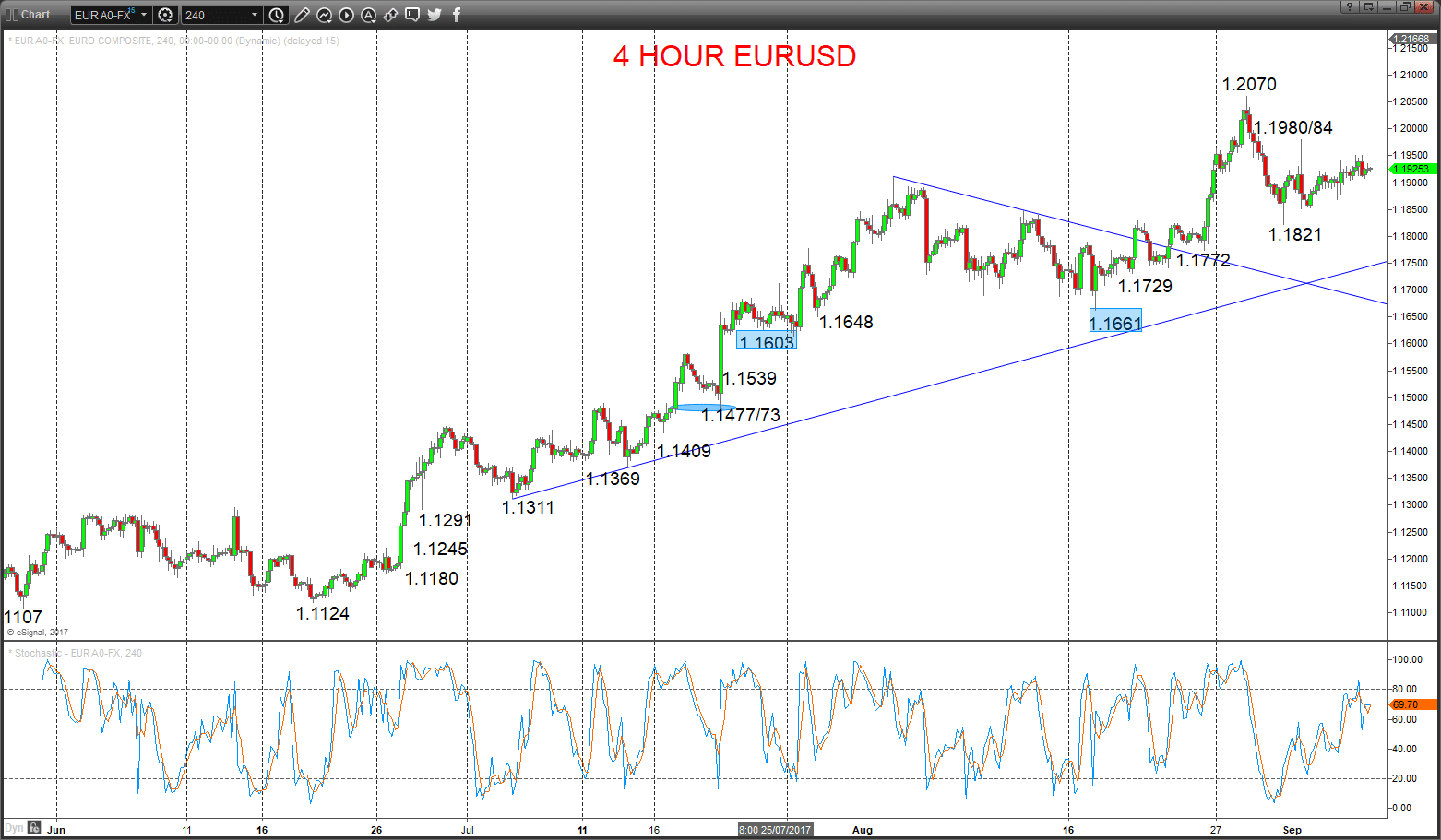 Weekly EURUSD Chart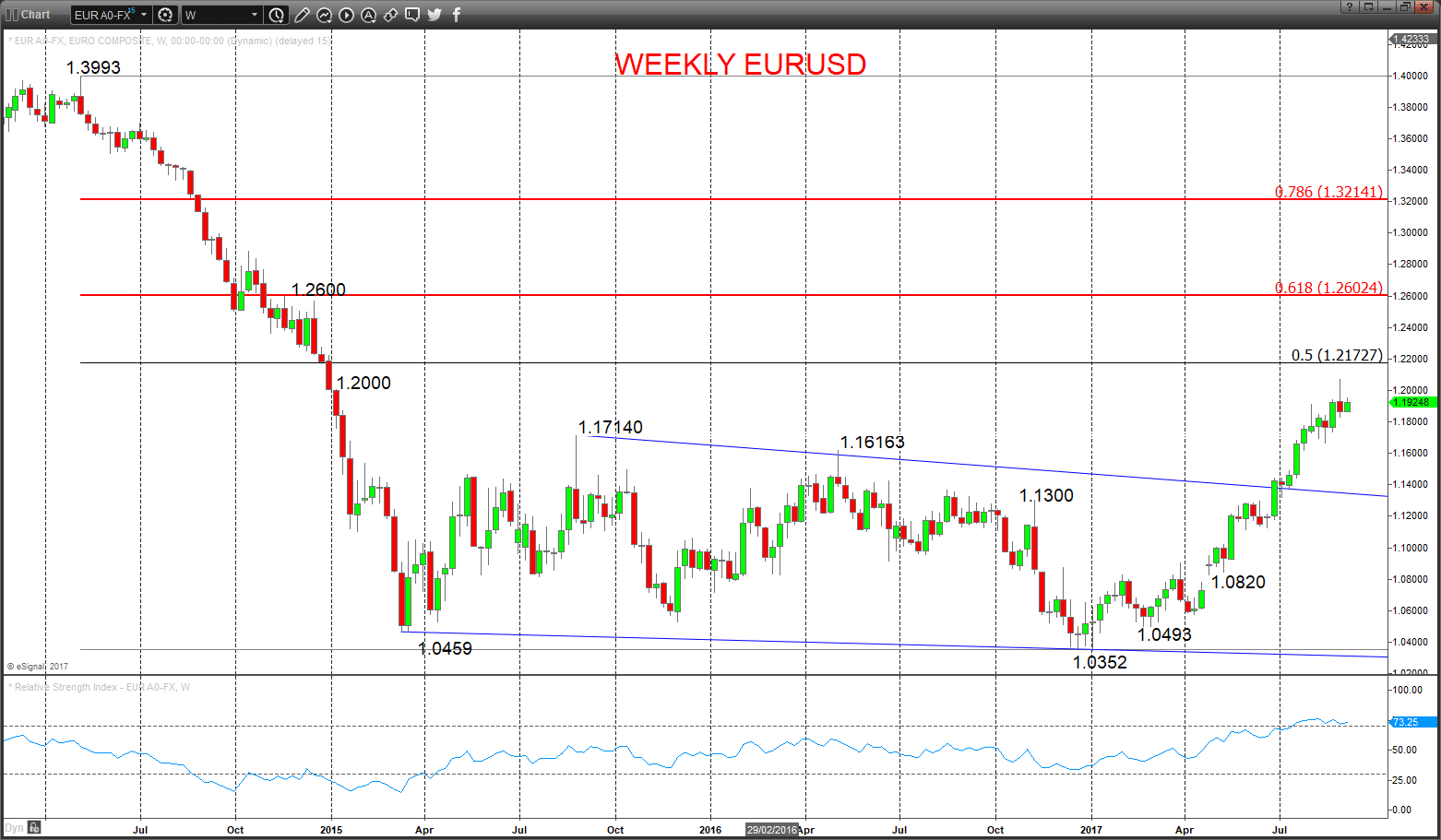 GBPUSD – Upside threat
Another push to the topside on Wednesday as expected through resistances at 1.3044 and 1.3059, sustaining upside pressures from the late August basing structure and bullish trend reversal of the down move from early August, leaving the threat to the upside Thursday.
The break below the July swing low at 1.2809 and also the uptrend line from March, shifted the intermediate term outlook from bullish to neutral.
For Today:
l We see an upside bias for 1.3082; break here aims quickly for 1.3100, maybe towards 1.3164.
l But below 1.3017 opens risk down to 1.2951.
Intermediate-term Range Parameters: We see the range defined by 1.2587 and 1.3269.
Range Breakout Challenge
l Upside: Above 1.3269 aims higher for 1.3445 and 1.3534.
l Downside: Below 1.2587 sees risk lower for 1.2363 and 1.2107.
4 Hour GBPUSD Chart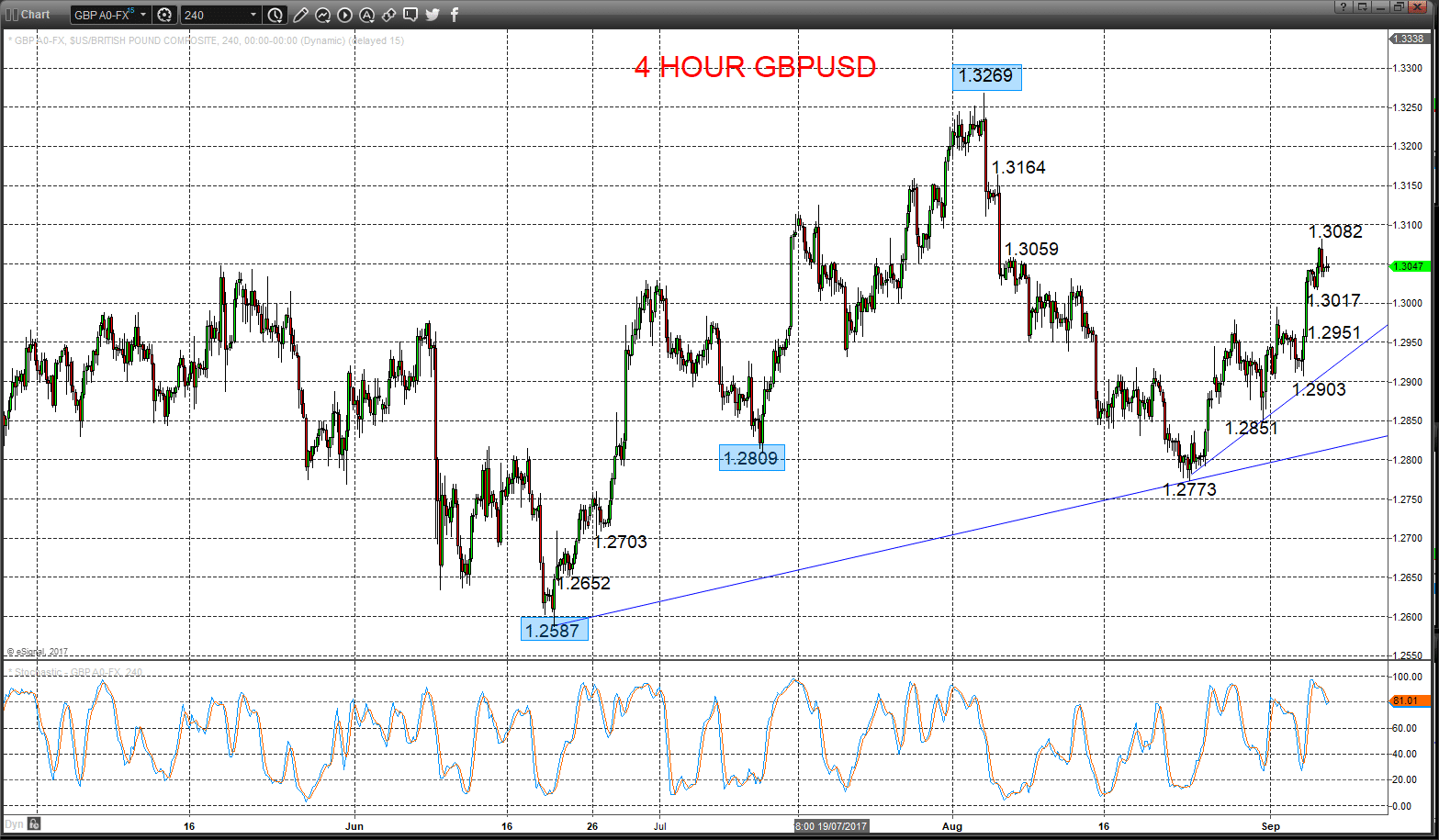 Daily GBPUSD Chart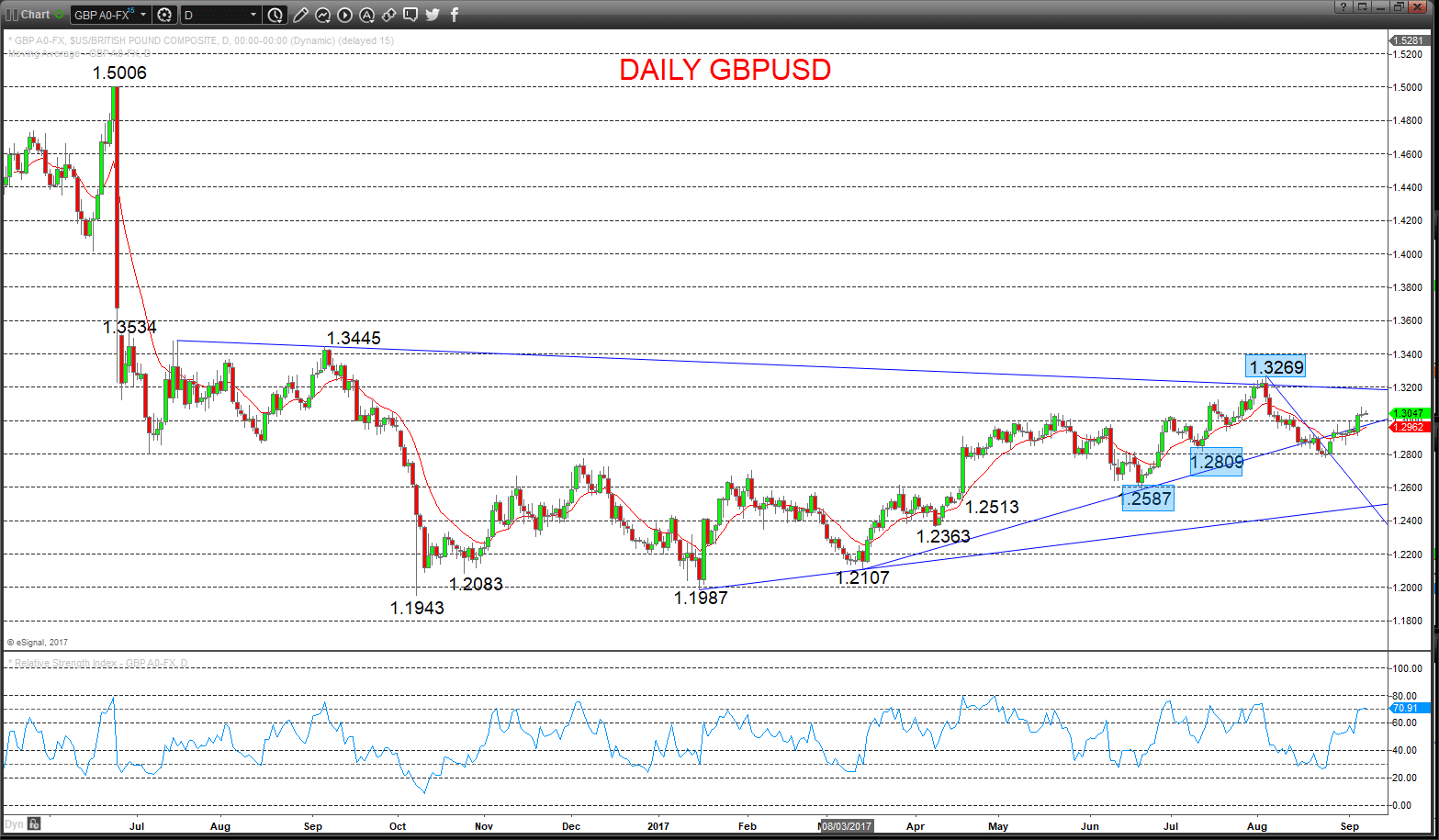 See all forex charts