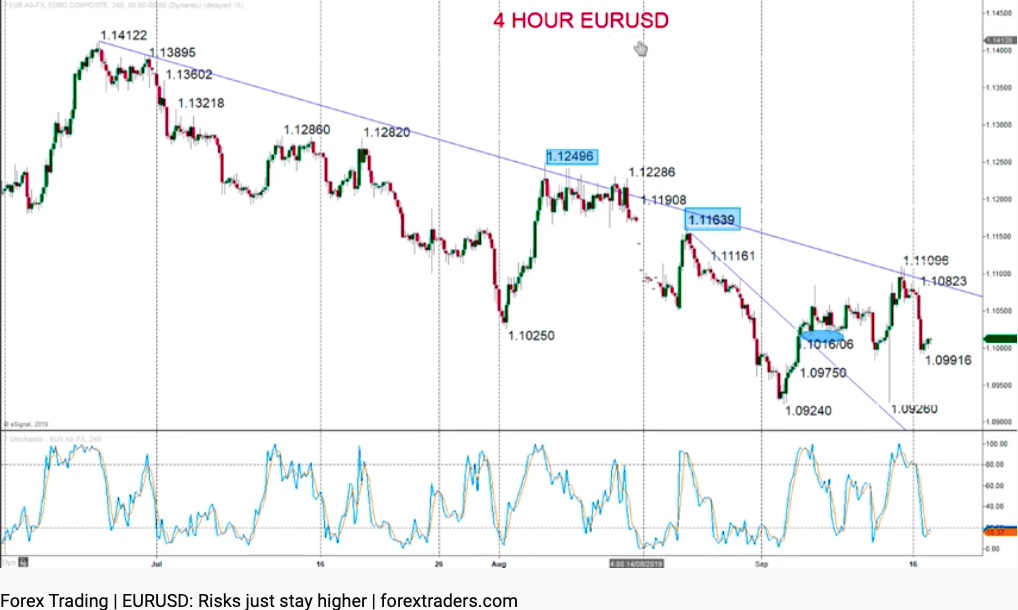 Hi there traders, this is Steve Miley on behalf of forextraders.com and here we're going to take a look at the Euro versus the US dollar short-term outlook in the year to date, day trade, and also going into the balance of this week.
The underlying theme in here remains kind of positive. The market has had this significant rebound and bottoming effort in here, reversing up through initially this trend line. A very whip-sawish session last week rebounding from 1.0926 ahead of the low here at 1.0924 through the ECB last week probing this down trend line.
Now to reverse the intermediate term bear trend, we need to get above 1.1164.
But the market does still retain short term upside pressures and despite the setback that we saw at the beginning of this week – this setback in here was dollar strength because of concerns around the increased tensions in the middle east; the dollar is seen as the safe haven. So the dollar rallying on the back of that across the board; across most currencies. So this sell off in here to do with that.
But the market holding here at 1.0991.
1.0980 was our support level and the market rebounded from just above there and we do risk for a rebound back higher towards 1.1082 going in to today and potentially higher going into this week. Only down below 1.0991/1.0980 would signal a more negative tone to re-test, potentially, these lows down in here.
But at the moment we're looking for this whole recovery effort to remain intact and for the market to push back higher towards 1.1082 going into today.
This has been Steve Miley for forextraders.com and I wish you a great trading day.