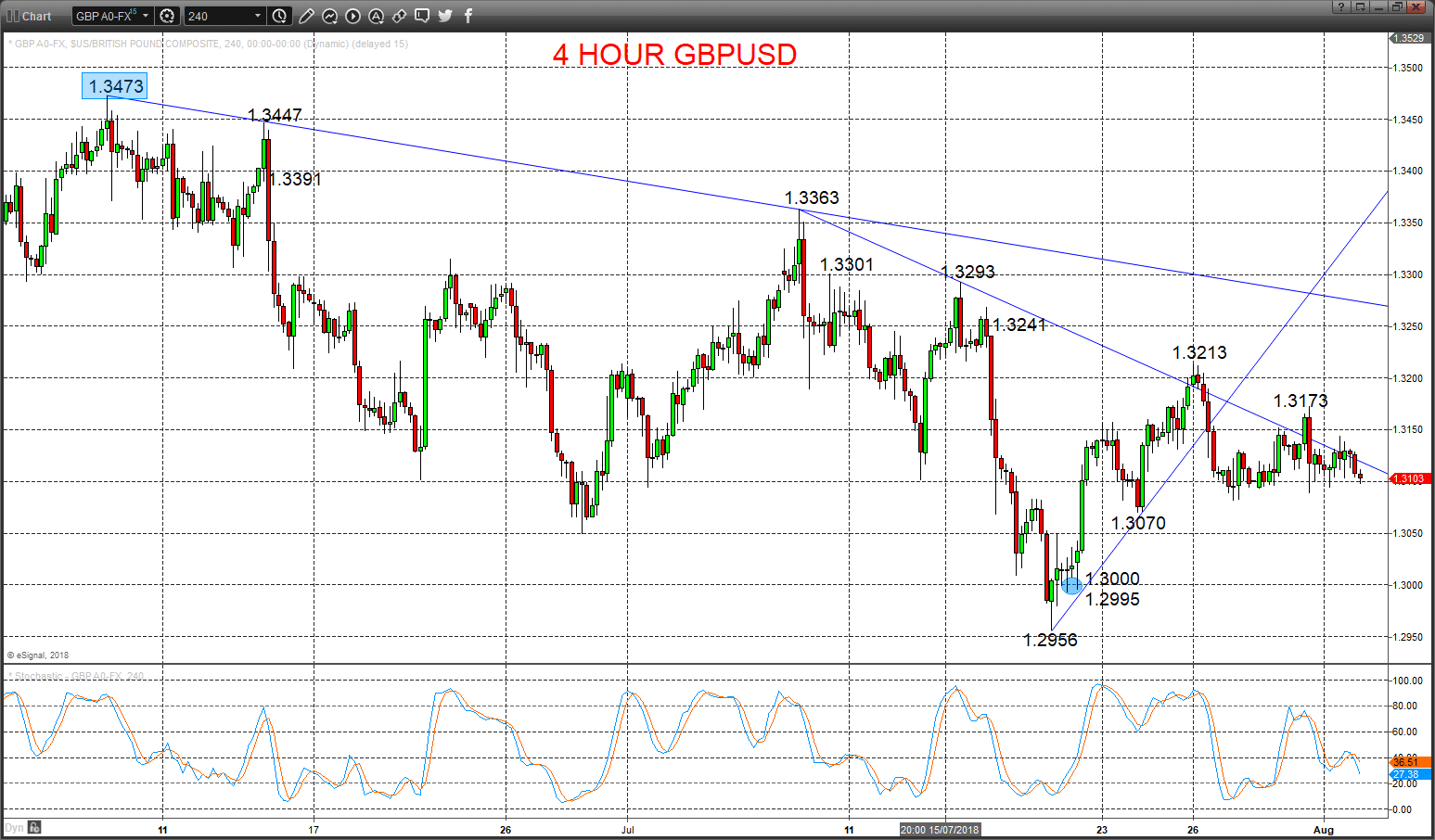 ---
We last looked at GBPUSD and EURUSD here on 23rd July and discussed ongoing intermediate-term bearish risk for GBPUSD, and a range theme for EURUSD.
GBPUSD has seen a setback after a recent recovery effort in latter July and this bullish rebound failure has underscored the ongoing intermediate-term bear theme and leaves a downside threat into today's Bank of England Meeting (where a rate hike is expected).
The EURUSD remains trapped within an intermediate-term range, that we see defined as 1.1851 to 1.1509/07, BUT with risks shifting back to the downside, since the latte July failures back from resistances clustered between 1.1751 and 1.1791.
GBPUSD
Still a bear bias
A negative consolidation on Wednesday to reinforce the selloff earlier this week from 1.3172, thereby sustaining negative forces from last week's failure down through the up trend line from mid-July AND from the mid-July push to a new cycle low at 1/2956), keeping risks lower Thursday.
The early May plunge through 1.3710 set an intermediate-term bear trend.
For Today:
We see a downside bias for 1.3070; break here aims for 1.3000/1.2995.
But above 1.3173 opens risk up to 1.3213, maybe towards 1.3241.
Intermediate-term Outlook – Downside Risks: We see a downside risk for 1.2773,1.2587, 1.2363, maybe towards 1.2107.
What Changes This? Above 1.3473 shifts the intermediate-term outlook from bearish straight to bullish.
Resistance and Support:
| | | | | |
| --- | --- | --- | --- | --- |
| 1.3173 | 1.3213* | 1.3241 | 1.3293/3301** | 1.3363* |
| 1.3070* | 1.3000/1.2995 | 1.2956** | 1.2911 | 1.2877 |
4 Hour Chart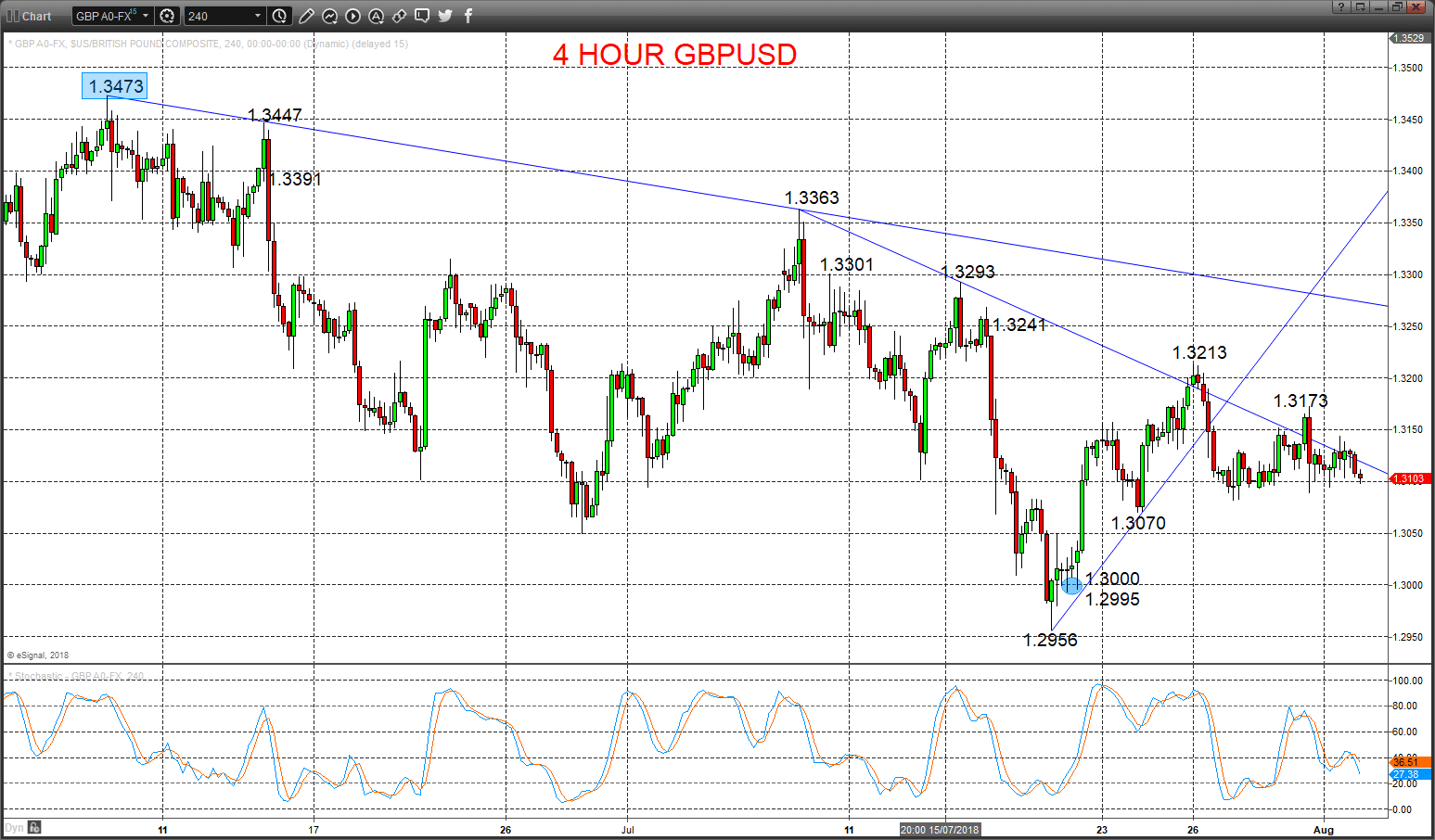 EURUSD
Bias stays lower
A prod lower Wednesday to reinforce Tuesday's rebound failure from just below the notable 1.1751/60 resistance area, resuming negative pressures from the latter July setbacks from this same region, leaving risks for a further push lower Thursday.
We see an intermediate-term range, 1.1851 to 1.1507.
For Today:
We see a downside bias through 1.1646 for 1.1619; break here aims towards 1.1574/60.
But above 1.1717 aims for 1.1751/60 and maybe targets 1.1791.
 Intermediate-term Range Breakout Parameters: Range seen as 1.1851 to 1.1507.
Upside Risks: Above 1.1851 sets a bull trend to aim for 1.2210, 1.2414/21 and 1.2529.
Downside Risks: Below 1.1507 sees a bear trend to target 1.1312 and 1.1134.
Resistance and Support:
| | | | | |
| --- | --- | --- | --- | --- |
| 1.1717 | 1.1751/60** | 1.1791** | 1.1851*** | 1.1903 |
| 1.1646 | 1.1619* | 1.1574/60 | 1.1526* | 1.1509/07*** |
4 Hour Chart