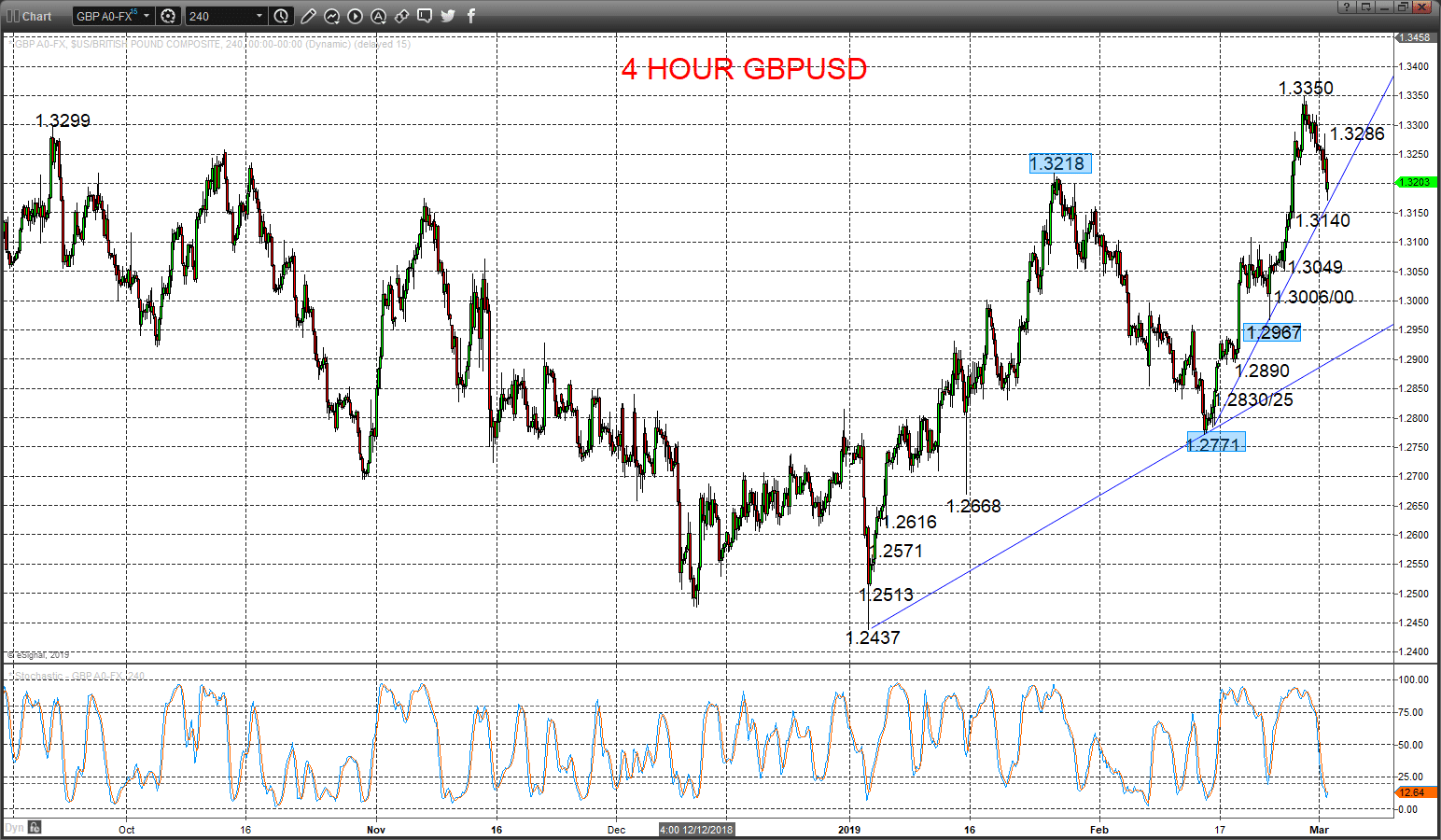 ---
In our 21st February report in which we last reviewed the GBPUSD and EURUSD currency pairs we indicated GBPUSD risk for an intermediate-term bullish shift again and the short-term bias back higher in the range for EURUSD.
In subsequent trading, the Pound has re-energized to the upside in late February as fears of a No Deal Brexit have continued to ease, with possibility of an extension to the Article 50 deadline date on March 29th.
This has seen the GBPUSD Forex rate surge through key 1.3218 and 1.3299 resistances, for an intermediate-term bullish shift.
The EURUSD currency pair has continued its rebound from the bottom of an intermediate-term range (we view as 1.1214 to 1.1570), with the short-term bias remaining to the upside.
GBPUSD Holding onto upside forces
A further dip Friday through 1.3231 initial support, but holding above the stronger 1.3140 level, to hold onto upside forces from this week's surge higher through a key 1.3299 peak and previously above 1.3218, to leave risk higher for Monday.
The late February surge through 1.3218 set an intermediate-term bullish trend
For Today:
We see an upside bias for 1.3286; break here aims for 1.3350/63 and maybe towards 1.3397.
But below 1.3170 opens risk down to 1.3140, which we would look to try to hold.
 Intermediate-term Outlook – Upside Risks: We see an upside risk for 1.3473 and 1.3608
What Changes This? Below 1.2967 shifts the outlook back to neutral; through 1.2771 is needed for a bear theme.
Resistance and Support:
| | | | | |
| --- | --- | --- | --- | --- |
| 1.3286 | 1.3350/63** | 1.3397 | 1.3441 | 1.3473** |
| 1.3170 | 1.3140** | 1.3049* | 1.3006/00 | 1.2967*** |
4 Hour GBP/USD Chart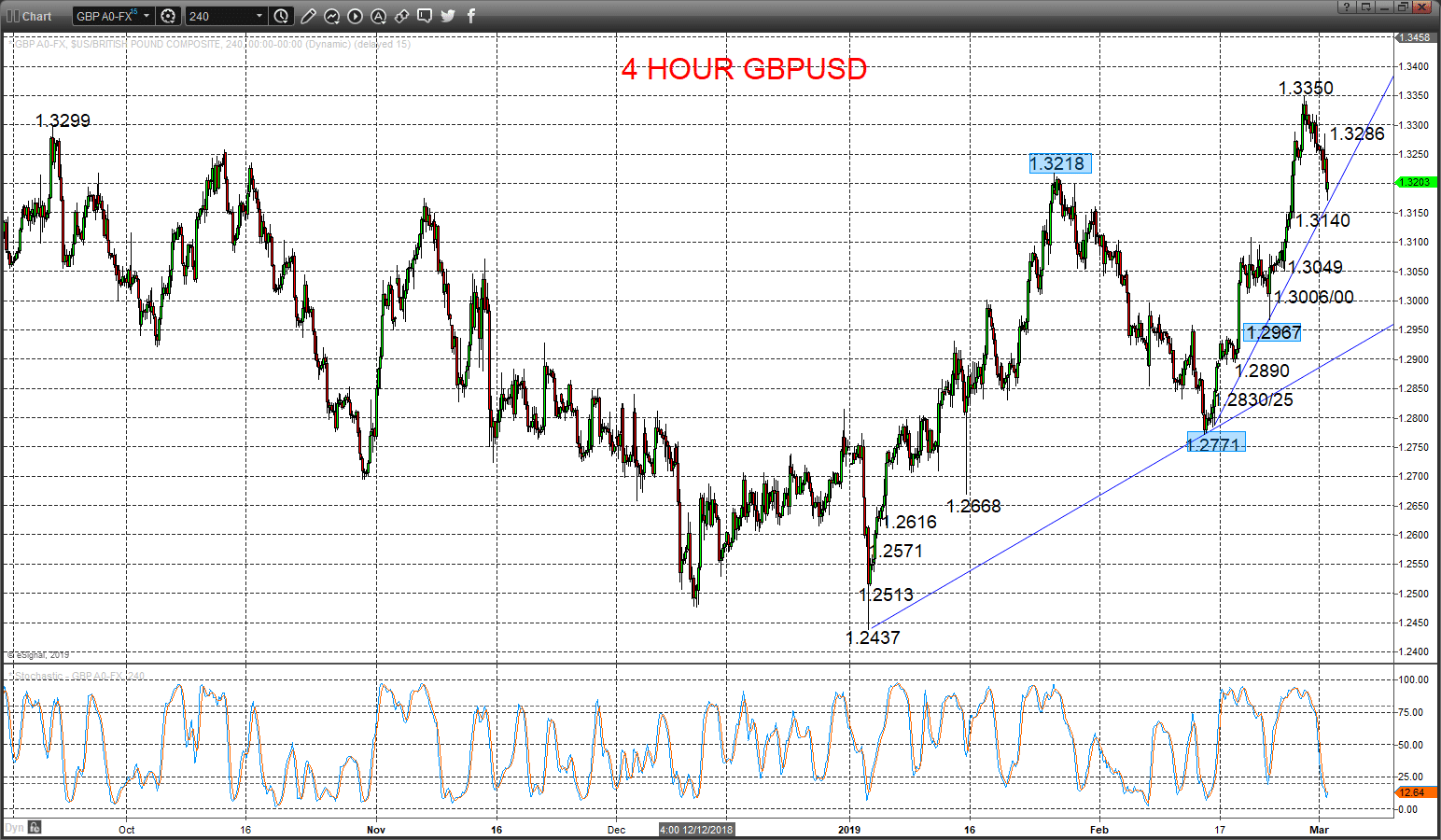 EURUSD Positive tone still just intact
A rally and a setback on Friday after an erratic Thursday tone to question the positive tone, but the late February push above the 1.1404 resistance sustains short-term positive pressures from the strong rebound from mid-February off of 1.1274, keeping risks higher for Monday.
We see an intermediate-term range theme as 1.1214 to 1.1570, BUT with risks for an intermediate-term bear shift below the lower level.
For Today:
We see an upside bias for 1.1420; break here quickly aims for 1.1434, maybe 1.1488.
But below 1.1339 quickly opens risk down to 1.1315, maybe 1.1274.
 Intermediate-term Range Breakout Parameters: Range seen as 1.1268/62 to 1.1570.
Upside Risks: Above 1.1570 sets a bull trend to aim for 1.1621, 1.1815 and 1.2000.
Downside Risks: Below 1.1268/62 sees a bear trend to target 1.1119, 1.1000 and 108.39.
Resistance and Support:
| | | | | |
| --- | --- | --- | --- | --- |
| 1.1420 | 1.1434 | 1.1488* | 1.1509** | 1.1541/45* |
| 1.1339 | 1.1315 | 1.1274* | 1.1233* | 1.1214*** |
4 Hour EUR/USD Chart