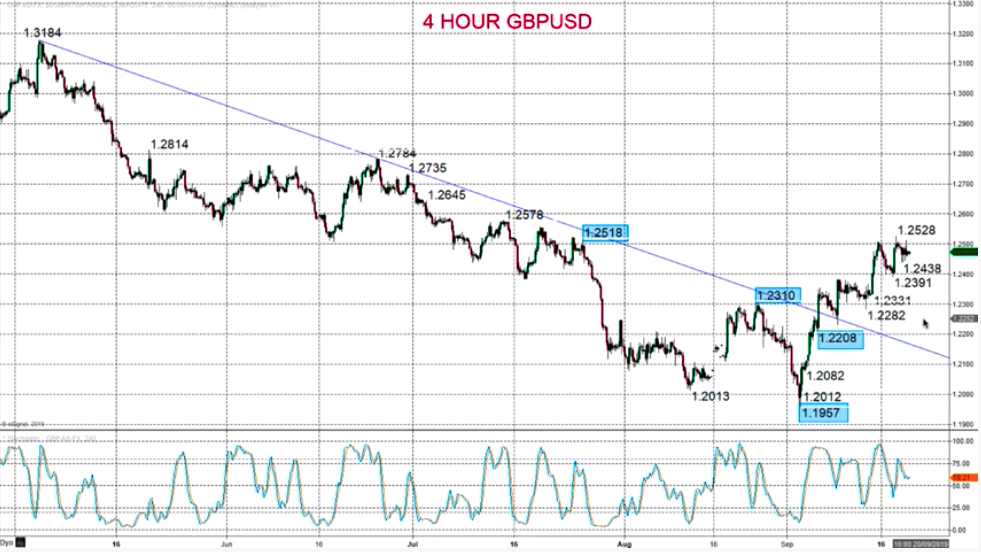 Hi there traders this is Steve Miley on behalf of forextraders.com and we're now going to take a look at the pound versus the US dollar cable spot FX rate in here and we're seeing still a very positive tone in here for cable.
The market having a strong push higher earlier this week up to 1.2528 and critically it took out this 1.2518 level. Now, this 1.2518 impulse level was from where the market started to more aggressive accelerate lower here back in July and it was an important level to get above, having previously got above here at 1.2310.
That neutralised intermediate term bearish pressures and now through 1.2518 now sees an intermediate, more bullish theme.
So we certainly see risks to the upside looking for a push back up to challenge 1.2528 going into today and the end of this week with a resilient consolidation tone seen here Wednesday through the FOMC meeting decision and we're holding 1.2438, and whilst above there we're looking for a challenge back towards 1.2528, maybe up towards 1.2578.
Only back through 1.2438 sets a more negative tone for today and into week-end, and that would open risks to 1.2391, maybe as deep as 1.2331 but our bias stays higher for 1.2528 and 1.2578, maybe higher going into the end of the week.
This has been Steve Miley for forextraders.com and don't forget to follow us here on our YouTube channel and also like the video.
Thanks a lot. Have a great trading day.