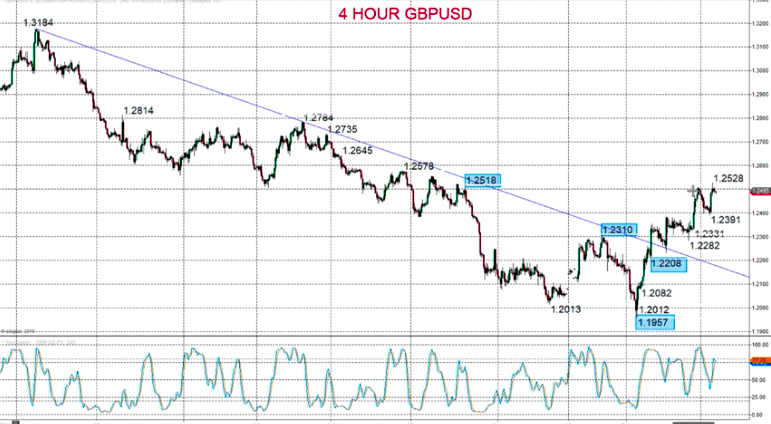 Hi there traders, this is Steve Miley for forextraders.com and we're now taking a look at the Pound vs the US dollar cable spot effects rate in the short and also the intermediate term outlooks in here.
Well we've had this strong rally in here throughout September previously reversing above this down-trend line and this key resistance peak here at 1.2310. That completed a short term base and neutralised the intermediate term bearish theme from this whole sell off and this acceleration lower that we saw at the end of August into early September.
So that was the initial move. That was about a week or so ago.
And then the market has been more in a consolidation until the end of last week when we got a surge higher in hopes of some positive developments regarding the Brexit deal.
Then also another push higher in here over the last 24 hours – this more to do with the US dollar weakness rather than the pound strengthen in here. So it's a significant push back higher critically, and from a technical analysis perspective, the markets then took out this important swing peak. This is when we saw a re-acceleration lower here all the way back in July from 1.2518.
…and the push just above that peak of 1.2528 in the last 24 hours is enough to shift the intermediate, that's the medium term outlook – in going into not just days, but out into weeks and beyond – shifting that intermediate term outlook to more positive, to more bullish
…and we do see bigger-picture upside pressures. Up towards 1.28 and potentially 1.30 on a bigger picture outlook.
On the day trade outlook this positive development yesterday also leaves the bias higher today for a challenge to 1.2528 – maybe up towards 1.2578.
However critically we do have the federal reserve meeting remember – this evening, Wednesday the 18th – and from that, obviously, we're going to get some price action on the US dollar so that could upset this view in here at the moment.
But at the moment, whilst above 1.2451 support, we're looking for a challenge to 1.2528 on the upside and 1.2578 below 1.2451 aims for this support here at 1.2391.
This has been Steve Miley for forextraders.com and I wish you a great trading day.