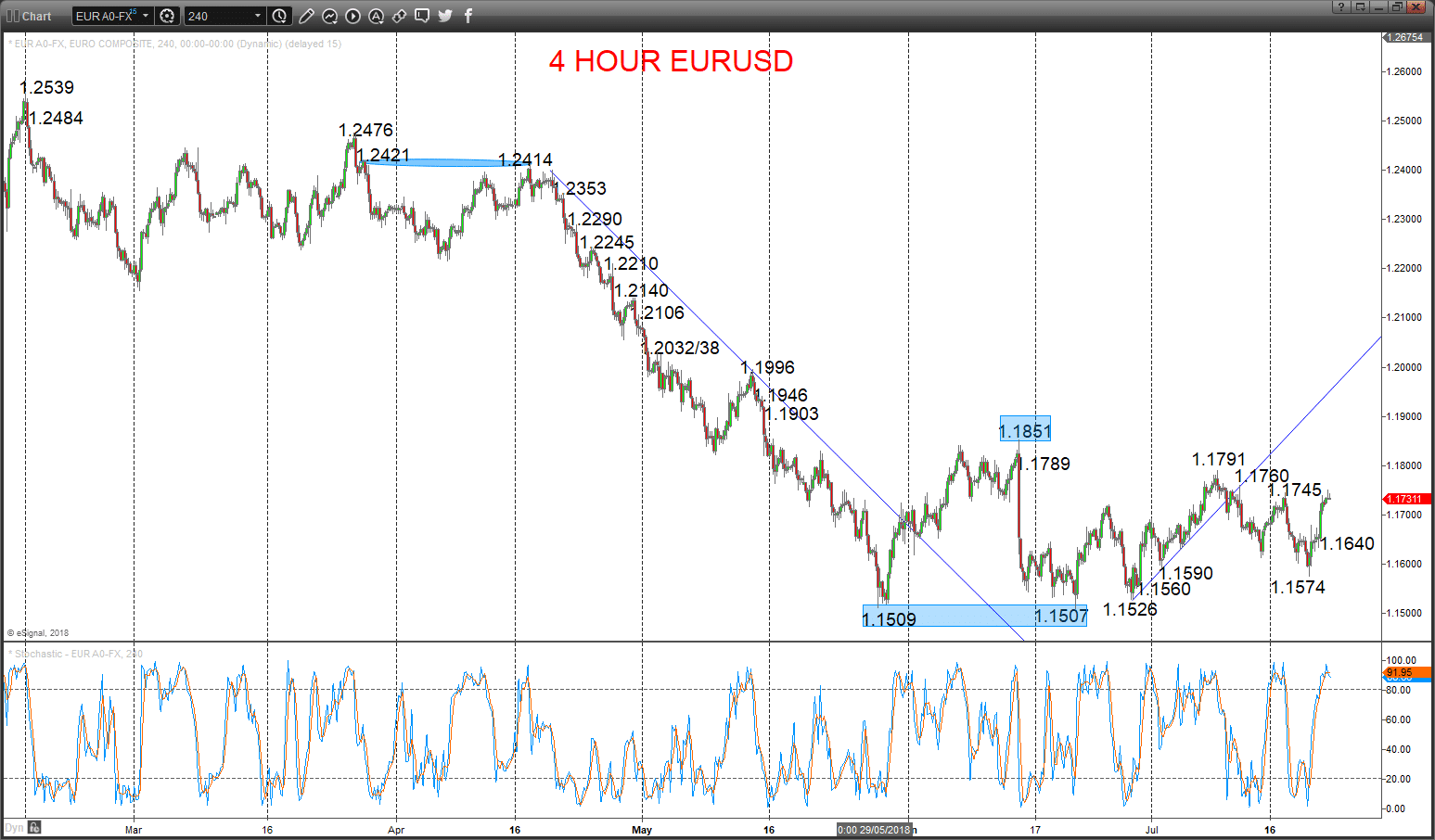 ---
In our last report here regarding the and UK Pound and the Euro published on 12th July we highlighted a GBPUSD intermediate-term bear trend and an indecisive range theme for EURUSD. These views have been reinforced by subsequent price activity.
GBPUSD remains a victim of ongoing political risk, still in the guise of Brexit and the fragile Conservative government, and despite a slightly weaker US$, this has seen a GBPUSD bearish trend extension into latter July, leaving the intermediate-term bear theme intact,
The aforementioned US Dollar setback from recent strength has seen EURUSD rebound back into the intermediate-term range environment, still defined by 1.1851 to 1.1509/07, with current risks shifting to the topside of this range.
GBPUSD
Rebound rejects immediate bear bias
A solid rebound on Friday through 1.3083 resistance, that has eased bear pressures, building on Thursday's intraday bounce from a new cycle low off of our 1.2956 target, flipping risks higher for Monday.
The early May plunge through 1.3710 set an intermediate-term bear trend.
For Today:
We see an upside bias for 1.3180, maybe then 1.3241; break here aims for 1.3293/3301.
But below 1.3040 opens risk down to 1.2956.
Intermediate-term Outlook – Downside Risks: We see a downside risk for 1.2773,1.2587, 1.2363, maybe towards 1.2107.
What Changes This? Above 1.3473 shifts the intermediate-term outlook from bearish straight to bullish.
Resistance and Support:
| | | | | |
| --- | --- | --- | --- | --- |
| 1.3157 | 1.3180 | 1.3241 | 1.3293/3301** | 1.3363* |
| 1.3040 | 1.2956* | 1.2911 | 1.2877 | 1.2831 |
4 Hour Chart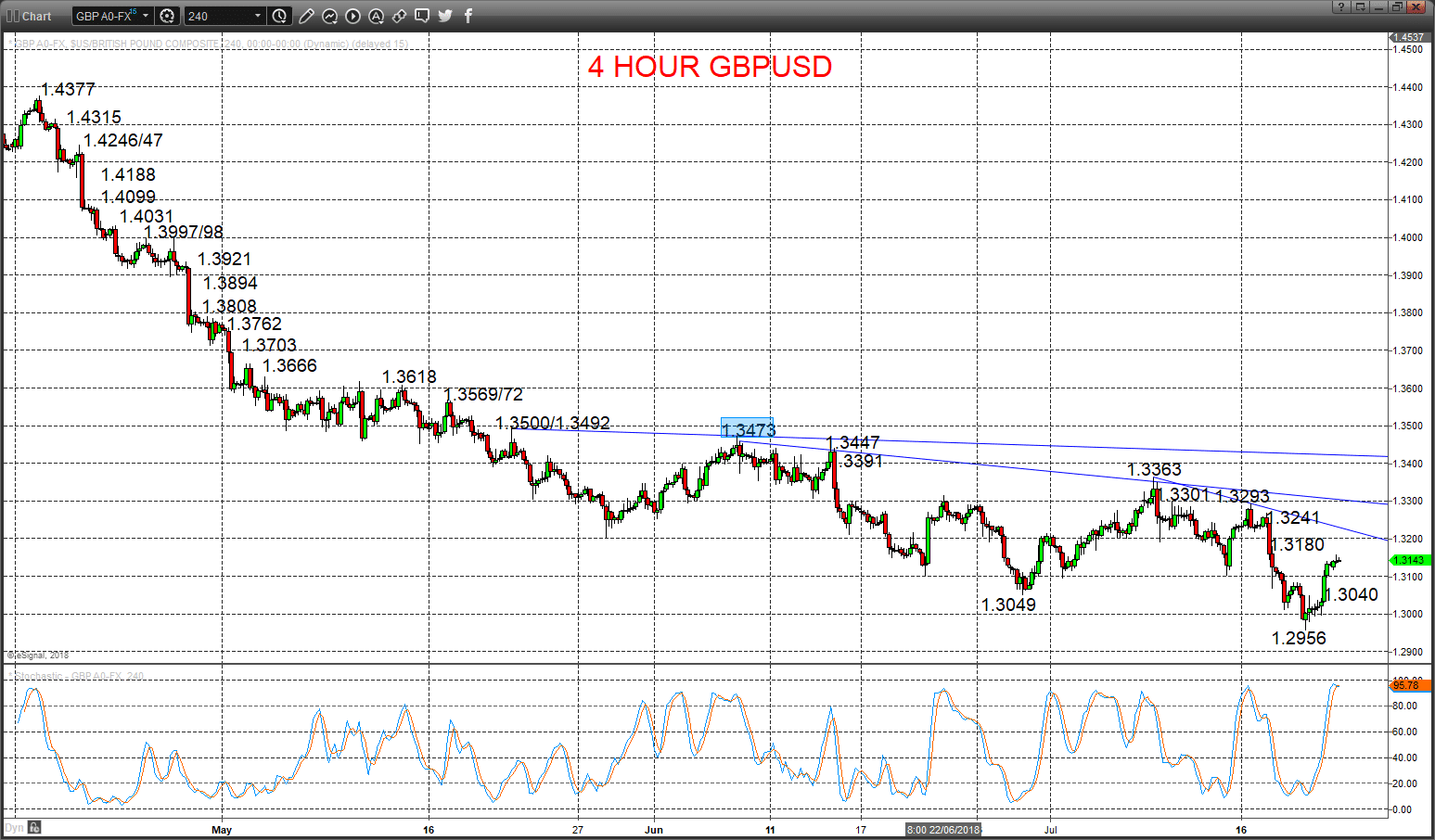 EURUSD
Strong rebound sets upside bias
A surge higher Friday through 1.1693 resistance and this morning to prod above 1.1745, to build on Thursday's setback and rebound (for a bullish Hammer patter), rejecting recent negative price action, switching risks back higher for Monday.
We see an intermediate-term range, 1.1851 to 1.1507, BUT with risk now easing for a bullish shift above 1.1851.
For Today:
We see an upside bias for 1.1760 and 1.1791; break here maybe aims for critical 1.1851.
But below 1.1640 opens risk down to 1.1574/60.
 Intermediate-term Range Breakout Parameters: Range seen as 1.1851 to 1.1507.
Upside Risks: Above 1.1851 sets a bull trend to aim for 1.2210, 1.2414/21 and 1.2529.
Downside Risks: Below 1.1507 sees a bear trend to target 1.1312 and 1.1134.
Resistance and Support:
| | | | | |
| --- | --- | --- | --- | --- |
| 1.1760* | 1.1791** | 1.1851*** | 1.1903 | 1.1946 |
| 1.1640 | 1.1574/60 | 1.1526* | 1.1509/07*** | 1.1459 |
4 Hour Chart