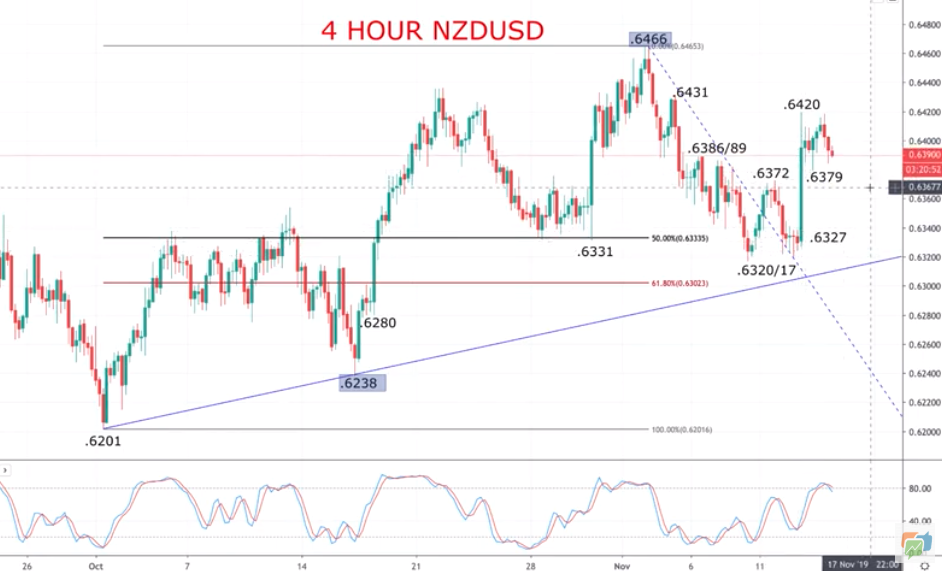 Hi there traders this is Steve Miley for forextraders.com and here we're looking at the New Zealand dollar against the US dollar spot FX rate on a four hour chart.
A more positive tone here. We had a surging rally in here over the last 24hours, driven by the RBNZ (The Reserve Bank of NZ) not been as dovish as anticipated; the market was anticipating, starting to expect, an interest rate cut. No cut delivered, in fact their tone was more hawkish, certainly less dovish and that saw the NZ dollar surge higher against the US dollar, up through some important resistances here at 0.6372 and in the 0.6386/89 area, up to 0.6420.
And despite the consolidation we've seen since then, the market holding at this kind of break out level, 0.6372; holding at 0.6379, and that leaves an upside bias and we see risk today, back higher, back towards 0.6420 and maybe 0.6431.
Only down through 0.6379 opens up risks for a correction lower, maybe back down towards this 0.6327 level. But for now we're looking for the market to hold in 0.6379 and aiming back up to these higher targets.
This has been Steve Miley for forextraders.com.
Don't forget to follow us on our YouTube channel and as ever I'll be back with you soon.
Until then, have a great trading day.