---
The US Dollar has been strong since early November, and particularly after the US Presidential election result across the G10 currency complex, showing particularly firm gains against the Euro and Japanese Yen. Furthermore aggressive topping patterns for NZDUSD and AUDUSD leaves risk for these currencies to further weaken against the US Dollar into the second half of Q4 2016.
Although the US currency has not shown as strong a tone against either the GB Pound or Canadian Dollar, it remains solid versus these currencies and our technical analysis FX forecast is for further GBPUSD losses and USDCAD gains in November and likely through year-end.
GBPUSD
A push below a support at 1.2379/75 and 1.2248 on Friday, after a setback Thursday from ahead of our initial resistance at 1.2529, to maintain the short-term bearish reversal below trend line support from the end of October, to again leave the risk to the downside into Monday.
Furthermore, the 7th October "flash crash" wiped out multi-decade supports, 1.2565 and psychological 1.2000 and reinforced a far more negative intermediate-term outlook.
For Monday:
We see a downside bias for 1.2299; break here aims for 1.2276, maybe as deep as 1.2199.
But above 1.2436 targets 1.2505 and maybe 1.2529.
Short/ Intermediate-term Outlook – Downside Risks:
We see a negative tone with the bearish threat to 1.1943.
Below here targets 1.1880, 1.1000 and even the 1985 low at 1.0520.
What Changes This? Above 1.3279 signals a neutral tone, only shifting positive above 1.3445.
Daily GBPUSD Chart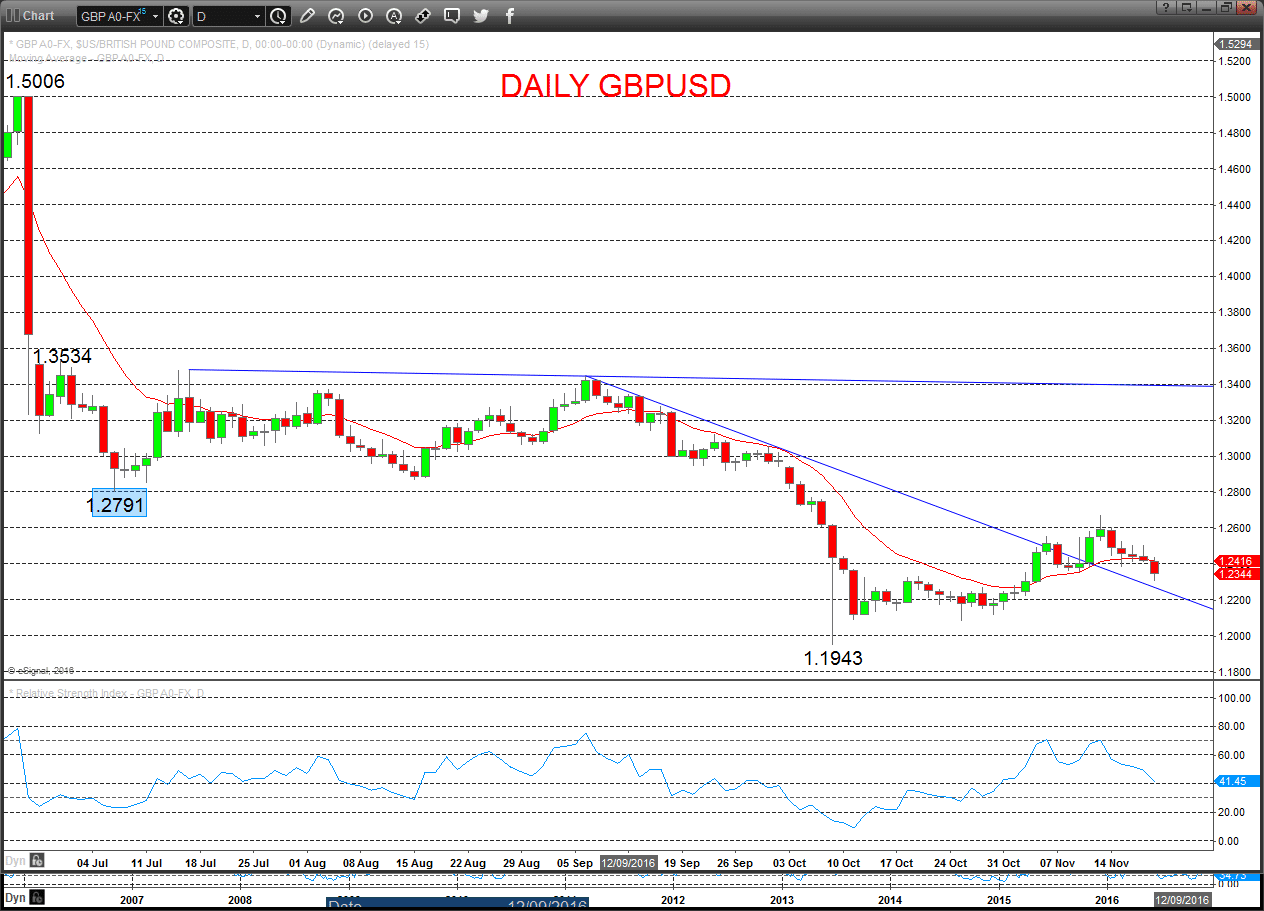 USDCAD
An upside follow through Friday and despite a setback into the end of the week, the Thursday rebound from just below 1.3400 support (from 1.3396), rejected recent negative pressures (below 1.3450 and 1.3419 supports), to keep the bias back higher again Monday.
Furthermore, bigger picture, the push this week above 1.3575/87 has reinforced the intermediate-term bullish team and leave the threat of further gains into letter November.
For Monday:
We see an upside bias for 1.3565 and 1.3588; break above here target 1.3645.
But below 1.3445 opens risk down to 1.3396.
Short/ Intermediate-term Outlook -:
We see a positive tone with the bullish threat to 1.3588.
Above here targets 1.3838/59 and 1.4000/17.
What Changes This? Below 1.2996 signals a neutral tone, only shifting negative below 1.2651.
Daily USDCAD Chart