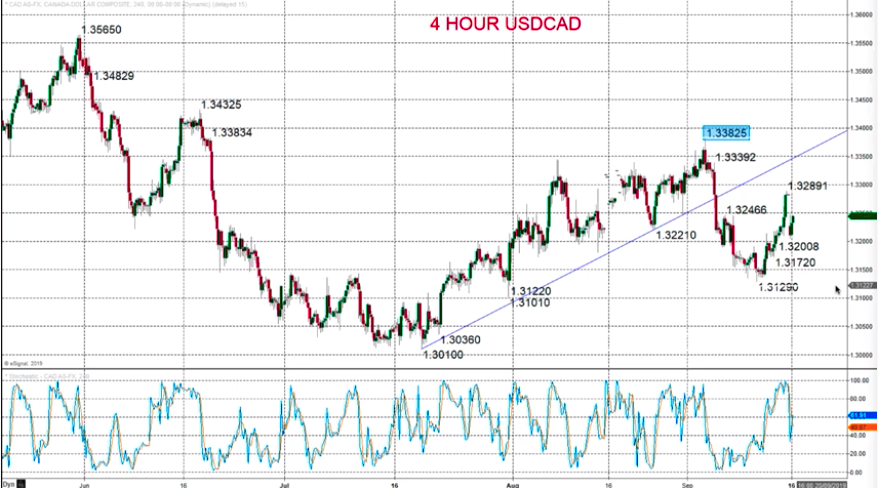 Hi there traders, this is Steve Miley for forextraders.com and we're now taking a look at the US dollar versus the Canadian dollar spot FX rate.
Well, clearly impacted in here this morning by the shift higher in the oil price due to the attacks in Saudi Arabia on the oil plant over the weekend. That's sending oil higher, and then also the Canadian Dollar higher which is: USD/CAD lower.
However the Dollar-Cad is rebounding. This Canadian dollar then selling back off again in here.
And that reinforces this strong rally that we saw in here from last week off of 1.3129 in here, rejecting previous negative pressures from early September of this sell off down through trend line support on this 1.3221 level.
And we've now seen a shift back to this more positive tone up through 1.3246/47 here last week.
And despite the dip because of the events over the weekend in Saudi Arabia, the market is rebounding from, ahead of and above of, this support here of 1.3201/1.3200 and we see risks back higher for today towards 1.3289 and going into this week maybe back up towards this key 1.3383 level.
So upside pressures intact despite the move lowering USDCAD which was driven by the events at the weekend with the attack on the Saudi Arabian oil plant.
This has been Steve Miley for forextraders.com. Join me again next time